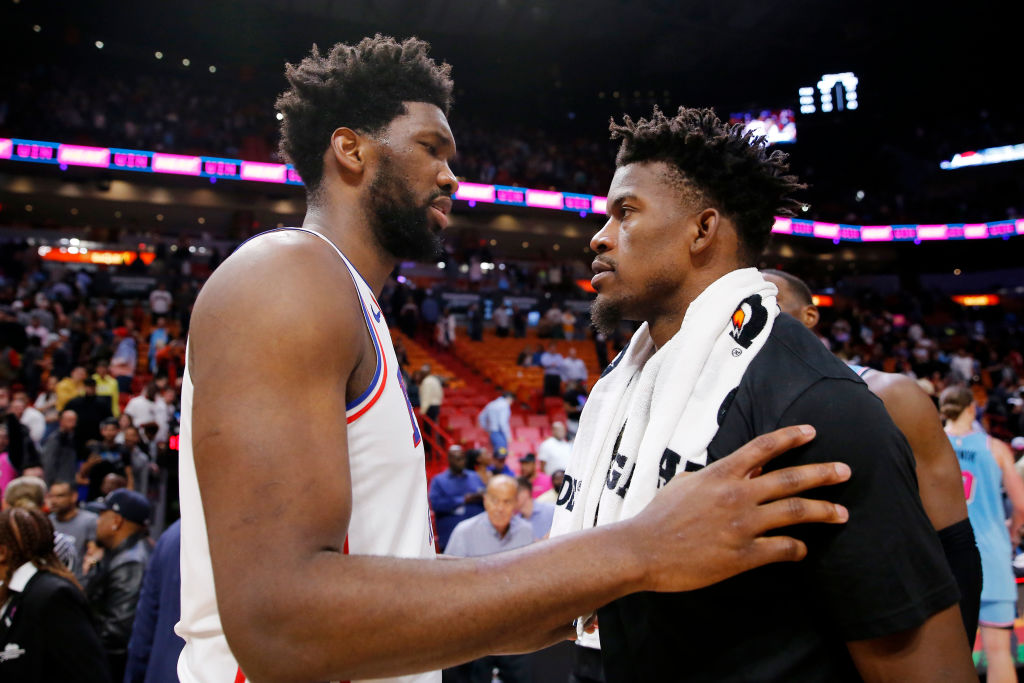 Jimmy Butler Finally Sounds Off About What Went Wrong With the 76ers
The Jimmy Butler experiment didn't work out the way the 76ers hoped. Butler hopped on JJ Redick's podcast to explain why.
Miami Heat guard Jimmy Butler appeared on The JJ Redick Podcast Wednesday to talk about his departure from the Philadelphia 76ers, among other things.
Butler and Redick were teammates last year in Philly. The veteran NBA duo spoke candidly on what they disliked about the Sixers' leadership structure and preparation approach. Butler was famously believed to have brought drama into the Sixers' locker room, but he has different feelings about the disconnect between the players.
Jimmy Butler says no one knew who was in charge in Philadelphia
Butler told Redick on the podcast episode that the 76ers lacked leadership. He said he felt lost most of the time because of the team's free-for-all structure.
"It was so different, and on any given day, me as a person, as a player, I didn't know who the f–k was in charge. I think that was my biggest thing. I didn't know what the f–k to expect whenever I would go into the gym, whenever I'd go into the plane, whenever I'd go into the game. I was like: 'Man.' I think I was as lost as the next motherf–ker."

Jimmy Butler, The JJ Redick Podcast
Butler also claimed the team had no collaboration sometimes during team meetings.
"We're all sitting in there, and nothing got accomplished, at all. So I was like, and I told you this as we walked out: 'JJ, why would I ever go back in there again? Nothing's getting accomplished. Nobody's saying nothing to anybody and we're just sitting in here watching film, and you can literally hear the thing just clicking, and we're all just looking around.'

Jimmy Butler, The JJ Redick Podcast
It's surprising to hear an NBA team could function the way Butler described it. Maybe Butler wasn't the problem in the locker room after all.
Butler clarified his decision to leave for the Miami Heat
After the 2018-19 season, Butler decided to leave Philadelphia in free agency to sign with the Heat. Many NBA fans were caught off guard by the All-Star's decision. Butler did publicly state he only cared about winning, and the Heat were coming off a losing season.
Butler explained the motivation that led him to leave Philadelphia on the podcast:
"Somebody told me a main reason that I didn't go back was because somebody asked: 'Can you control him?' Like: 'Can you control Jimmy? If you can control Jimmy, we would think about having him back.' I was like: 'You don't gotta worry about it. S–t, can't nobody f–king control me.' For one, I ain't just out there doing no bulls–t, but the fact that you're trying to control a grown man? Naw, I'm cool."

Jimmy Butler, The JJ Redick Podcast
Butler clearly felt disrespected by the 76ers organization. To him, he had no choice but to sign with a different team.
Butler's move to Miami is already looking like the smart choice
Butler is having one of his best years as a pro in 2019-20. The Heat are also in fourth place in the Eastern Conference with a 41-23 record.
The 76ers, on the other hand, are down in the sixth spot at 38-26. Butler and the Heat are 3-1 against the Sixers this season.
A Sixers-Heat playoff series would be incredible theater with Jimmy Butler's recent comments on his old team. One can only hope for that epic battle of revenge come April.