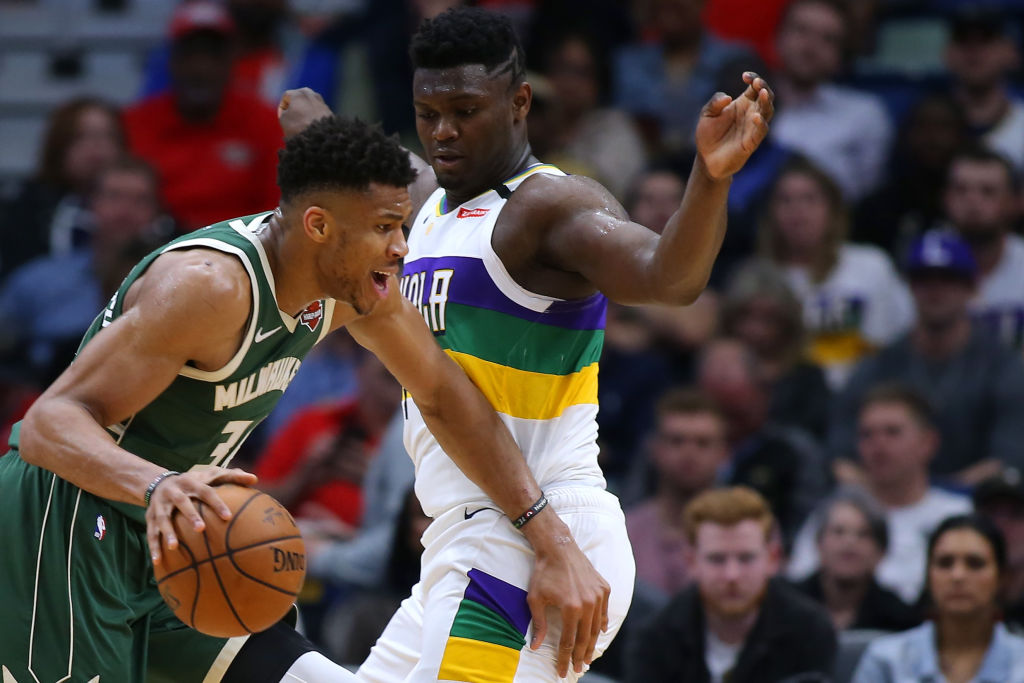 Giannis Antetokounmpo and Zion Williamson Are Already Rewriting the NBA Record Book Together
Giannis Antetokounmpo and Zion Williamson are both doing something no NBA player has ever done in league history.
For most sports fans, statistics and records are a sacred thing. You might not have seen someone like Dr. J or Michael Jordan take the floor, but the numbers can give you an idea of their greatness. Zion Williamson and Giannis Antetokounmpo, however, are combining to rewrite the NBA record book before our very eyes.
While both Zion and Giannis have set plenty of individual records this season, one specific milestone is different. Both young stars are doing something that no one, before this season, has ever accomplished.
Giannis Antetokounmpo and Zion Williamson's respective seasons
While the NBA has plenty of stars, few players shine brighter than Giannis Antetokounmpo and Zion Williamson. Although their respective seasons have been quite different, both have been remarkable.
In Milwaukee, Giannis is following up on his first NBA MVP Award with an ever more impressive encore. This season, the Greek Freak is averaging 29.6 points, 13.8 rebounds, and 5.8 assists per outing; despite Joel Embiid's insistence, he seems to assert his claim as the NBA's top player every time he takes the floor. With each passing performance, Antetokounmpo seems to dominate the game and find new ways to make history.
While it took Zion Williamson some time to make his professional debut, the New Orleans Pelicans forward has been making up for lost time. In 16 games, he's averaging 24.2 points, 6.9 rebounds, and 2.2 assists per night. Zion is already sitting alongside Michael Jordan in the record books; that's pretty impressive for someone still adjusting to the NBA.
Two players, one piece of NBA history
The NBA is currently in the midst of its 74th season of operation. While you'd think just about everything happened at least once in that timespan, Zion Williamson and Giannis Antetokounmpo are the first two men to accomplish one specific feat.
According to Basketball-Reference, both forwards are currently averaging more than 24 points per game while playing less than 31 minutes a night. While there's obviously room for the numbers to shift before the end of the season, Giannis and Zion are on pace to enter the league's record books together.
Although there's a historical basis for the record—due to load management and increased roster sizes, modern stars simply play fewer minutes a night—it's still an impressive accomplishment. Anytime you're doing something that has never been done before, it's worth taking notice.
With stars like Giannis Antetokounmpo and Zion Williamson, the NBA is in good hands
This season, the NBA TV ratings have been down. Despite that reality, it's hard to argue that the league isn't in a good place on the court.
No matter how or where fans consume their favorite sports, they want to see quality on the court; the current NBA has that in spades. LeBron James might still rule the roost, but the next generation of stars has already arrived. Giannis might seem like a grizzled league veteran, but he's barely 25. Zion Williamson won't turn 20 for several months. Luka Doncic has only been able to legally drink in the United States for a matter of days. The list goes on and on.
While seeing sports records fall can be somewhat of an existential experience, sometimes you can't help but be impressed. When Giannis Antetokounmpo and Zion Williamson both accomplish something that hasn't been done in almost three-quarters of a century, you just have to tip your cap.