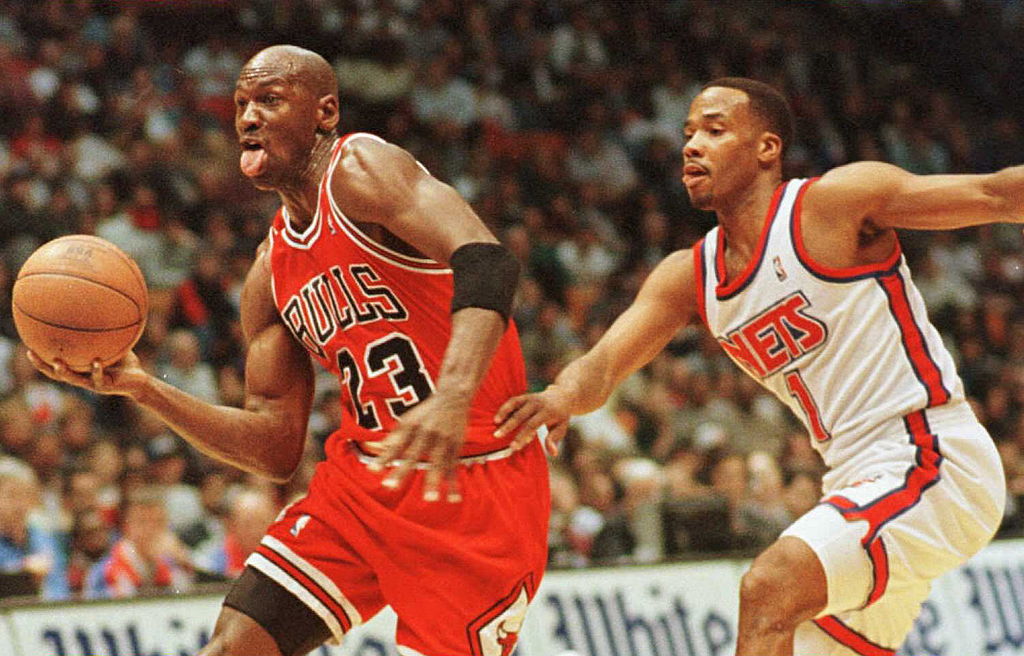 How a Card Game With Magic Johnson Prompted an Iconic Michael Jordan Moment
Michael Jordan produced plenty of iconic NBA moments. His "shrug game," however, was apparently inspired by a card game with Magic Johnson.
During his career, Michael Jordan was nothing if not competitive. Whether he was on the basketball court, golf course, or anywhere in between, His Airness simply hated to lose. That mindset, which apparently came to the forefront during a card game with Magic Johnson, led to an iconic NBA moment.
While Jordan had a laser-like focus during the game, his competitiveness overrode those instincts for a brief moment in 1992. In the midst of the NBA Finals, MJ took a moment to remind Magic that he was simply unstoppable.
Michael Jordan's legendary NBA career
While Michael Jordan needs no introduction, it's worth remembering just how brightly he shone on the basketball court. While the guard is hesitant to deem himself the greatest of all-time, his resume is impeccable.
After failing to make his high school's varsity team on the first attempt, Jordan started his ascent towards basketball immortality. After a growth spurt, he made the varsity team; he was eventually named a McDonalds' All-American and enrolled at the University of North Carolina. Playing under the legendary Dean Smith, he won an NCAA title as a freshman, setting a precedent for a trophy-laden career.
Jordan, of course, was drafted by the Chicago Bulls; while he and his teammates initially had some trouble getting past the Detroit Pistons, they soon became the NBA's dominant club. During his 15 seasons in the Association, His Airness proved to be untouchable. The guard revolutionized the game of basketball, potted over 30,000 points, won six championships, and six MVP awards. Today, the NBA itself even calls him "the greatest basketball player of all time."
Michael Jordan's iconic 1992 'Shrug Game'
During his NBA career, Michael Jordan produced countless iconic moments. One of them, the "shrug game," took place during the 1992 NBA Finals.
When the Chicago Bulls and the Portland Trailblazer faced off in Game 1 of the series, Jordan, of course, stole the show. While His Airness' 39 points—he scored all but four in the first half—were impressive, no one expected him to shoot the lights out from long range; Jordan was a career .327 three-point shooter but, that night, he went 6-10 from behind the arc. After making the sixth shot, turned simply shook his head and shrugged his shoulders.
Shots started dropping from everywhere," Jordan said after the game. "I started running for the 3-point line. It felt like a free throw, really."
Magic Johnson reveals the real meaning behind that famous shrug
Traditionally, Michael Jordan's shrug was taken as a rare show of humanity; even His Airness couldn't believe he was making so many threes. Magic Johnson, however, recently revealed that there was a deeper meaning behind the gesture.
According to the legendary point guard, he and Jordan spent the night before Game 1 playing cards. Although Magic suggested it was time to call it an evening—he was calling the game the next day and Jordan was obviously playing—His Airness' was losing and wouldn't let anyone leave the table.
Johnson went on to explain that Jordan's famous shrug was directed at him. "He was turning to me," the point guard explained. "He was so hot that night so he owed me a lot because I'm the one he was mad at. That's why he took it out on Clyde Drexler the next day in the game."
While we can't know if Magic Johnson is telling the truth or embellishing things a bit, one fact is clear: don't ever doubt Michael Jordan's competitive fire.