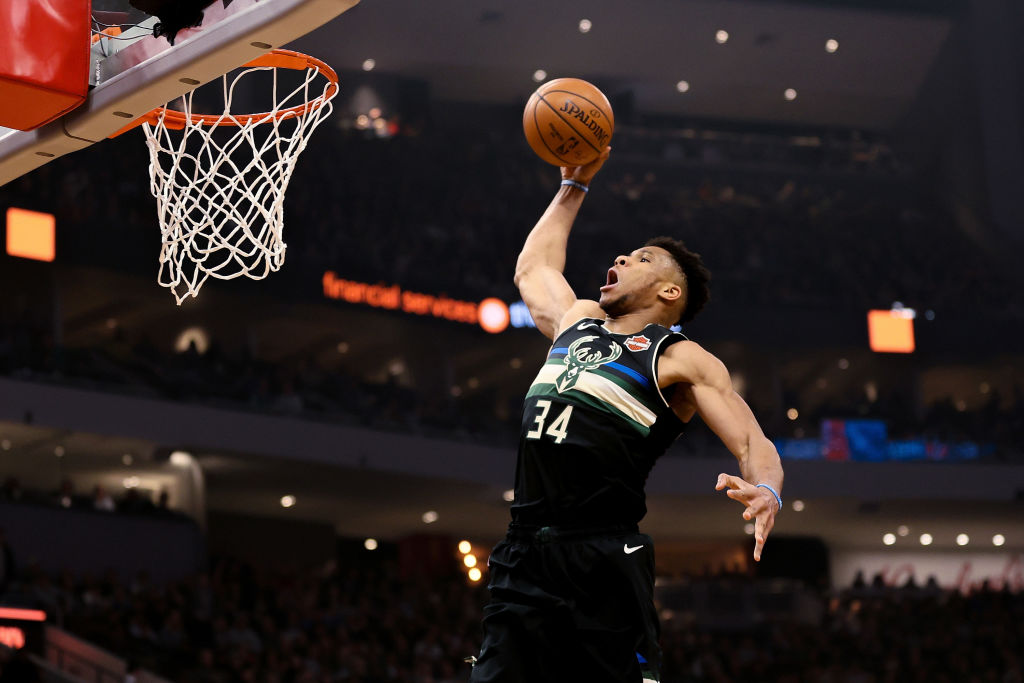 Giannis Antetokounmpo Responds to James Harden By Making NBA History
James Harden threw some shade at Giannis Antetokounmpo, so the Greek Freak went out and set some new NBA records.
In sports, there are two kinds of players: those who like to talk a big game, and those who prefer to make their statements with their performance. Milwaukee Bucks star Giannis Antetokounmpo clearly fits into the latter category. The Greek Freak proved that in the wake of James Harden's recent comments.
While Harden might have taken a shot at Antetokounmpo, Giannis didn't respond with trash talk. He simply went out and made some more NBA history.
The recent beef between James Harden and Giannis Antetokounmpo
While the NBA is no stranger to feuds and beefs, a new title bout has taken the headlines. James Harden isn't too happy with Giannis Antetokounmpo and hasn't been afraid to share his feelings.
While things might have begun years ago, everything came to a head in the All-Star Game Draft. Giannis was one of the team captains and joked that he wasn't selecting Harden because he wanted "somebody that's gonna pass the ball." While the comment didn't seem like a big deal at the time—Antetokounmpo is far from the first person to claim Harden is a ball stopper—the Houston Rockets guard didn't appreciate it.
During an interview with ESPN's Rachel Nichols, Harden shot back. After pointing out the inaccuracy of the joke—he's averaging 7.3 assists per game this season—the guard took a shot at Giannis' skill set. "I wish I could be 7 feet, run, and just dunk. That takes no skill at all," Harden said. "I gotta actually learn how to play basketball and how to have skill. I'll take that any day."
Antetokounmpo, however, didn't respond in kind. "I'm not that type of guy. I never try and take stabs," he said. "I'm just trying to do my job, which is win games, and then go back home to my family and my kid."
Giannis Antetokounmpo responds on the court
Giannis Antetokounmpo verbally responded to James Harden before the Bucks' meeting with the Oklahoma City Thunder. On Sunday night against the Charlotte Hornets, he made an even louder statement on the court.
As usual, Antetokounmpo dominated the game. The forward dropped 41 points, pulled down 20 rebounds, and dished 6 assists on the night; to make things even more impressive, he did all of that in 35 minutes of action.
That performance gave Giannis the record for the fastest 40-20-5 game; the previous record was jointly held by Bob Pettit and Elgin Baylor, who accomplished the feat in 36 minutes. Antetokounmpo also became the first Bucks player to post a 40-20-5 since Kareem Abdul-Jabbar and the youngest player to do so since Charles Barkley.
Don't let beef overshadow what we're seeing, though
While everyone loves a little bit of drama, we shouldn't let some comments overshadow what we're seeing. Despite their beef, both James Harden and Giannis Antetokounmpo are elite players, performing at the top of their game.
If you look at Basketball Reference's MVP Tracker, those two men sit at the top of the list. While Giannis is miles ahead—it's tough to argue with a 29.9, 13.8, and 5.8 nightly average—Harden is still performing at a high level. The Rockets guard is dropping a shade under 35 points an evening and, as he accurately pointed out, dishing out almost 7.5 assists.
As Antetokounmpo astutely pointed out in the wake of Joel Embiid's "best player in the world" comments, every NBA player is supremely confident in their abilities. While it's fun to delve into a bit of drama now and then, we shouldn't let a few controversial comments overshadow what James Harden and Giannis Antetokounmpo can do on the court.
And, who knows, maybe both men will get to battle for supremacy on the court in the NBA Finals.