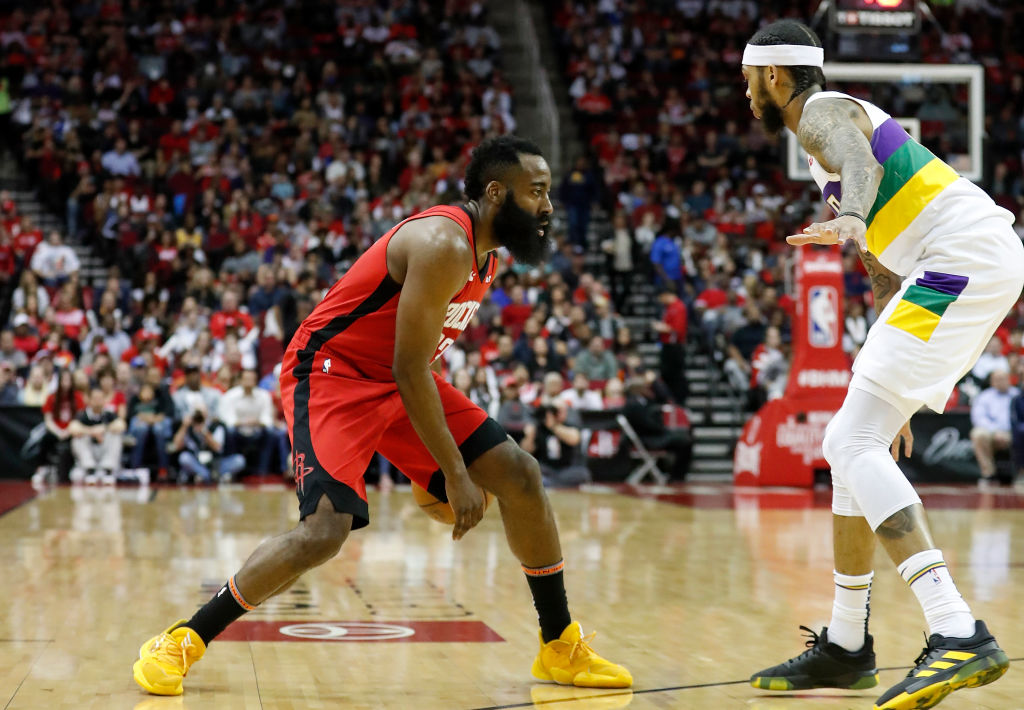 James Harden Belives His Isolation Offense Is Similar To Michael Jordan and Shaquille O'Neal's Game
Purists might not like James Harden's isolation offense, but the Rockets guard believes Michael Jordan did the same thing on the court.
If you're watching an NBA game, it's impossible to overlook Houston Rockets guard James Harden. On a purely visual level, his beard is iconic; on a performance-based level, he pours in the points every night. While purists might not love Harden's game, you know the Rockets are going to put their guard into isolation, and you know he's going to fill up the stat sheet.
Although James Harden has faced criticism for his style of offense, the guard isn't too concerned. In fact, he compared his isolation-based game to the likes of Shaquille O'Neal and Michael Jordan.
James Harden's explosive basketball career
These days, James Harden is one of the NBA's dominant scorers. His offensive outbursts, however, go all the way back to high school.
After dominating the AAU circuit and earning a spot in the McDonald's All-American Game, Harden enrolled at Arizona State. While the Sun Devils missed the NCAA Tournament, the guard had a strong individual season; he averaged 17.8 points per outing, earned a spot on both the all-conference team and conference all-freshman team. The next season, Harden's individual output increased to 20.1 points per game, and his team made it into March Madness.
The Oklahoma City Thunder snagged Harden with the third overall pick of the 2009 NBA draft. While he didn't immediately emerge as a dominant scorer, his talent was apparent for all to see. The guard earned a spot on the NBA All-Rookie Second Team; during his third campaign, he took home the NBA Sixth Man of the Year Award.
Once Harden signed with Houston, however, he took his offense to the next level. His production jumped from 16.8 points per night to 25.9 points; while the rate of growth has slowed down, the guard's stats are still increasing. He's currently averaging 35.2 points, 7.4 assists, and 6.4 rebounds per night, and has become a fixture in each season's MVP conversation.
Not everyone loves James Harden's game, though
No one can deny James Harden's talent on the basketball court. Not every fan, however, loves watching him go to work each night.
Those complaints mainly boil down to two factors: isolation offense and free throws. The former is Houston's main form of offense; rather than whipping the ball around or running things through the post, Harden dribbles the ball on the perimeter. From there, he reacts to the opposition. If they try to double-team him, the guard will pass to an open teammate; if his man gets too tight or sags too deep, Harden will drive to the rim or launch a step-back three-pointer.
Harden is also adept at getting to the free-throw line; he's currently averaging 12 foul shots per outing. While there's nothing wrong with either aspect of his offense, some fans don't care for the aesthetics of his game. Purists bemoan the lack of ball movement and team play, feeling those aspects of basketball are being replaced with individualistic effort and free throws; others argue that no offense can be at its when one player is holding the ball most of the time.
Michael Jordan and Shaquille O'Neal thrived in isolation, too
Despite those criticisms, James Harden isn't concerned. The guard believes he's doing the same thing as Michael Jordan, Shaquille O'Neal, and other greats—using his talents to help his team—albeit in a slightly different way.
"So you look at Shaquille O'Neal, Tim Duncan, Michael Jordan…they ISO'd, right? Tim Duncan and Shaq were big men, so they ISO'd in the post. It's the same thing as ISO'ing on the wing," Harden told GQ's Mark Anthony Green. "The object is to draw a double team, create an opportunity for your teammates, and get them an open shot. Well, my ISO's at the top of the floor. And now we get double teams, triple teams. And all different types of defenses to be able to try to guard us. Well, it's the same thing. We're at the top of the floor for the ISO, and I get a double team and I swing it, we get an open shot. When Tim Duncan posted up, they double-teamed him, he kicked it out, swing, open three to his teammate. 'Oh, that's good offense.' Well, it's the same thing."
Purists might not love James Harden's offense, but the Rockets guard won't care. As long as the team is winning, he's getting the job done.