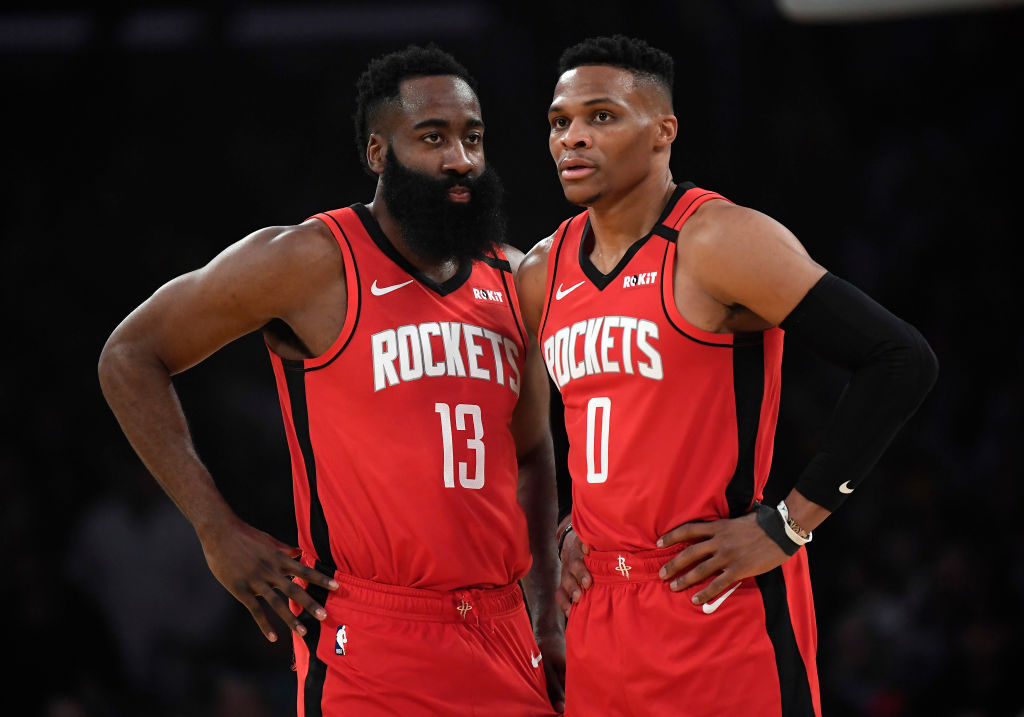 James Harden and Russell Westbrook Think the Houston Rockets Have 'Everything' They Need to Be NBA Champions
For the past several seasons, the Houston Rockets haven't been able to get over the postseason hump. James Harden and Russell Westbrook think this year will be different.
With the NBA All-Star Game officially in the books, it's time to start looking towards the playoffs. As the season moves down the stretch, contenders will start separating themselves from the pretenders; the Houston Rockets hope they're in the former category. Although the club is currently sitting in fifth place in the Western Conference, James Harden and Russell Westbrook aren't too concerned.
If anything, the Rockets' two stars are feeling confident. They believe that Houston has what it takes to win an NBA championship.
The Houston Rockets' season is all too familiar
For the past several years, the Houston Rockets have consistently shone in the regular season; that success, however, hasn't translated in the playoffs.
General manager Daryl Morey, however, set out to change that reality. During the offseason, he sent Chris Paul and two first-round picks to Oklahoma City in exchange for Russell Westbrook. The message was clear: Houston was going all-in with Mike D'Antoni and James Harden and planned to outscore every opponent en route to an NBA title.
It's safe to say that plan hasn't exactly worked out. While Harden and Westbrook are stuffing the stat sheet on a nightly basis, they're the Rockets' only offense; while injuries haven't helped matters, no one else on the team averages more than 15 points a night. Defense and rebounding are still problems, too, leaving Houston 7.5 games adrift in the Western Conference at the All-Star break.
James Harden and Russell Westbrook are still confident, though
While this season might seem like deja vu all over again for the Houston Rockets, their two star players aren't worried. If anything, James Harden and Russell Westbrook are confident that they can reach their ultimate goal.
"For me and James, it's about one thing: the championship," Westbrook told Mark Anthony Green of GQ. "Individually we've accomplished more than anybody else. I think for us, there's only going to be one thing that puts us in the conversation [with the greats]."
Green then asked the pair if they were capable of winning the title this season. "We got everything," Harden responded. Westbrook simply added, "Yeah, we're good."
"We haven't been healthy yet, but we're confident that once we get healthy and we put it together, it's going to be pretty tough to beat us," Harden continued. "Individually we've accomplished so much, broken so many records that are going to last forever. We're not worried about the individual accomplishments. We want to do whatever it takes to win games. You know what I'm saying? Not necessarily me throwing 40 up or him getting a triple-double. Like, s–t, that don't matter. But right now we got so many guys that are out that we gotta pick up the slack. And once we get a full roster, we don't have to do as much."
Can Harden and Westbrook carry the Houston Rockets to an NBA championship?
Every professional athlete has to be incredibly confident, and James Harden is no exception. Do his words, however, actually hold water?
On paper, the Rockets certainly have a chance to win the title. With two elite scorers on the roster, no game is out of reach. The guard is also correct about team depth coming into play down the stretch; between the Rockets' frenetic pace of play and the possibility that anyone, even Harden or Westbrook, can have a poor shooting night, players like Eric Gordon and Robert Covington will need to pitch in.
Even when the Rockets are at full strength, however, it's unlikely that Westbrook and Harden will be able to take a step back; they're simply responsible for too integral to Mike D'Antoni's small-ball system to spend time on the bench.
Getting past the Los Angeles Lakers, the Los Angeles Clippers, and, assuming favorites hold, the Milwaukee Bucks won't be easy. James Harden and Russell Westbrook have enough firepower to give the Houston Rockets a chance at in any game; come the playoffs, that reality alone makes them dangerous.