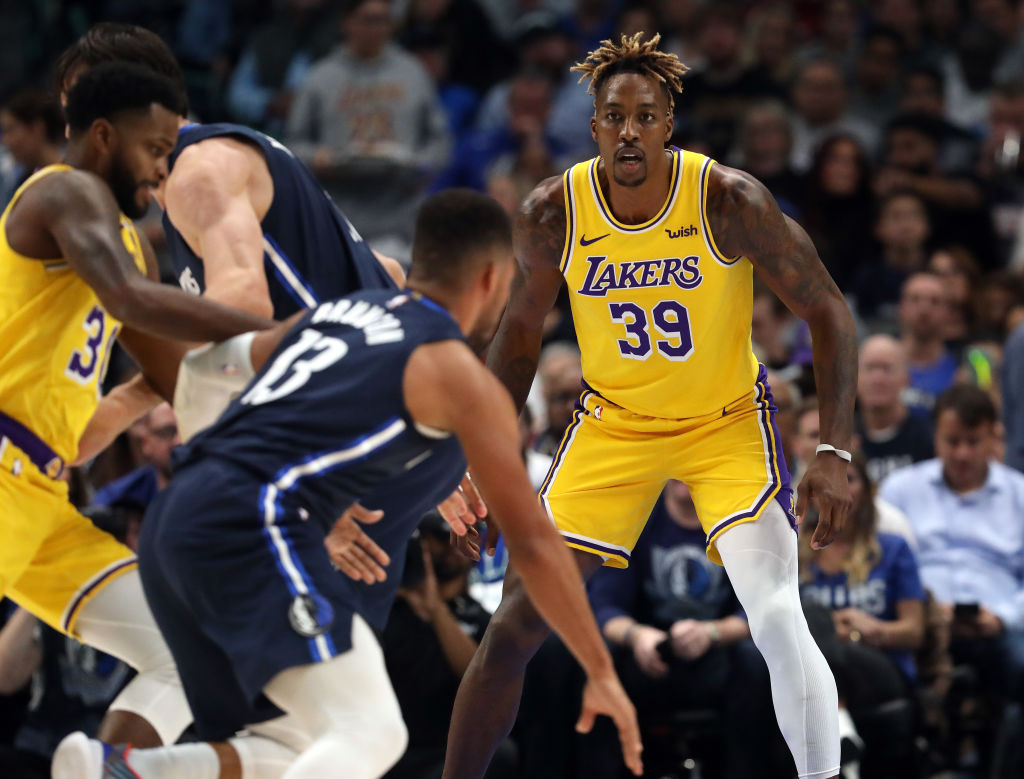 NBA: Even Shaquille O'Neal Is Impressed By Dwight Howard's Lakers Resurgence
For years, Shaquille O'Neal has given Dwight Howard a hard time. Even the veteran center, however, is praising Howard's play with the Los Angeles Lakers.
Whether you're reading a book, watching a movie, or following your favorite sports team, everyone loves a redemption arc. In the current sporting landscape, there's no bigger redemption story than Dwight Howard. After bouncing around between several teams, the center has landed with the Los Angeles Lakers and seemingly saved his career from the scrap heap.
Howard's resurgence has been so impressive that it's caught the attention of one big NBA name. Shaquille O'Neal, who has has a long-running beef with the center, has taken note of his comeback.
Dwight Howard's fall from grace
In the early 2000s, Dwight Howard started to dominate the high school basketball landscape. The young forward was so skilled that he decided to forgo college entirely and entered directly into the NBA draft. The Orlando Magic selected him first overall, and he Howard never looked back.
Despite some early struggles—the Magic didn't initially utilize Howard as a center—the young player's star power was evident. Howard finished third in Rookie of the Year voting; his play would improve as he continued to physically develop and adjust to the NBA game. He quickly became a star, carrying Orlando to the NBA Finals and winning the Defensive Player of the Year Award. At that point, it seemed like he could do no wrong.
In 2012, however, Howard was traded to the Los Angeles Lakers. He failed to mesh with Kobe Bryant and left to the Houston Rockets one year later. Howard struggled through injuries in Houston and, three years later, was traded to the Atlanta Hawks. The Hawks would trade him to the Hornets, who dumped his contract onto the Brooklyn Nets; after being waived, he signed with the Washington Wizards who would, in turn, trade him to the Memphis Grizzlies.
In August 2019, the Grizzlies waived Howard. Two days later, he signed with the Lakers; the NBA's brightest young center had been reduced into a liming role player who no one wanted on their roster.
The beef with Shaquille O'Neal
Dwight Howard and Shaquille O'Neal have a scary amount in common. Both big men started their careers with the Orlando Magic and were coached by Brian Hill; they then moved onto Los Angeles before bouncing around a bit. Both centers are also fans of Superman, which started their famous feud.
In the 2008 Slam Dunk contest, Howard donned a Superman outfit and cape for one of his dunks. While he intended it to be a tribute to Shaq, the veteran center didn't see it like that. He responded by saying Howard needed to win some championships if he wanted to be Superman, and things just kept going from there.
The two would keep going back and forth, with the two trading jabs in the media and battling on the court. Even after Shaq retired, he kept criticizing Howard whenever he could. Things have continued to spiral from there, with Howard impersonating O'Neal and O'Neal calling out Howard on social media.
Dwight Howard's redemption
On paper, Dwight Howard's return to the Lakers seemed like it could be a disaster. While he said all the right things about wanting to play his role and be part of a team, the center wasn't always a great teammate in the past. Could he really co-exist with LeBron James and Anthony Davis without feeling underappreciated?
So far, the signing has been an unabashed success. While Howard isn't reinventing the wheel, he's slotting into a solid role with the Lakers; the center has been playing around 20 minutes a night, scoring a few points in the paint, and pulling down rebounds. He's helped the team improve on the defensive end of the floor, too, averaging over two blocks per game.
His resurgence as a regular NBA contributor has even caught Shaq's eye. O'Neal posted a video of Howard naming his all-time Lakers starting five—yes, he did name Shaq the starting center—on his Instagram; the caption simply read "Thanks Superman @dwighthoward you playing great keep it up bro proud of you."
While Howard has to be happy with his on-court performance, Shaq's praise has to feel good on a personal level. He grew up idolizing the veteran center and, while belatedly, he seems to be earning O'Neal's respect. Now, all he has to do is help the Lakers win a championship.