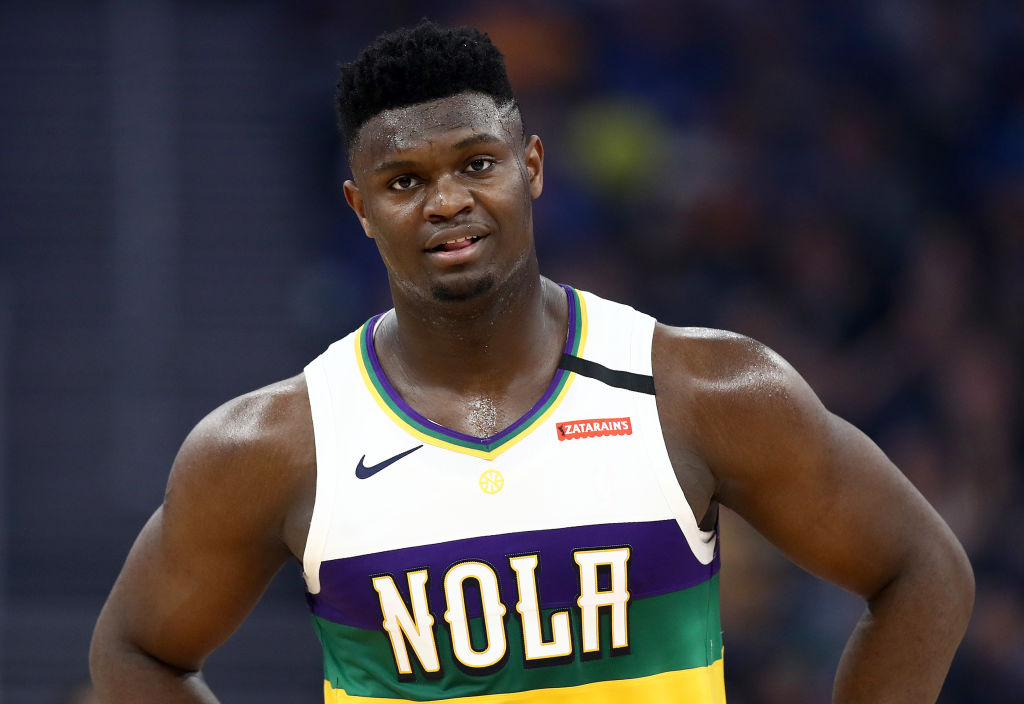 Zion Williamson Is Close To Setting Another NBA Record
New Orleans Pelicans rookie Zion Williamson is close to breaking an NBA rookie record held by Carmelo Anthony.
Zion Williamson is on the verge of making NBA history again.
After missing the first few months of the season with a knee injury, the No. 1 pick in last year's NBA draft has been on a tear since his debut for the New Orleans Pelicans on January 22. Hyped by some as the next LeBron James, Zion squared off with King James for the first time this past Tuesday night and held his own in the 118-109 loss, scoring 29 points on 8-for-18 shooting.
Ahead of a rematch with LeBron and the Lakers on Sunday, Williamson and the Pelicans have a matchup with James' former team, the Cleveland Cavaliers, on Friday night and Zion has a chance to set a new NBA record.
Zion Williamson broke multiple records in his debut
Zion Williamson's NBA debut didn't look as if it was going to be overly spectacular. Playing limited minutes, a cautious move from Pelicans coach Alvin Gentry and the New Orleans medical staff, Williamson had just five points heading into the fourth quarter against the Spurs. But then Zion simply went off.
By the time the game was over, Zion had racked up 22 points in 18 minutes, shooting 8-for-11 from the floor and a perfect 4-for-4 from beyond the arc. According to the Elias Sports Bureau, Williamson's 22 points were the most scored in under 20 minutes during a player's NBA debut in league history in the shot-clock era. His 22 points were also the most scored in a Pelicans debut, eclipsing the mark of 21 set by Anthony Davis.
His 17 points scored in the fourth quarter also tied an NBA mark of most points scored in a single quarter in a debut. He was also the first in history to go 4-for-4 from the three-point line in his first NBA game.
Zion can set a new NBA record on Friday night if he scores 20 points
Through his first 13 games, Zion Williamson has scored 20 or more points 11 times, including his last nine. With a 20-point performance on Friday night against the Cavs, the former Duke star would become the first teenager in NBA history to score 20 or more in 10 consecutive games. Carmelo Anthony got to nine on two separate occasions. But nobody, not even LeBron James or Kobe Bryant, has ever hit the double-digit mark.
It's somewhat understandable that Kobe never reached the milestone, seeing as how he came off the bench early in his career. In fact, Bryant only scored 20 or more points five times overall during his rookie year, one of those coming in the playoffs. But it is a bit surprising that LeBron never got there. The best streak James had in his rookie campaign was four, which happened twice.
In his last nine games, starting on January 31 in a blowout win over the Grizzlies, Zion Williamson has averaged 25.7 points while shooting 55.3 percent from the floor. He scored over 30 twice, including a career-high 32 in a loss to the Thunder on February 13. While one would think it wouldn't be difficult for Zion to put up 20 against a team with a 17-41 record, the last time Williamson didn't score 20 points was on January 28, against the Cleveland Cavaliers. He put up 14 that night in a 125-111 win.
Zion is on pace to break a record set by Wilt Chamberlain
Overall, Zion Williamson is averaging 23.3 points per game in 28.5 minutes. That puts him at 29.5 points per-36 minutes. If he can keep up that pace, he would eclipse the all-time rookie mark set by Wilt Chamberlain during the 1959-1960 season, who came in at 29.2. Joel Embiid is actually second on that list at 28.7. Michael Jordan is fifth on the all-time list at 26.5.
Yes, it is true that Zion Williamson won't have played in as many games as the others on this list and he's not even likely to win the NBA Rookie of the Year. But there's certainly no doubt that he'll be something very special in the NBA if he can continue to stay healthy. He's just 19 years old and is already doing some amazing things on the floor. And he's only going to get better, which is scary. Zion Williamson has already broken some NBA records and can get himself another one on Friday night.