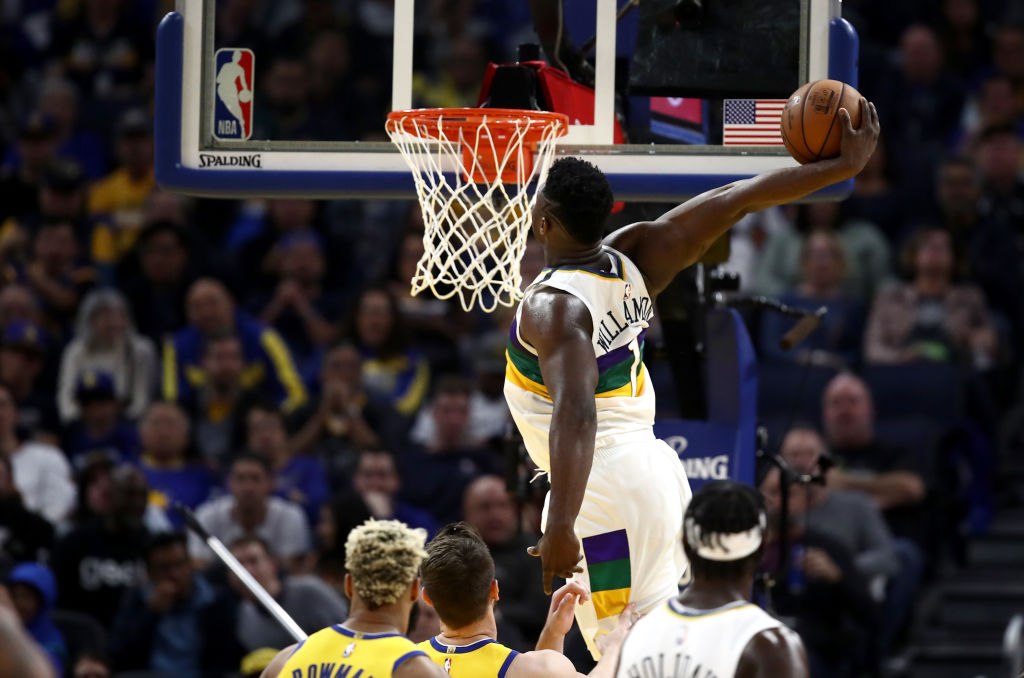 Is Zion Williamson a Modern Version of Charles Barkley?
While Zion Williamson is a freakish athlete, Steve Kerr thinks the Pelicans forward's game is comparable to Charles Barkley.
While Zion Williamson doesn't have a great deal of NBA action under his belt, the New Orleans Pelicans' forward has already established himself as a legitimate star. Although the league has plenty of freakish talents, it's hard to contend with the rookie's blend of size and athleticism. Golden State Warriors head coach Steve Kerr believes he's seen this skill set before in a Charles Barkley.
Sir Charles, of course, is a Hall of Famer, while Zion Williamson has only played a handful of NBA games. So how do the two forwards compare?
Zion Williamson is living up to the hype
While it's always exciting to watch a highly-touted prospect develop into a legitimate star, Zion Williamson felt a little bit different. During his time at Duke, he seemed capable of doing virtually anything on the court; it looked like a mere matter of time until he was shining in the NBA ranks.
Although Williamson looked like the real deal during the preseason, the forward didn't make his regular-season debut as planned. Zion, of course, had knee surgery at the end of October; while he was supposed to be back in action after six to eight weeks, his rehab stretched into the new year.
Williamson returned to action in January, though, and immediately started making up for lost time. While the forward still isn't playing full games, his production has been more than impressive. The rookie is averaging 22.8 points, 7.2 rebounds, and 2.3 assists per outing, already earning himself a spot in the NBA record books.
Steve Kerr likens the rookie to prime Charles Barkley
During his time as a player and a coach, Steve Kerr has seen plenty of NBA talent up close. He's still impressed, though, with Zion Williamson.
"In the NBA, almost everybody out there is an incredible athlete and Zion stands above the crowd, literally and figuratively," Kerr explained. "He gets rebounds you don't think he can get. He slices in from the weak side and covers so much ground. He's explosive and powerful. I'm just glad for him and New Orleans that he's healthy and playing."
The coach was also asked if he could remember any players who had Zion's blend of size and athleticism. Kerr pinpointed one: Charles Barkley.
"If you look back at Charles when he was in his prime. That kind of explosiveness with the strength," the Warriors head coach explained. "The ability to kind of get downhill, be a one-man wrecking crew. That would be the first guy to come to mind for me."
How does Zion Williamson compare to Charles Barkley?
Steve Kerr isn't the first person to compare Sir Charles to Zion Williamson; last year, the Duke freshman was called a blend of Barkley and Dominique Wilkins. While the two men are similar in size—during his playing days, Barkley was listed as 6-6, 252 lbs, while Zion comes in at 6-6, 285 lbs—the NBA veteran wasn't having it.
"Well, it's not fair to compare him to me. He's not nearly as good as I was in my heyday," Barkley said in the fall of 2019. "He's really talented [but] he hasn't even played in an official NBA game yet and Dominque is in the Hall of Fame also. But, listen, I love the kid, I wish him nothing but the best, but it's disrespectful to compare him to me already. I'm in the Hall of Fame, I was a hell of a player but to compare him to me and Dominique, two guys who were great players in the Hall of Fame, that's not fair to him and that's not fair to me and Dominique, to be honest with you."
Since then, Zion has played 12 NBA games; Barkley has also changed his tune a bit, praising the rookie's explosiveness and athleticism. Williamson, it seems, is winning Sir Charles over with his on-court performances.
While there's obviously an issue of sample size, the two men posted incredibly similar stat lines. Barkley's currently ahead in terms of average assists and rebounds, but his production increased over the course of his career; it's only reasonable to expect Williamson to grow into the professional game, too.
Drawing comparisons between players of different eras is never easy, but we should all be able to agree on some fundamental truths. Charles Barkley and Zion Williamson are physically similar players who both thrive around the paint. Sir Charles was a quality NBA forward; while no one knows how Zion Williamson's career will play out, he's well on his way to greatness.