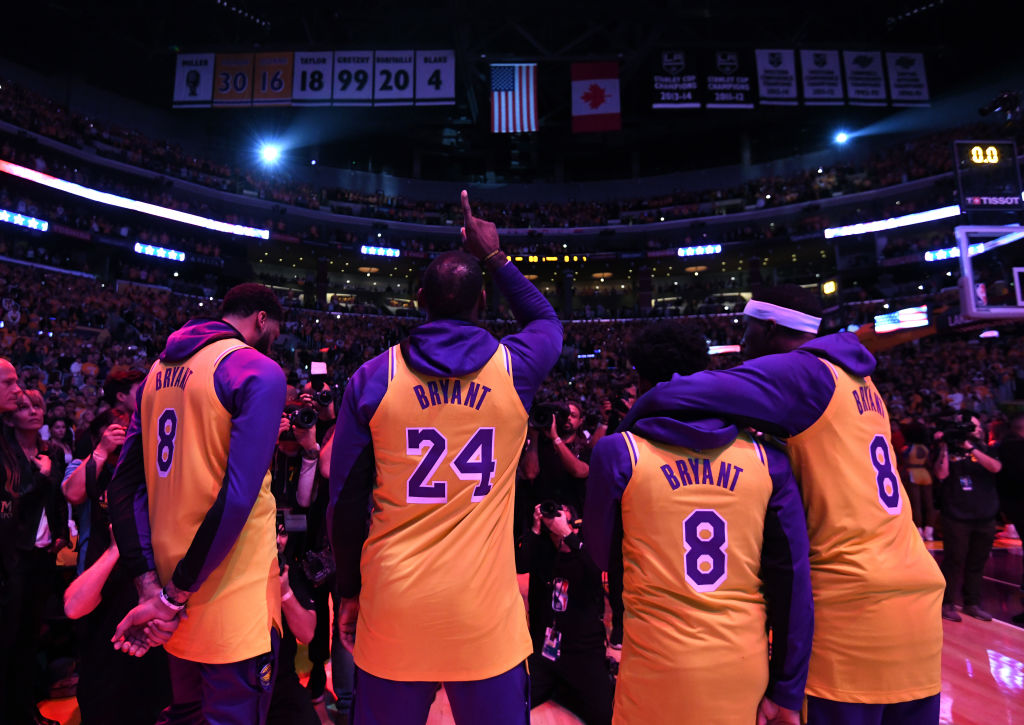 Anthony Davis Remembers the Moment He Learned of Kobe Bryant's Death
On January 26, we all learned the shocking news of Kobe Bryant's death. The Los Angeles Lakers and Anthony Davis had a similar experience.
As a sports fan, there are certain moments you'll never forget. Some can be happy memories, like watching your team clinch a championship or honor a franchise icon; others can be harder, like hearing the news that a childhood hero has died. The entire world experienced the latter reality first hand in January, as Los Angeles Lakers legend Kobe Bryant tragically passed in a helicopter crash. While the entire sports world was shaken, the loss was especially painful for players like Anthony Davis, who knew Bryant in a different way.
When Bryant died, the entire Lakers team was flying back from a game in Philadelphia. The big man recently remembered how that flight felt.
Kobe Bryant's untimely death
While Sunday, January 26, started out like any other day, it became a date that no sports fan will ever forget. Kobe Bryant and eight others, including his daughter Gianna, all tragically lost their lives in a helicopter crash.
As initially reported by TMZ, the Sikorsky S-76 helicopter crashed into a hillside on a foggy, Southern California morning. While the accident is still under investigation, a source told ESPN that the pilot had been trying to climb above the fog and clouds; shortly after that ascent, the vehicle descended and crashed into a hillside.
Understandably, tributes immediately started pouring in; everyone, from Lakers greats to athletes in other sports, remembered Bryant's place in the sporting pantheon.
Anthony Davis and the Lakers learn the news
On Saturday, January 25, the Los Angeles Lakers played a game in Philadelphia. After a poor performance, they spent the night in the City of Brotherly Love before boarding a plane the following morning.
During the flight, Lakers director of media relations Alison Bogli approached head coach Frank Vogel; she had seen a news report about the fatal crash in California. They, however, weren't the only ones getting word.
Further back in the plane, Dwight Howard and DeMarcus Cousins grabbed Anthony Davis' attention. "So I remove one of my headphones, and I look," Davis told ESPN's Dave McMenamin. "And Dwight tells me, 'Man, Kobe died.' And me thinking as invincible as Kobe Bryant is, I'm like, 'Kobe who?' Because I'm like, that's not—it's not Kobe Bryant."
"And he was like, 'Kobe.' And I was like, 'OK. Kobe who? I'm not sure who you're talking about.' And he was like, 'Kobe Bryant.' And at this time, Bron is still asleep. So I was like, 'Wait, what? How? Like, I need details, like, tell me.' And he was like, 'Man, helicopter crash."
Davis then shook LeBron James awake. "I remember the first thing Bron said to me was, 'Man, y'all stop playin — like, stop playing with me,'" the big man remembered. "And I'm trying to get on the internet. And Dwight, like, you can see him start crying. He was like, 'It's true."
Anthony Davis and Kobe Bryant's special relationship
During his playing career, Kobe Bryant was the ultimate competitor. He broke his steely exterior, however, for Anthony Davis.
The two players first linked up during the 2012 Olympics, when they both were members of the United States Men's Basketball team. As a 19-year-old, Davis used the opportunity to learn everything he could about greatness.
"I think he was there when me and Serena [Williams] had a nice conversation about work ethic and competition and how she processes competitiveness and rivals and all that," Bryant recalled. "Sort of comparing notes. He was just sitting there watching."
"I want to get better," Davis explained. "You can't try to become a better player on and off the floor and be nervous to learn from other guys who've done it before you. So I've never been nervous to ask a question whether in film, on the court, something I don't know I'll ask and hear what people have got to say."
Everyone grieves and honors people in their own way. Winning the 2019-20 NBA Championship, though, would be quite the way for Anthony Davis, LeBron James, and the Los Angeles Lakers to remember the late Kobe Bryant.