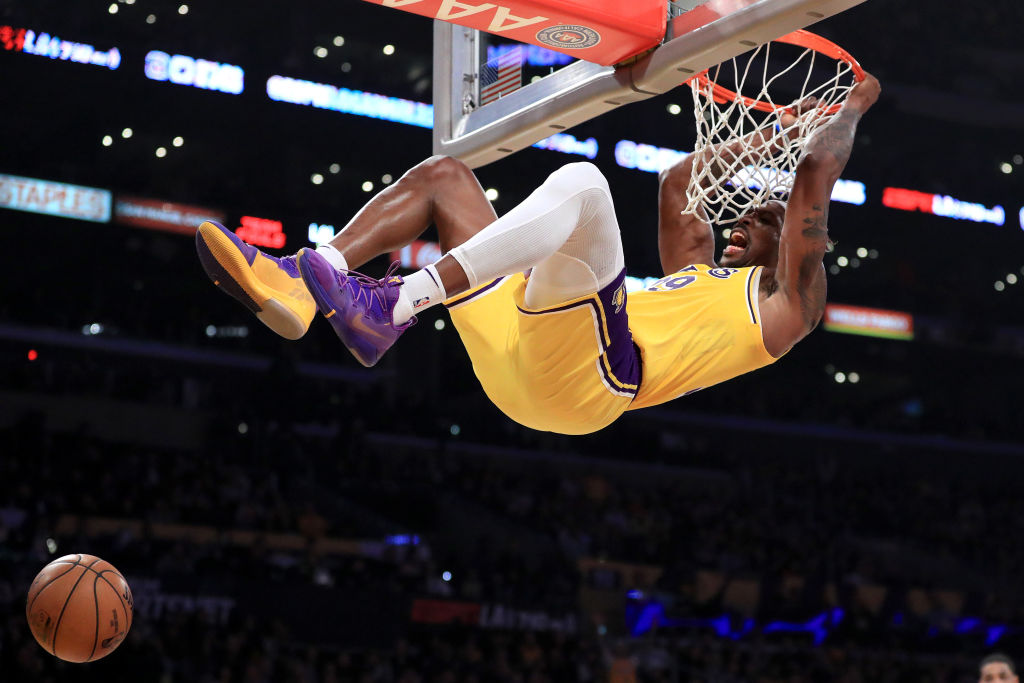 Dwight Howard Wanted 1 Lakers Legend's Help In the Slam Dunk Contest
Dwight Howard is heading back to the NBA Slam Dunk Contest. The big man, however, wants help from one particular Los Angeles Lakers legend.
At this time last year, Dwight Howard looked like he was on his way out of the NBA. The center, however, has rebounded. He joined the Los Angeles Lakers, has accepted his status as a role player, and is undergoing a bit of a resurgence. Howard will even be taking part in this year's Slam Dunk Contest.
The big man, however, doesn't want to go it alone. In fact, he hoped for an assist from one specific Los Angeles Lakers legend.
Dwight Howard's Los Angeles Revival
During his time with the Orlando Magic, Dwight Howard looked like one of the brightest stars in basketball. More recently, though, he looked like a shell of his former self.
Ever since joining the Lakers in 2012, Howard struggled to find his footing. The big man bounced between teams, battling through injuries and failing to find his place in the locker room. After a series of trades and trips through the waiver wire, though, he rejoined the Lakers; when he arrived in Hollywood, he was a new man.
Howard trimmed the junk food from his diet, losing forty pounds, but that wasn't his only change. The big man also adopted a new mentality, embracing positivity and hard work. So far, those choices seem to be paying off. While Howard had a reputation as a bit of a spoiled superstar, he's embraced his new role as a bench player; he's only playing about 20 minutes per night, but doing the little things to help the team win.
Heading back to the Slam Dunk Contest
Dwight Howard's revival will continue during NBA All-Star Weekend when the big man will return to the Slam Dunk Contest. His inclusion, however, didn't follow the conventional process.
Howard, of course, headlined the competition from 2007 through 2009, famously winning the 2008 edition with a Superman dunk. This time, though, the league didn't invite him. The Lakers' big man reached out to the NBA, hoping he could participate.
"I reached out myself and told them I wanted to be in it, so it was like, 'Oh, really?' I was like, 'Yeah,'" Howard explained on Wednesday. "So here it is. I think I'm the oldest dunker in the dunk contest ever."
While age might not be on Howard's side, one factor is: experience. With that in mind, he's already hoping for help from one Lakers legend.
Dwight Howard hoped for help from Kobe Bryant
During their time as teammates, Dwight Howard and Kobe Bryant never saw eye-to-eye. The big man, however, was hoping that the Lakers legend could give him a hand during the Slam Dunk Contest.
"Now that I'm competing against some way younger guys, I have to find a way to really make the dunk contest fun for the fans and really entertaining," Howard said. "So came up [with] some pretty good ideas, so things are going to be a lot of fun."
One of those ideas, it seemed, involved Bryant. The guard, of course, tragically died in a helicopter crash on Sunday, January 26.
On Instagram, Howard dedicated the rest of his season to the memories of Kobe and Gigi Bryant. Winning the Slam Dunk contest—as the guard did during his rookie season—would certainly be a fitting tribute.