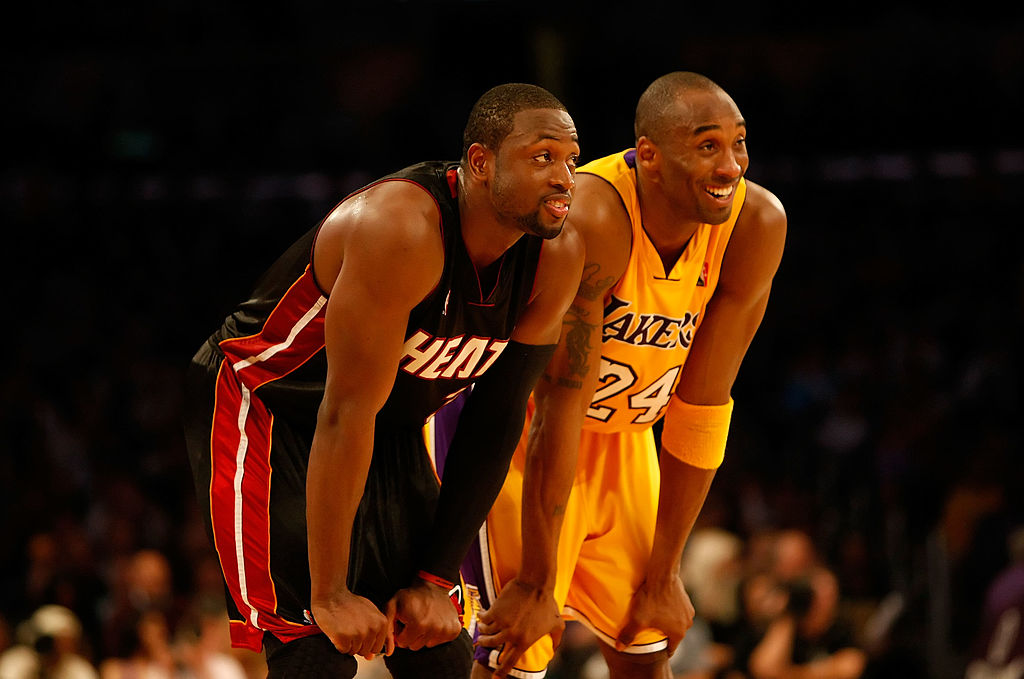 How Dwyane Wade Honored Kobe Bryant at His Jersey Retirement Ceremony
During his jersey retirement ceremony with the Miami Heat, Dwyane Wade reflected on some advice that was given to him by Kobe Bryant.
Dwyane Wade had his Miami Heat No. 3 jersey hoisted to the rafters this past Saturday night at American Airlines Arena. During a ceremony at halftime of the Heat-Cavaliers game, a game which Miami won 124-105, Wade thanked a long list of people that helped him get to that point. He mentioned team president Pat Riley, head coach Erik Spoelstra, numerous past teammates, the Heat fans, and, of course, his family.
However, his most impactful words came at the end of his speech when he payed tribute to the player he looked up to the most, Kobe Bryant.
How many jerseys have the Heat retired?
Dwyane Wade is easily the most successful player in Miami Heat history. Nobody in franchise history has played more minutes, scored more points, dished out more assists, or recorded as many steals as Wade has. D-Wade played parts of 15 seasons in Miami and won three NBA championships. He was the NBA Finals MVP in 2006, was an All-NBA First Team selection on two occasions, and a 13-time NBA All-Star. Wade played his final game in April 2019.
Wade's No. 3 jersey now resides alongside five others in the rafters of American Airlines Arena. The Heat have retired Alonzo Mourning's No. 33 jersey, Tim Hardaway's No. 10, Chris Bosh's No. 1, and Shaquille O' Neal's No. 32. The No. 23 has also been retired in honor of Michael Jordan.
Were Dwyane Wade and Kobe Bryant ever teammates?
In the 13 seasons the two played in the NBA together, Dwyane Wade and Kobe Bryant were never teammates. Wade did leave the Miami Heat for a stretch, spending time with the Bulls and Cavaliers. Kobe famously played for the Los Angeles Lakers his entire 20-year career. With the current format in the All-Star Game not being adopted yet (where East and West doesn't matter), Wade and Bryant were also never teammates in the NBA All-Star Game.
However, there was one occasion where two of the game's best over the last 20 years wore the same uniform. After a disappointing bronze medal in the 2004 Olympics, "The Redeem Team" was formed for the 2008 Games in Beijing. Wade and Bryant were two of the top three scorers for USA Basketball that summer, along with LeBron James, as the U.S. brought home the gold with an 8-0 record.
D-Wade honors Kobe at jersey retirement ceremony
After speaking on past coaches, teammates, and family during the jersey retirement ceremony, Dwyane Wade got very emotional at the end of his speech on Saturday night when talking about Kobe Bryant, noting how much his friend helped him during his career, a career that will undoubtedly end with Wade being inducted into the Hall of Fame.
"Kobe said the most important thing is to try to inspire others so they can be great in whatever they try to do. I hope I inspired you. Thank you for making me a part of your legacy. Please know you're a huge part of mine."

Dwyane Wade
Following the ceremony, Wade expanded on his comments about Kobe.
"The impact that the passing of Kobe has done on myself and so many others is it's made us sit down and stop. Life goes so fast. We move at a rapid pace. It's made me enjoy the moment more. It's made me want to create more memories. It definitely put a lot of things in perspective. As athletes, we're looked at as superheroes. We looked at Kobe as a superhero. That moment has touched all of us and will continue to.

"Kobe was leading the way — he retired and showed us in his next act after retirement that you can master that, as well. He mastered basketball, he mastered being an amazing father, he mastered being a husband, he mastered being a creator. He was showing us the way, and now we don't have that. So I do have a responsibility to be that guy and show the way for the next generation."

Dwyane Wade
Dwyane Wade, along with so many players throughout the league, past and present, has long respected Kobe Bryant. It seems as if that's something that will never change.