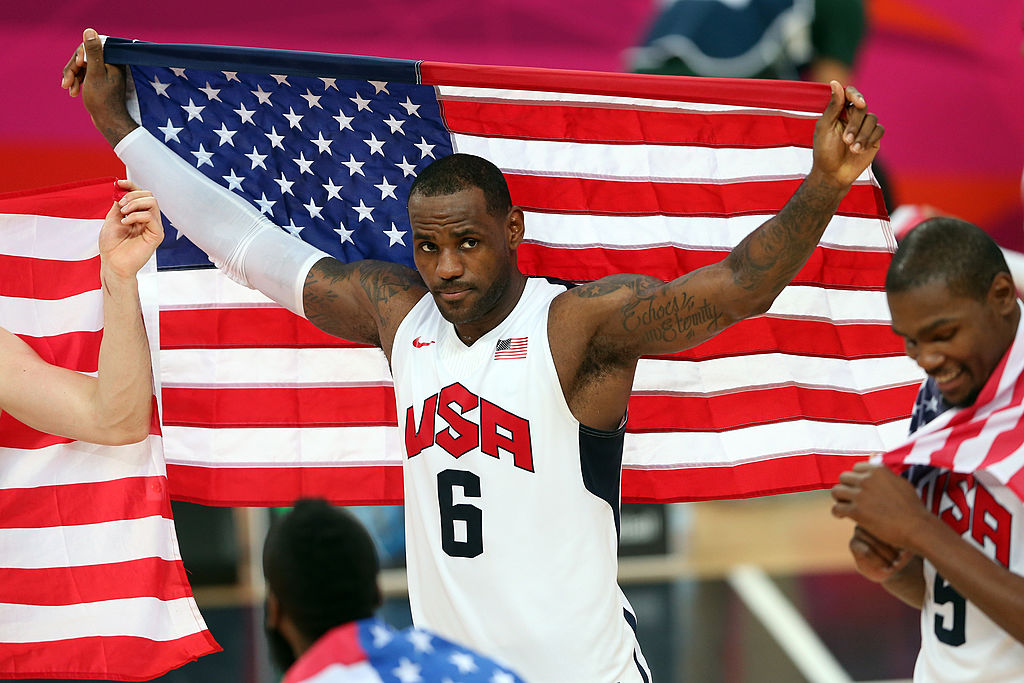 The 2 Factors That Will Decide Lebron James' Status for the 2020 Olympics
LeBron James is considering playing for USA Basketball for a fourth time at the 2020 Olympics in Tokyo.
LeBron James may be headed back to the Summer Olympics.
The three-time NBA champion is among the 44 finalists named by USA Basketball for the team that will represent the U.S. this summer in Tokyo, Japan. But will LeBron James commit? There are a few reasons that could keep him from another chance at a gold medal.
How many times has LeBron James played at the Olympics?
LeBron James has played for USA Basketball at the Olympics on three occasions, in 2004, 2008, and 2012.
LeBron made his debut for the U.S. national team at the 2004 Olympics in Athens. Coming off his rookie season in Cleveland, James didn't see a lot of on-court action. He didn't start a single game and averaged just over 11 minutes a night in eight games, scoring just 5.4 points per game. After a shocking loss to Argentina in the semifinals, Team USA won the bronze medal game. This was just the third time in history that the U.S. failed to win the gold and the first time since NBA players began competing in 1992.
James returned to Team USA in Beijing in 2008, joined by the likes of Kobe Bryant and Dwyane Wade on "The Redeem Team" and played a much larger role. He started all eight games in China and was second on the team in scoring, averaging 15.5 points per game, behind only Wade's 16.0. The team went undefeated and brought home the gold medal, LeBron's first.
As part of arguably one of the greatest teams ever assembled, James returned for a third Olympics in London in 2012. Alongside Kobe, Kevin Durant, Carmelo Anthony, James Harden, Chris Paul, Russell Westbrook, and a young Anthony Davis, LeBron & Co. once again went undefeated on their way to the gold. James was third on the team in scoring, averaging 13.3 points per game. LeBron currently sits in third place on the USA Basketball all-time scoring list.
Following his championship run with the Cavaliers in 2016, James chose to skip the Olympics in Brazil.
Who would join LeBron on the Olympic team?
It's presumed that LeBron James can make the call whenever he likes on whether or not to suit up for Team USA in Tokyo. No matter if LeBron plays or not, the team will be stacked. The 44 finalists named by USA Basketball includes 16 former Olympians and 19 overall players that have won a gold medal in Olympic or World Cup competition.
The full list of finalists was released in mid-February: Bam Adebayo, LaMarcus Aldridge, Harrison Barnes, Bradley Beal, Devin Booker, Malcolm Brogdon, Jaylen Brown, Jimmy Butler, Mike Conley Jr., Stephen Curry, Anthony Davis, DeMar DeRozan, Andre Drummond, Kevin Durant, Paul George, Draymond Green, James Harden, Montrezl Harrell, Joe Harris, Tobias Harris, Gordon Hayward, Dwight Howard, Brandon Ingram, Kyrie Irving, LeBron James, Kyle Kuzma, Kawhi Leonard, Damian Lillard, Brook Lopez, Kevin Love, Kyle Lowry, JaVale McGee, Khris Middleton, Donovan Mitchell, Victor Oladipo, Chris Paul, Mason Plumlee, Marcus Smart, Jayson Tatum, Klay Thompson, Myles Turner, Kemba Walker, Russell Westbrook and Derrick White.
What could keep LeBron from playing for Team USA?
While LeBron James has said that he would love to play for Gregg Popovich, there are a few reasons why he might not be wearing a USA Basketball jersey in Tokyo this summer.
"My name is in the hat and it's always predicated on: one; my body, how my body is feeling at the end of the season — I hope to make a long playoff run. And then where my mind is and then where my family's head is. So, it's a lot of factors but my name is in the hat."

LeBron James
James is 35 years old and this is his 17th year in the NBA. That's a lot of wear and tear on the body. Granted, LeBron isn't the typical 17-year veteran. He's having one of the best overall seasons of his career for the Los Angeles Lakers, averaging 25 points and nearly 11 assists, the latter of which leads the NBA. Los Angeles sits atop the Western Conference and are easily one of the favorites to head to the NBA Finals. That adds a lot of minutes.
James has also made it no secret that he's a big family man. With all of the other things LeBron is involved with, spending time with his wife and three children likely gets very difficult and taking the summer to spend time with them may take priority over winning a third gold medal.
LeBron or no LeBron, USA Basketball will be just fine.