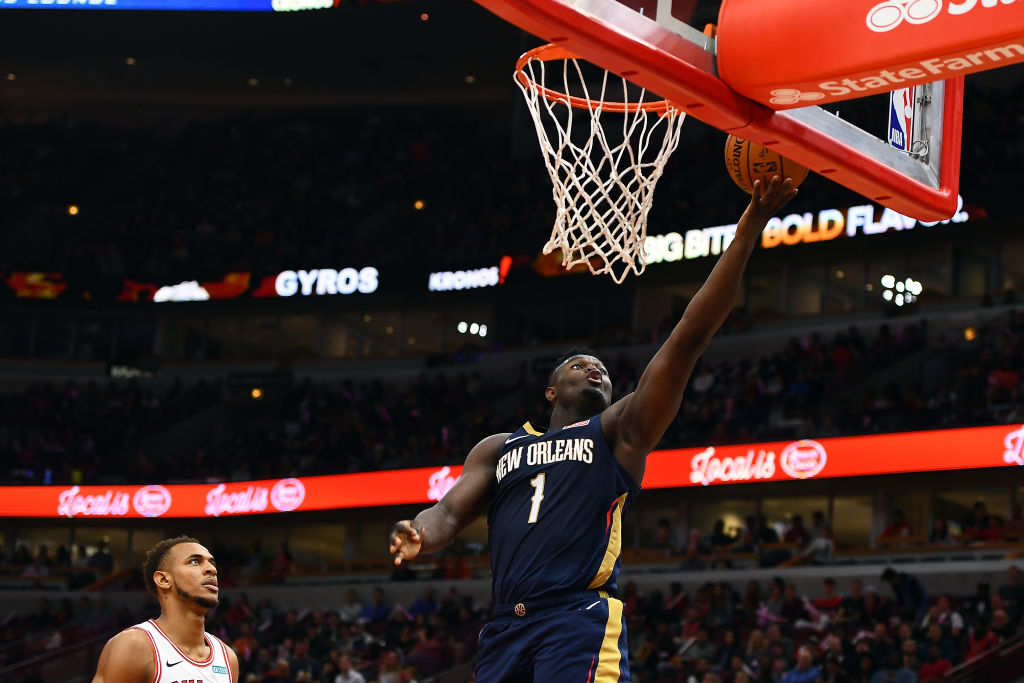 NBA: 2 Early Stats That Support Zion Williamson's Chances of NBA Success
Can Zion Williamson's game translate to the NBA? Two stats from his early Pelicans performances point towards success.
One of the biggest storylines of this NBA season, both figuratively and literally, is Zion Williamson. After one season at Duke, the big man was selected first overall in the 2019 NBA draft. Now he's on the New Orleans Pelicans and looking to adjust to the pro game.
While it's always tricky to predict how a player will perform in a new environment, Zion looks poised for success. In fact, two stats from his recent preseason game bode well for the forward's adaptation to the NBA.
Zion Williamson's Duke career
Williamson came to Duke University as one of the highest-rated recruits in the country and immediately lived up to his billing. After a strong preseason showing, Zion made a statement against Kentucky, dropping 28 points in a dominant win. His entire college career, however, didn't go as smoothly.
On February 20, Williamson infamously blew out his shoe and suffered an injury in a game against North Carolina. He missed the remainder of the regular season but returned to action during the ACC Tournament without missing a beat. While Duke ultimately fell short of the national championship, Zion proved that he was more than just a freak of nature; he could play and excel on the biggest stage.
Playing for the New Orleans Pelicans
On Wednesday night, Williamson's New Orleans Pelicans faced off with the Chicago Bulls in a preseason game. While it's dangerous to draw too many conclusions from an exhibition, Zion put on an impressive show.
Despite playing less than three quarters, Zion scored a game-high 29 points, while shooting 12-of-13 from the floor. That performance was historic; Williamson's 29 points were the most scored by a rookie in the past three preseasons and the most scored by a first overall pick since Derrick Rose's 30 in 2008.
But, beyond the pure counting numbers, there was another encouraging sign on Tuesday night.
Zion's points in the paint
During his time at Duke, Williamson tended to end up on the perimeter. While he could drive to the rim, he also pulled up for quite a few perimeter jump shots. Big men can't simply live in the post anymore, but it seemed like a waste of Zion's physical gifts to see him pulling up for three-pointers rather than pounding the paint.
On Wednesday night, Williamson found success on the low block, with all 13 of his shot attempts coming from within five feet of the rim. Despite that stat, he wasn't static; Zion buzzed around the paint, constantly repositioning himself for an entry pass or rebound. "It was not trying to stay still," he explained. "Sometimes, I find myself standing still. If I feel like I'm standing, I circle around and try to find an open spot."
The Bulls were also impressed with his showing. "I was amazed at his body control for a guy that big," Chicago head coach Jim Boylen said. "It's amazing for a guy that big to kind of be able to slither through and snake through things and get to the rim, even though people are in front of him. It's a heckuva skill."
While reducing Zion Williamson to a post player would be a waste of his talents, Wednesday's performance is encouraging. If he can score with such ease in the paint this early in his NBA career, the forward shouldn't have any trouble thriving in the big leagues.