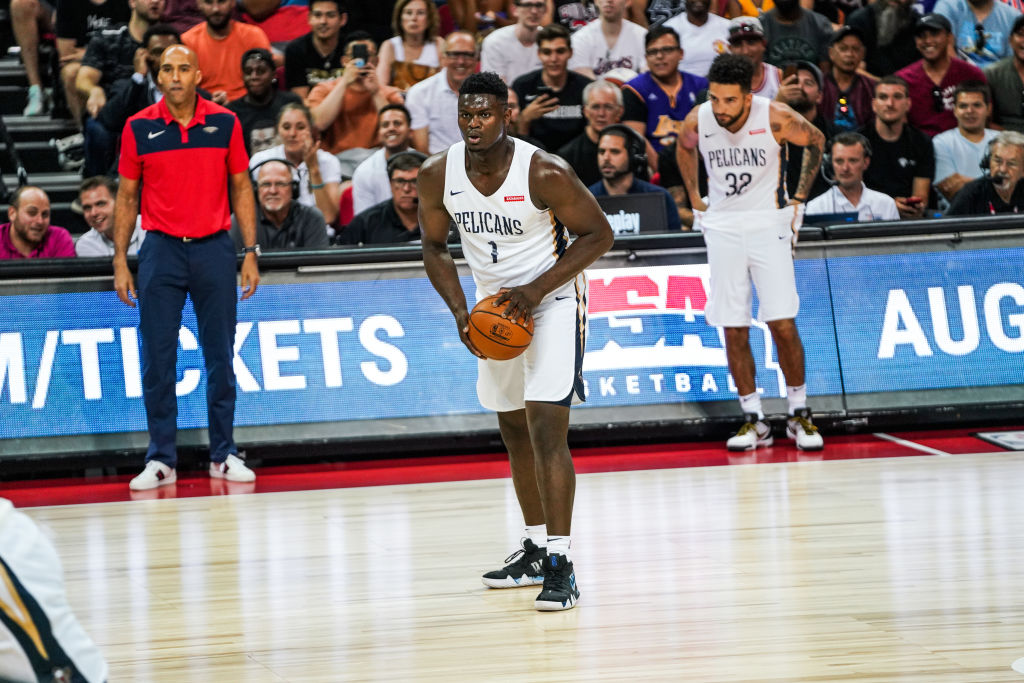 NBA: Zion Williamson's Pelicans Teammate Gives Him One Rule for his Rookie Season
Zion Williamson might be the next NBA star, but there's still one rule that the rookie needs to follow.
Life as a rookie is never easy, even if you're Zion Williamson. While you're still playing the same sport you've always known, things are different at the pro level. The schedule is longer, the travel is more grueling, and you're no longer the big fish in a small pond. Thankfully, every athlete has one support system around them: their teammates.
Those teammates are always quick to dispense advice, whether it's about professional or personal matters. In fact, one of Williamson's New Orleans Pelicans teammates has already given him one rule for life in the NBA.
From Duke University to the NBA
From the first time Zion Williamson stepped on the court at Duke, it was clear that he was something special. The forward scored 29 points and pulled down 13 rebounds in his preseason debut against Ryerson and never looked back. In fact, the only thing that could stop Williamson was an infamous wardrobe malfunction.
On February 20, Williamson's foot burst through the side of his Nike sneaker; he suffered a knee injury and missed the rest of Duke's regular season games. When he returned to action, however, he didn't miss a beat. Zion was only the sixth freshman to be named ACC Tournament MVP and posted strong numbers during Duke's run to the Elite 8. When the season was said and done, he joined Kevin Durant and Anthony Davis as the only college players to record 500 points, 50 steals, and 50 blocks in his freshman year.
Unsurprisingly, Zion was selected first overall in the 2019 NBA draft by the New Orleans Pelicans, where he would link up with some familiar faces.
Joining up with "Duke South"
When he signed with the Pelicans, Williamson actually reunited with a substantial group of Duke alumni. The Blue Devils basketball program brands itself as a brotherhood; if New Orleans is any evidence, that family doesn't stop at the campus gates.
On the court, Williamson, J.J. Redick, Brandon Ingram, Jahlil Okafor, and Frank Jackson all played under Coach K. But there are also Duke connections in the front office: General Manager Trajan Langdon also played for the Blue Devils in the 1990s. While they were all quick to welcome Zion to town, one NBA veteran had a key rule for the rookie.
J.J. Redick's Playoff Past
J.J. Redick might be new to the Pelicans, but he's been around the block in the NBA. While the veteran guard might still be an excellent shooter, he's an example of how hard work pays off in the pros; Redick has never been the most athletic or talented player, but he's carved out a legitimate NBA career where other Duke alumni have failed.
He's also made the playoffs during every one of his professional seasons, which he was sure to tell Zion. The rookie has one rule for this year: don't let that streak end.
"My first real conversation with Zion was a couple weeks ago," Redick said. We got to chat for 20 minutes or so after one of the workouts, and at the end of it, I said, 'Look man, don't f*** this up for me."
Can the Pelicans make the playoffs
According to FiveThirtyEight, the Pelicans have a little worse than a 50/50 shot of making the playoffs. While the team certainly has some good pieces and a talented starting five, the Western Conference is never a friendly place to play; teams will probably try to bully Zion, too, so it will be interesting to see how he responds.
With all of that being said, if there's one man capable of doing whatever he wants on the basketball court, Zion Williamson is pretty close to the top of the list. If he adjusts to the NBA with ease, it will be a whole new ballgame in the West.