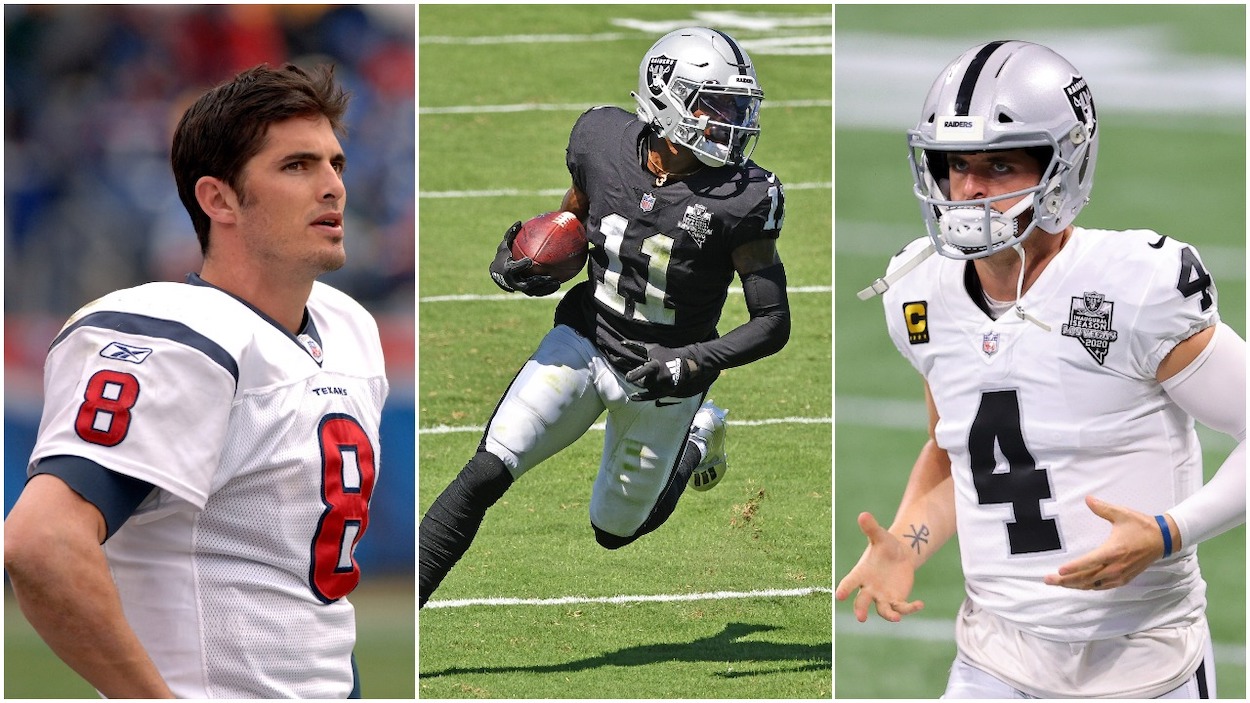 Derek Carr's Brother Calls Out Las Vegas Raiders QB's Second-Year Receiver Henry Ruggs III
NFL analyst David Carr called out his brother Derek Carr's second-year Las Vegas Raiders wide receiver Henry Ruggs III on NFL Network. The older Carr says his brother tells him Ruggs has incredible talent but he needs to it step up and show it on the field, not just in practice, in 2021.
Listening to TV talking heads call out your wide receivers must be tough for an NFL quarterback, even when the criticism is justified. When the analyst in question is your brother, it has to make returning to the locker room even more awkward.
This is exactly what Las Vegas Raiders QB Derek Carr is dealing with after his older brother, NFL analyst David Carr, called out the younger signal-caller's second-year wide receiver Henry Ruggs III.
Henry Ruggs III struggled in his rookie season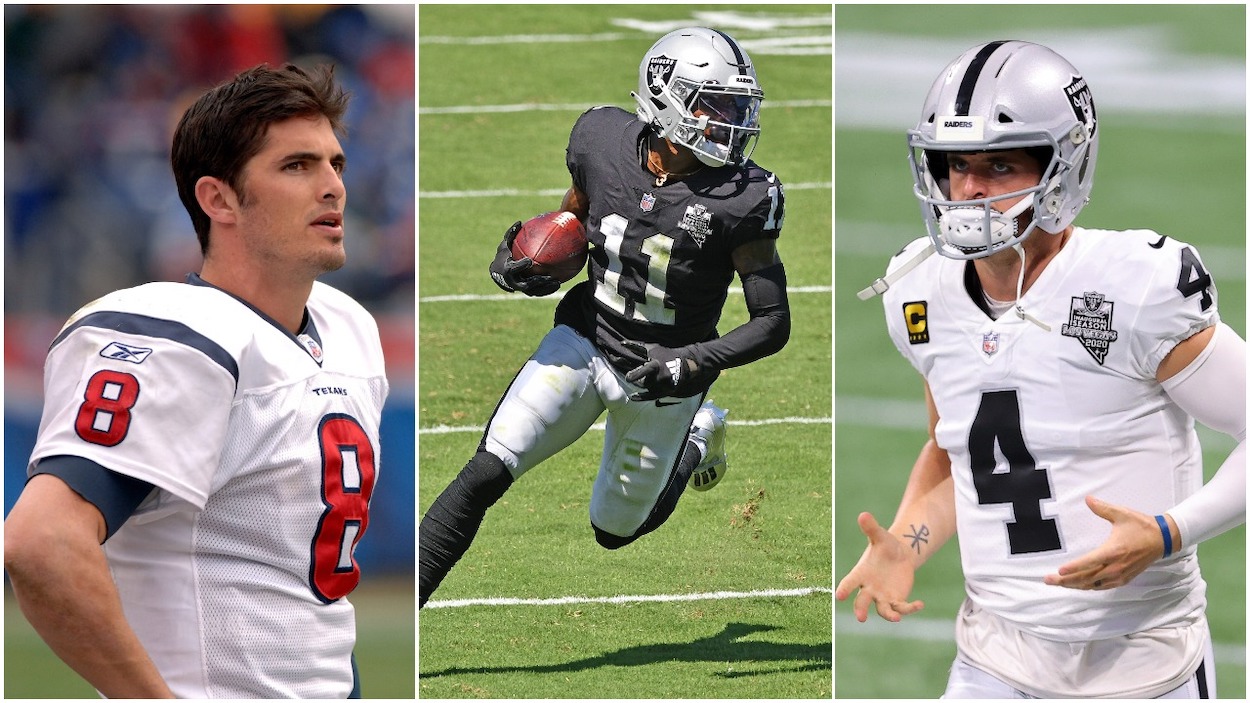 Ruggs was a star wide receiver at the University of Alabama. He caught 98 balls for 1,716 yards and 25 touchdowns as a member of the Crimson Tide. He really came to NFL scouts' attention at the 2020 NFL draft combine, though.
The speedster ran a 4.27 40-yard dash which solidified his first-round pick status. He was the first receiver to come off the board in that draft when the Raiders selected him No. 12 overall. This was ahead of other first-round receivers such as his college teammate, Jerry Jeudy, Oklahoma's CeeDee Lamb, and Justin Jefferson from LSU.
Ruggs did not perform like the best WR in the 2020 class. His 452 receiving yards were the second-lowest of all first-round pass-catchers. Only the Philadelphia Eagles' Jalen Reagor had fewer yards, and he missed five games with an injury.
David Carr, a former No. 1 overall pick and brother of the Raiders QB Derek Carr, called out Ruggs 
On the NFL Network's NFL Total Access, Raiders QB Derek Carr's brother David called out Ruggs, saying he is the NFL player who needs to step up most in 2021.
Leaning on inside information from his brother, David Carr said of Ruggs:
[Derek] says, 'in practice, he's the best player that I've ever played with. He's an All-Pro guy. He's unbelievable.' He just hasn't been able to take that to the field and play fast. He does it in practice. He just has to make that transition because he's clearly capable of doing it once he figures out where to line up, how to work in this offense. He's gonna be dynamic, but he's gotta do it.
David Carr's opinion does hold more weight than the opinion of the average NFL QB's brother. He was the No. 1 overall pick of the Houston Texans in 2002 and played 10 years in the league. He was a major draft bust, but his experience makes him an excellent NFL analyst.
Second-year wide receivers often make a leap in production 
The good news for Ruggs is that several wide receivers have recently made the leap from overwhelmed rookie to No. 1 target. Last season, the Pittsburgh Steeler's Dionte Johnson, New York Giants' Darius Slayton, and San Francisco 49ers' Deebo Samuel (when healthy) made strides in their sophomore season.
Three second-year WRs truly made the leap last year, though. The Washington Football Team's Terry McLaurin caught 29 more balls in his second season, and Tennessee Titan AJ Brown improved his receptions, yards, and touchdowns in year two.
The Seattle Seahawks DK Metcalf made the most significant second-season jump, though. Metcalf caught 25 more balls on 29 more targets and increased his receiving yards by 403 yards. He also went from 7 touchdowns to 10 in season two.
If Ruggs can improve on his paltry 2020 numbers and replicate the second season of any of the receivers mentioned here, Derek Carr and the Raiders will surely be thrilled. It will probably make David Carr feel pretty good too.
All stats courtesy of Pro Football Reference