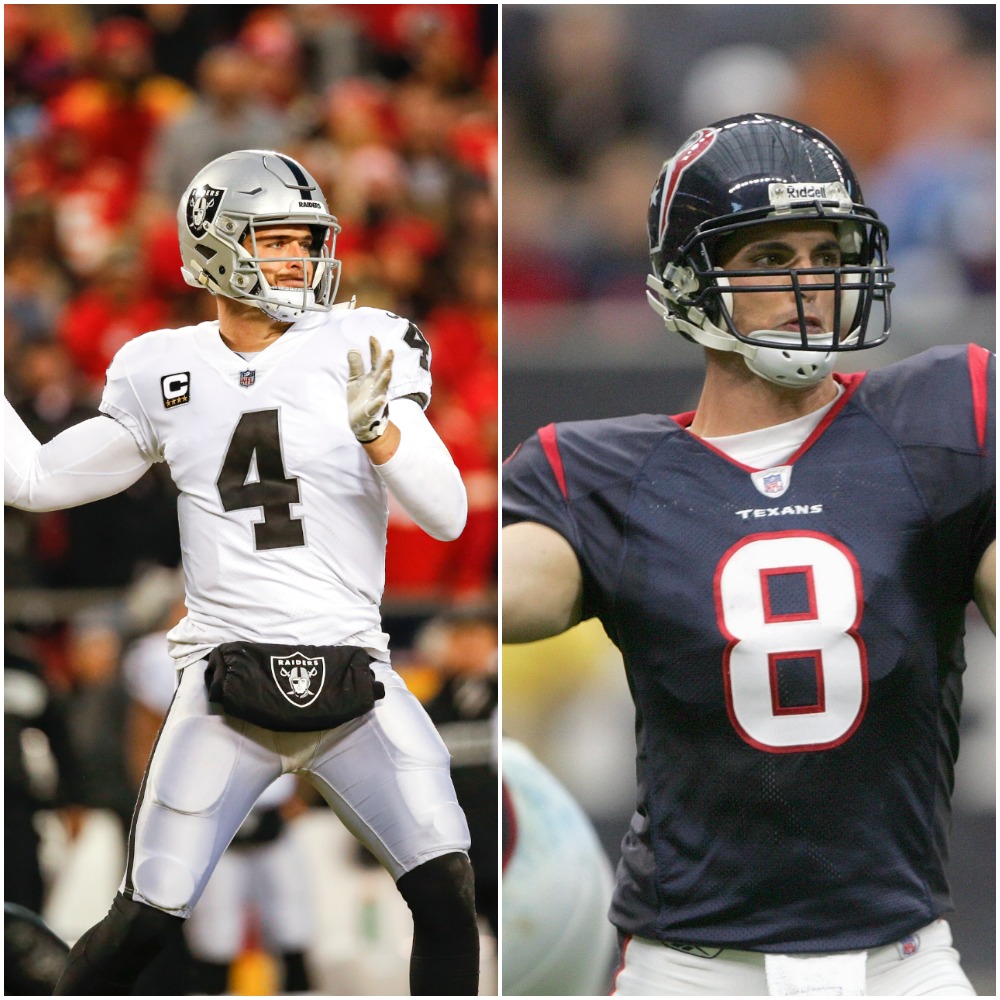 Does Raiders QB Derek Carr or His Brother David, the 2002 No. 1 Overall Pick, Have a Higher Net Worth?
David Carr was the No. 1 overall pick in the 2002 NFL Draft. Raiders QB and younger brother Derek Carr has had a better career. Which Carr brother has a higher net worth?
David Carr was the No. 1 overall pick in the 2002 NFL draft, played five seasons for the Houston Texans, and stayed on an NFL roster for 10 seasons. Younger brother Derek Carr was taken by the Oakland Raiders in the second round of the 2014 NFL Draft. He's had the more successful career of the two brothers earning three trips to the Pro Bowl. Surprisingly, their net worths are very close. Who has a higher net worth between David and Derek Carr?
David Carr has a lackluster career
The Houston Texans didn't just select David Carr with the first pick of the 2002 NFL Draft; he was the first-ever pick in franchise history. During his rookie season, both Carr and the team struggled. The numbers don't lie.
Carr finished the season throwing for 2,592 yards with nine touchdowns and 15 interceptions. While those numbers are undoubtedly ugly, they weren't solely the fault of the first-year signal-caller. The porous offensive line surrendered an NFL-leading 76 sacks. Overall, the team finished with a 4-12 record that first season of existence. 
Unfortunately for David Carr, it didn't get much better. In his five seasons in Houston, his best season came in 2004, his third year, when he threw for 3,531 yards with 16 touchdowns and 14 interceptions. Once again, Carr found it hard to throw from his back as he was sacked a league-leading 49 times.
After five seasons in Houston, the two sides parted ways. Carr started four more games the following year in his lone season with the Carolina Panthers, where he finished 1-3. He played sparingly for the rest of his career until he retired after the 2012 season.     
Derek Carr is a three-time Pro Bowler
Derek Carr followed in his older brother David's footsteps, attending Fresno State University, where he played quarterback four seasons. And that's pretty much where the similarities end. 
The Oakland Raiders drafted him with the No. 36 overall pick in the 2014 NFL Draft. Despite the team struggling that first season, Carr had a solid rookie year, throwing for 3,270 yards, with 21 touchdowns and 12 interceptions. 
Carr had a huge improvement his second season, jumping to 3,987 yards, including 32 touchdown tosses and 13 interceptions. He earned his first of three consecutive trips to the Pro Bowl. In 2016, Carr and the Raiders had their best season, finishing with a 12-3 record, winning the AFC West, and ironically, losing to the Houston Texans in the Wild Card game. 
Does David Carr or Derek Carr have a higher net worth?
When David Carr signed with the Houston Texans in 2002, he earned just over a million dollars in salary that first year, but also enjoyed a $10.9 million signing bonus. When he retired from the NFL after playing with the New York Giants in 2013, Carr had earned a grand total of $40 million for his career. 
A dozen years after his brother's rookie contract, Derek Carr signed a modest deal with the Oakland Raiders in 2014 that paid him a $420,000 salary and $2.26 million signing bonus. However, the younger Carr's earnings have exploded in recent years following his three Pro Bowl performances. He signed a five-year contract extension in 2017 worth $125 million.
Last season, as part of the 2017 extension, he pulled in $19.9 million in salary, while this year, he's earning $18.9 million. His contract runs through 2022 and the total value of it with all of his earnings combined is slightly north of $130 million according to Spotrac.
Despite a huge disparity in career earnings, David Carr, who currently works for the NFL Network, has a net worth of $19 million, according to Celebrity Net Worth, and surprisingly, Derek Carr has a reported net worth of $20 million. For now.