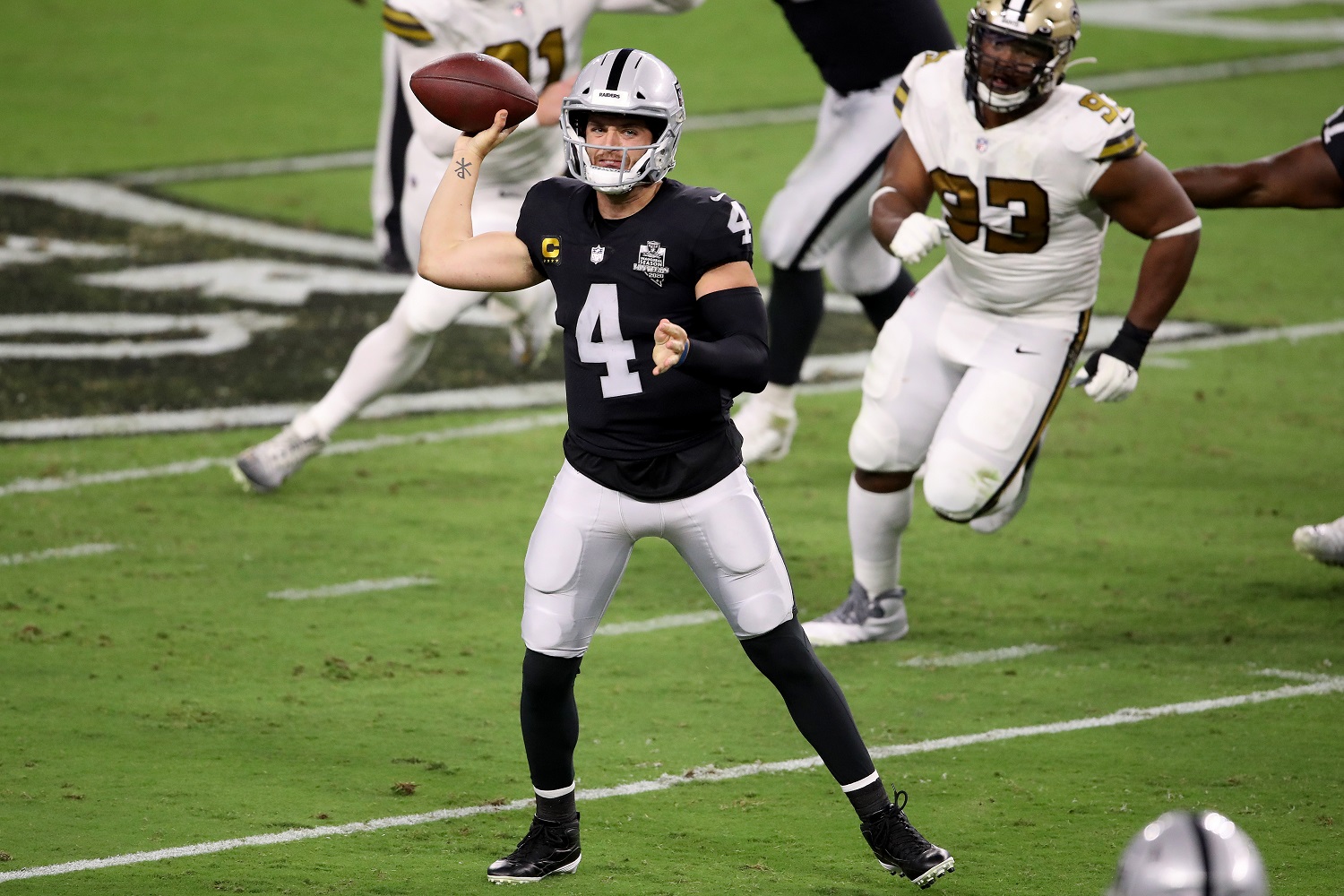 Las Vegas Raiders Quarterback Derek Carr Is Playing Fantastic Football and Is on the Verge of Making History
Las Vegas Raiders quarterback Derek Carr is off to a phenomenal start in 2020 and is on the verge of making franchise history.
It's taken some time but Derek Carr may have finally silenced his haters and become the official face of the Las Vegas Raiders. Carr notched arguably the biggest win of his career on Monday night as the Raiders opened up their new digs in style with a 34-24 win over Drew Brees and the New Orleans Saints to move to 2-0, marking just the fourth time this century that the team has started the season with two consecutive victories.
It wasn't long ago that Raiders head coach Jon Gruden was praising high-profile backup Marcus Mariota, leading some to think that Derek Carr wouldn't even be the starting quarterback in 2020. And that obviously came after all of the trade rumors this past offseason that had Carr heading to Chicago or Indianapolis or Washington or any number of cities not named Las Vegas.
There was also word that the Raiders were interested in bringing in Tom Brady before he signed with Tampa Bay. But through all of this, Carr kept his focus and is playing some of the best football of his career. Sure, he's only played two games in 2020 and has a history of inconsistency. But he's proving that he deserves to keep his job and he's on the verge of making some Raiders history.
Derek Carr has been a solid, durable quarterback for the Raiders
The younger brother of former No. 1 overall pick David Carr, Derek Carr was taken in the second round of the 2014 NFL draft and has been the starter for the Raiders since day one. He became the only rookie in franchise history to start a season opener and he's been extremely durable throughout his career, playing in 96 of a possible 98 games since joining the Raiders.
Okay, so his 41-55 record doesn't look all that impressive, nor does his 5-33 record against playoff teams. But so many of those losses haven't been his fault. Outside of Amari Cooper, he hasn't had a ton of weapons around him and he's already on his third head coach. And he's still put up solid numbers. In the first six years of his career, he threw for 22,793 yards and 143 touchdowns against 62 interceptions while completing 64% of his passes. His 70.4% completion percentage in 2019 was second to only the man who was on the losing end of Monday night's game, Drew Brees. His 4,054 yards last year were the eighth-most in the NFL last year and his 100.8 passer rating was good for ninth. And he did all of that without a true number one receiver.
But he's now loaded with more weapons than ever before and is off to a phenomenal start in 2020.
He's off to a fantastic start in 2020
Now armed with more weapons around him than ever before, Derek Carr is playing phenomenal football for the Raiders to open the 2020 season. He's using the same system for the third consecutive season, the first time in his career that that's happened, and the comfortability is shining through. Having Josh Jacobs in the backfield has been a tremendous help as it takes some of the pressure off and he's also got arguably the best tight end in football in Darren Waller, who had an amazing game on Monday night, not to mention some exciting rookies at wide receiver in Henry Ruggs III and Bryan Edwards.
In the first two games in 2020, Derek Carr has thrown for 521 yards, four touchdowns, and zero interceptions while completing 73.5% of his passes. He'll face a big test this Sunday as the Raiders visit the New England Patriots, a game in which he could also make some history.
Derek Carr will soon have the most touchdown passes in Raiders history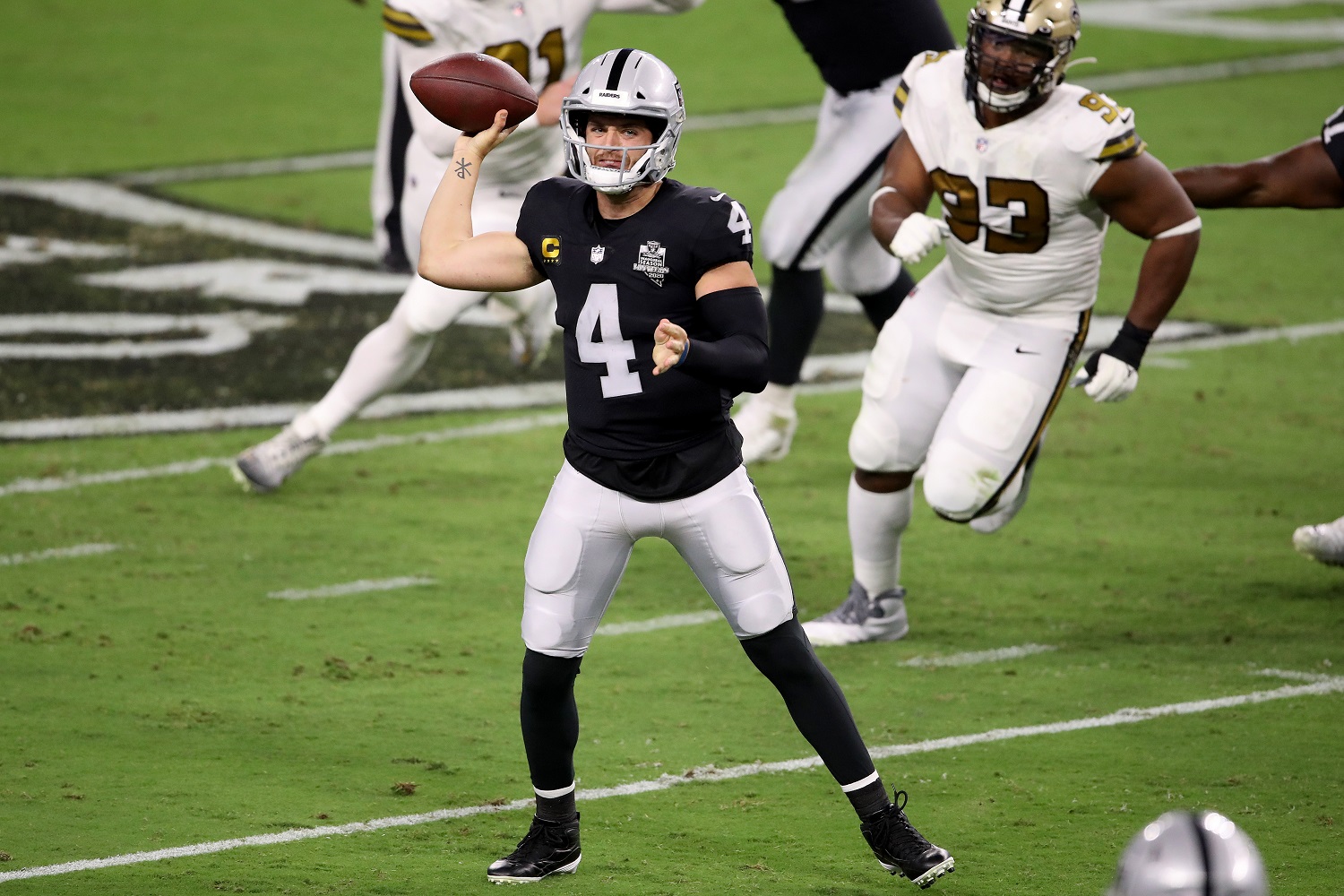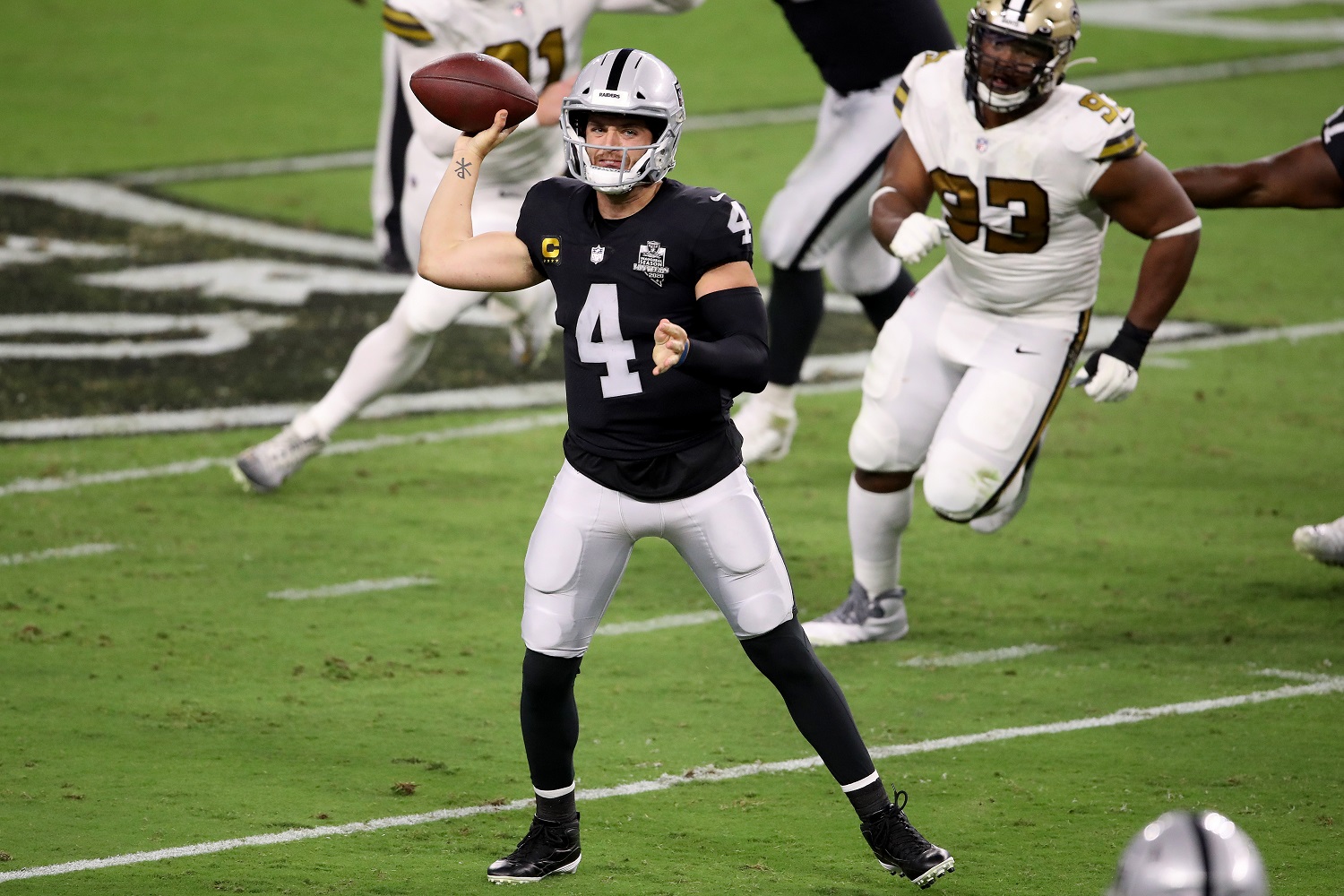 For those unaware, in just six-plus seasons, Derek Carr is already the Raiders' franchise record holder in passing yards (23,314), career completions (2,170), quarterback rating (tied with Rich Gannon at 91.2), and interception percentage (1.8). And with 147 touchdown passes, he's just four away from becoming the all-time Raiders leader in that category as well. Carr currently sits behind only Ken Stabler (150) and Daryle Lamonica (148) and could pass both as soon as this Sunday.
It's early in the year but Derek Carr and the Raiders have put the league on notice that they're a force to be reckoned with.
All stats courtesy of Pro Football Reference