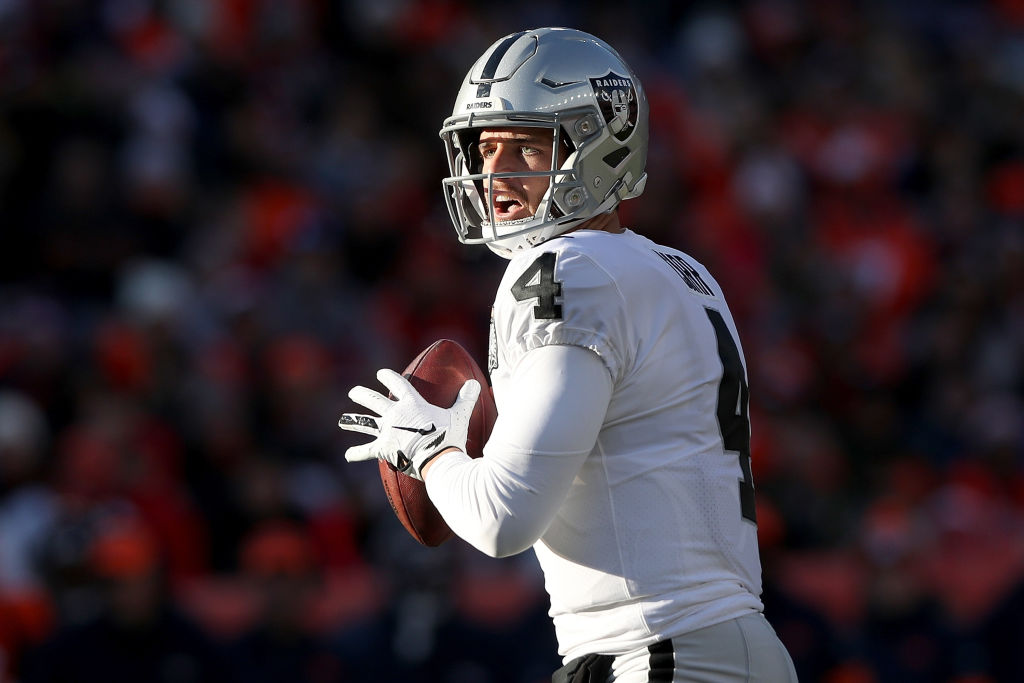 What Can Derek Carr Do to Erase Doubts About His Ability?
It may not have been their intent, but the Raiders have sent a message by agreeing to terms with quarterback Marcus Mariota.
More than one football coach has had to acknowledge that thinking you have two quarterbacks often means you don't have any. Yes, Joe Montana and Steve Young overlapped for many years with the San Francisco 49ers, but they were the exception rather than the rule.
Derek Carr came into the NFL out of Fresno State in 2014 and Marcus Mariota arrived from Oregon in 2015. They share a similarity or two beyond being quarterbacks from West Coast colleges, but their career trajectories have been radically different.
The Las Vegas Raiders, who drafted Carr, agreed to terms on Monday with Marcus Mariota, fixing a quarterback situation that did not need fixing – at least not for now.
Derek Carr is almost as disrespected as he is productive
The Las Vegas Raiders begin their post-California era this fall with at least some momentum. They improved from 4-12 in Jon Gruden's first season to 7-9 last fall and they have a capable starting quarterback in Derek Carr.
Carr had mixed results in his rookie season, but there's been improvement in each season since with the exception of a slight regression in 2017. But he's started 94 games in six seasons, completed 64% of his throws, and has a decent ratio of 143 touchdown passes to 62 interceptions. His passer rating last season is 100.8, which is exactly where a team would want its veteran quarterback to perform.
Still, Carr is the subject of frequent speculation about whether he's the right man to run the offense.  He's become a fixture in rumors leading up to annual trade deadlines and reports over the weekend once again had him as a candidate to be moved.
One knock on Carr is that he doesn't get the ball down the field in the stretch-the-defense tradition of past Raiders greats, but that can be the function of talent at wide receiver and offensive philosophy, too. It's worth noting that while he's no Patrick Mahomes in that department, Carr's two best yards-per-attempt seasons have come while playing for Gruden.
If there's an actual issue to worry about with Carr, it's his salary. The Raiders paid him $19.9 million last season, which was fourth in the NFL and more than what veterans Joe Flacco, Cam Newton, and Andy Dalton made. It was also $1 million less than Marcus Mariota made. The Raiders will have $41.2 million – more than 20% of the salary cap – tied up in Carr and right tackle Trent Brown in 2020.
Kicking off free agency by signing Marcus Mariota is a head-scratcher
Tennessee Titans quarterback Marcus Mariota agreed to terms with the Las Vegas Raiders on Monday.
Although reports have described him as being slated to be the backup, moving quickly on a quarterback that Raiders GM Mike Mayock has always liked feels like a message to Derek Carr. The message seems to be that the Raiders aren't sure he's better than a guy who was just chased out of Tennessee.
Mariota was drafted No. 2 overall by the Titans and went 29-32 in five seasons. The first two years were encouraging with 45 touchdown passes and just 19 interceptions, but Mariota threw more picks than TDs in 2017 and wasn't much better in 2018. He found himself benched in favor of Ryan Tannehill last October in the middle of his contract year.
Once Tannehill took Tennessee to the 2019 AFC Championship Game, Titans management decided there was no room for a quarterback competition to break out. They gave Tannehill $118 million over the weekend and Mariota a farewell.
And now the Raiders believe Mariota can light a fire under a QB who completed 70.4% of his throws for 4,054 yards last fall.
A Raiders quarterbacks fixation continues
If Marcus Mariota gets on the field with Las Vegas in place of Derek Carr, he will add to a list that suggests that the Raiders have a fixation with shiny objects.
The first snap that Mariota takes in a Raiders uniform will make him the fifth quarterback in franchise history to play for them after having been drafted first or second overall by another NFL team.
He would join Jim Plunkett, Carson Palmer, Jeff George, and Rick Mirer on the list.