DK Metcalf Finds Out He's Not as Fast as He Thinks
In the offseason, some NFL players travel, some fish, some go back to school and finish their degrees. There is also the occasional NFL player who pursues another athletic endeavor at a high level in the offseason. Seattle Seahawks wide receiver DK Metcalf just joined this group.
Several NFL players have played other sports at a high level in the offseason
You would think that playing an entire NFL season is enough to fulfill players' desire for high-level completion. For most players, it absolutely is. A handful of players have chased their dreams in other sports though during the offseason.
The most well-known version of this comes from the NFL stars who played Major League Baseball in the 1990s. Pro Football Hall of Famer Deion Sanders and Heisman Trophy winner Bo Jackson are the most famous examples.
Sanders' Atlanta Falcons teammate, Brian Jordan, had a much shorter and less successful NFL career than Sanders or Jackson but produced the best baseball career of the bunch. Jordan played in the majors for 15 years and finished in the top 20 of NL MVP voting three times.
Another example of this phenomenon comes from quarterback-turned-broadcaster Tony Romo. The former Dallas Cowboy was an avid golfer during his time under center for America's Team. It wasn't until after he retired in 2017 that he tried qualifying for the US Open. He has subsequently played in several PGA Tour events, and his game has earned the endorsement of Tiger Woods.
Metcalf finished poorly against world-class sprinters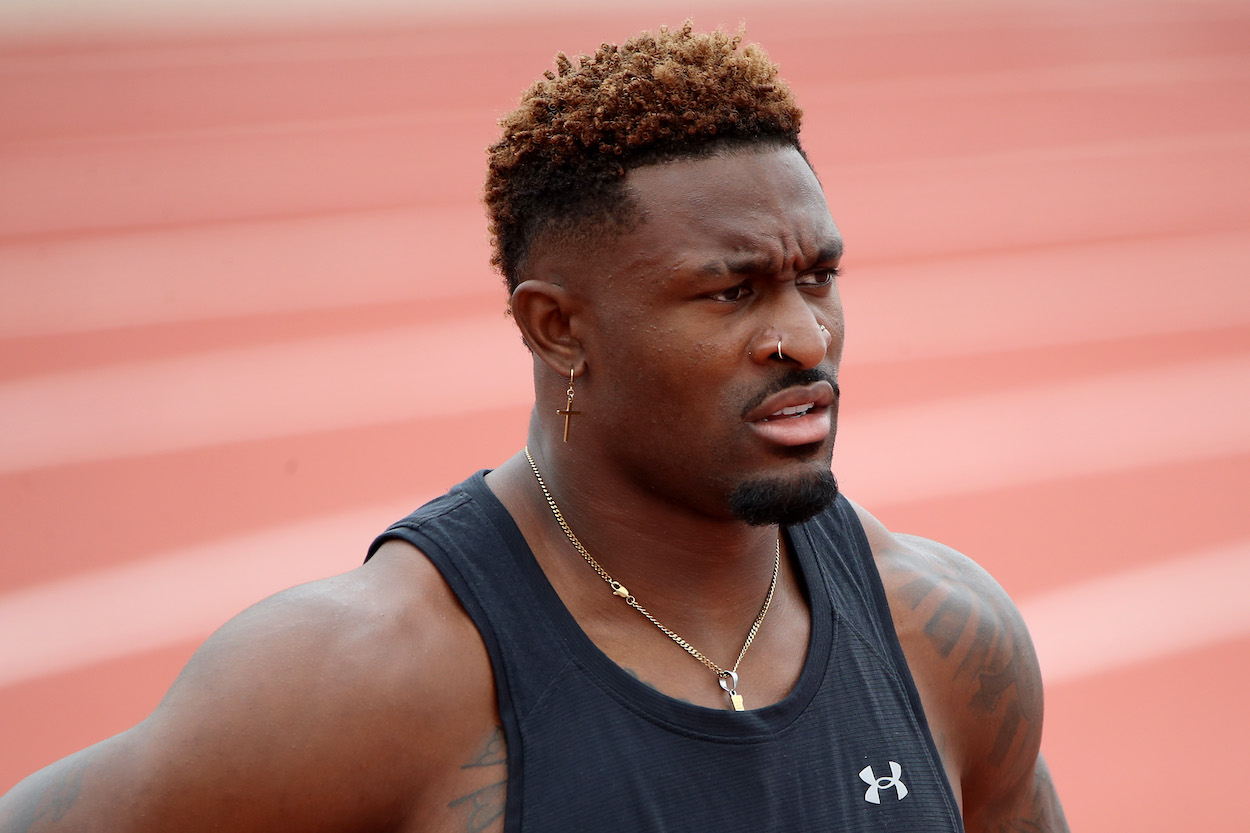 Like Sanders, Jackson, Jordan, Romo, and others before him, Metcalf also wanted to test his athletic skills against the best there is. To do this, he entered the USA Track and Field Golden Games and Distance Open in Walnut, California. Here, the wide recover ran against 16 world-class sprinters in the 100 meters, the event which is known for deciding who the fastest person in the world is.
Although Metcalf was a track star in high school, he had not run competitively since. According to ESPN, Metcalf's ultimate goal in getting back to the sport is to reach the Olympics. His time at the California event wasn't up to this level though.
Metcalf finished last in his heat with a time of 10.37 seconds. He did beat two other sprinters in the other heat though, Brazilian Derick Silva (10.38) and American Maurice Eaddy (10.44), to finish 15th in the 17-runner field. After the race, Metcalf admitted his opponents' speed surprised him, saying, "It's very different from football speed, from what I just realized."
Despite Metcalf's finish, NFL players were still impressed
While Metcalf might have been disappointed by his finish, his 100-meter time still impressed plenty of his NFL peers. His quarterback, Russell Wilson, tweeted flexed arms and fire emojis in response to his pass catcher's running ability. Other Seahawks teammates, including fellow receiver Tyler Lockett and defenders Bobby Wagner and Quandre Diggs, also shared their support on social media.
It wasn't just Seahawks either who shared their congratulations and admiration for Metcalf. NFL stars around the league shouted out the former Mississippi State star on Twitter. The list of social media admirers included Patrick Mahomes, AJ Brown, Mark Ingram, Rober Griffin III, Ezekiel Elliott, and Tyrann Mathieu.
This performance from Metcalf won't get him to the Olympics in Tokyo this summer, but that doesn't make his results unimpressive. The man trains for NFL football all year and can still step on a track with world-class sprinters and hold his own. Just because he didn't make it past the opening heat this time doesn't mean he won't do better in the future. Keep an eye on this up-and-coming US sprinter for Paris 2024.
All stats courtesy of Baseball Reference