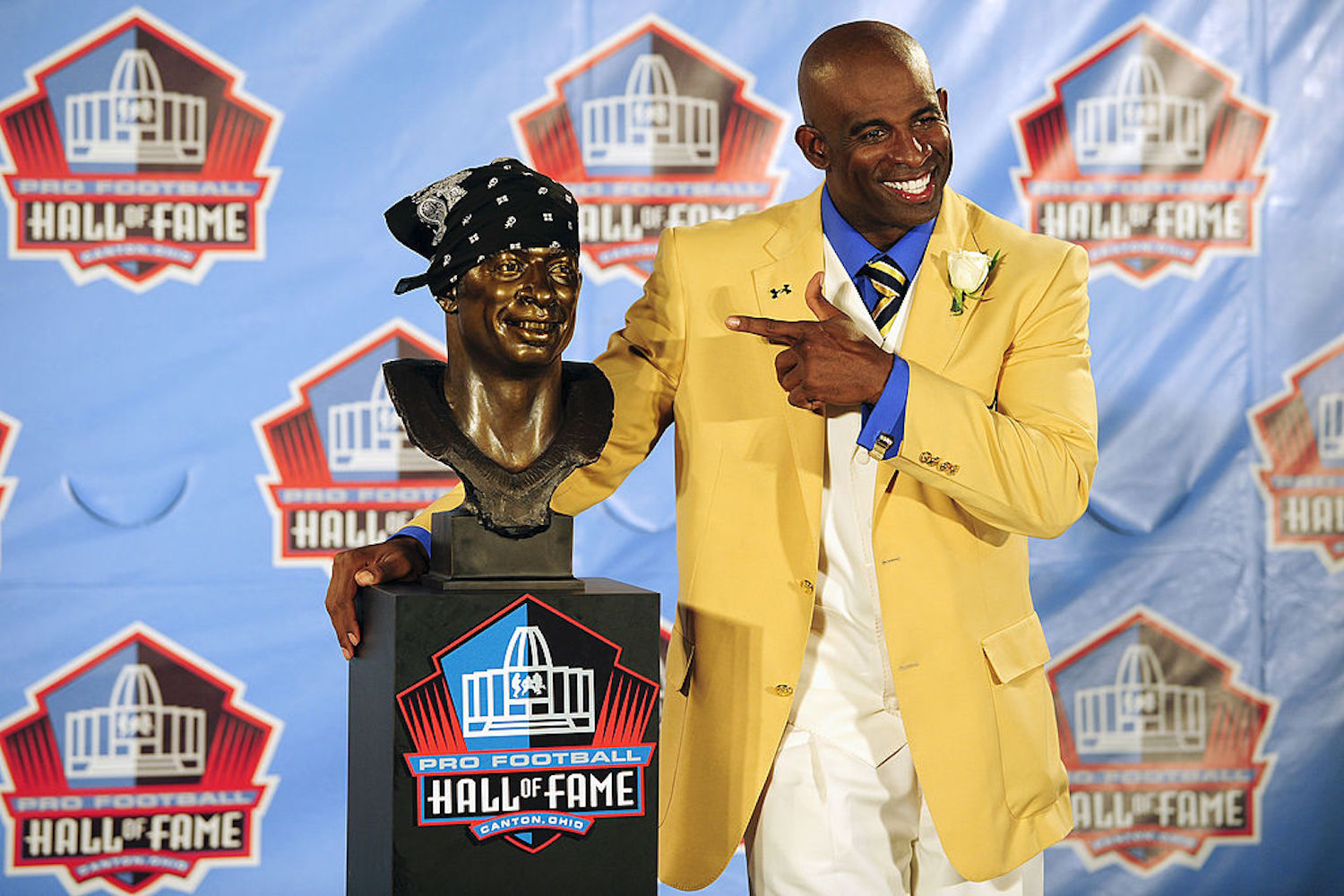 Deion Sanders Reveals the Surprising Way He Learned About Making the Hall of Fame
Deion Sanders was inducted into the Pro Football Hall of Fame in 2011, but he didn't receive the news from anyone involved in the NFL.
Normally, NFL legends hear a knock on their front door before a Pro Football Hall of Fame messenger delivers the thrilling news that they'll be going to Canton. Hall of Fame President David Baker normally tells them in person, but Deion Sanders didn't want the typical announcement.
Sanders always had a flair for the dramatic, so his Hall-of-Fame induction had to fit the bill. Instead of Baker, a famous rapper actually delivered the news to Sanders in a unique and surprising way.
Deion Sanders' Hall-of-Fame NFL career
Sanders was one of the most unique and jaw-dropping athletes to ever step foot on an NFL field. He could lock up any team's No. 1 wide receiver, switch sides and record 100 yards from scrimmage, and take a kickoff to the house in the same game.
Sanders played 14 seasons in the NFL. He started his career with the Atlanta Falcons and went on to play with the San Fransisco 49ers, Dallas Cowboys, Washington Redskins, and Baltimore Ravens.
"Prime Time" made eight Pro Bowls in the span of nine years. He was named a First-Team All-Pro six times, won two Super Bowls, and was even named the AP Defensive Player of the Year in 1994.
Sanders finished his career with 53 interceptions, 10 defensive touchdowns, nine return touchdowns, 784 receiving yards, and five offensive touchdowns.
His versatility and effortless athleticism made him one of the greatest all-around players in the history of football. His Hall of Fame induction was just a formality in 2011. The way he found out, though, was anything but.
Sanders learned about his Hall of Fame induction from Snoop Dogg
Deion Sanders appeared as a guest on Barstool Sports' Pardon My Take podcast Monday and spoke about his Hall of Fame induction. Instead of hearing David Baker's knock on the door, Sanders actually received the news from famous rapper Snoop Dogg.
[David Baker] didn't knock on my door. I won't go for that, you think I'll go set myself up in a room? I wasn't going to put myself in that situation where you go get a chance to knock on my door, not knock on my door, tell me I'm good enough for your little committee. I wasn't doing that. I was actually coaching a youth football game versus Snoop [Dogg]. They stopped the game, and Snoop came over with a Megaphone, and he did that.

Deion Sanders
Sanders' play on the field was anything but normal, so it's fitting his Hall of Fame announcement was the same way.
Sanders said he didn't prepare a word of his Hall of Fame speech
Deion Sanders has always been a prolific public speaker and entertainer off the field. His witty remarks and quick-thinking as an NFL analyst has made him a must-watch television personality. Maybe that explains how he completed his iconic Hall of Fame induction speech completely off the top of his head.
Sanders told Pardon My Take that he didn't write a single word before his 10-minute speech.
I didn't write anything down. Only thing is a few people that I didn't want to miss the thank you. But the speech comes in your head and it just rolls down and you tell the story, I could just see the story scrolling as I'm talking. 

Deion Sanders
Evidently, there's nothing "Prime Time" can't do.
All stats courtesy of Pro Football Reference