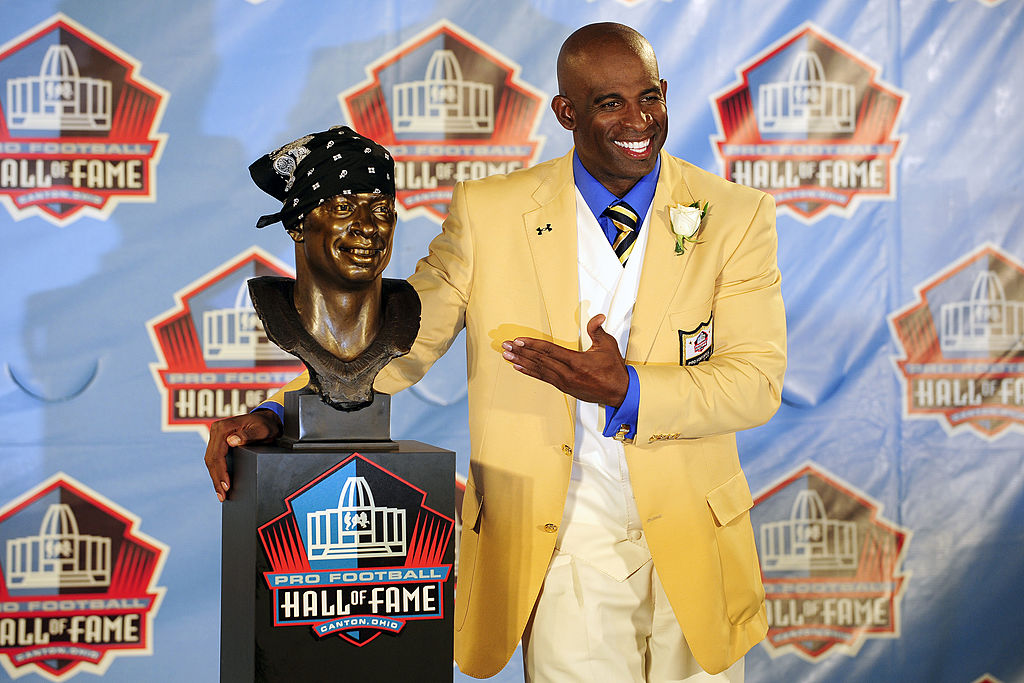 Deion Sanders Thinks That the Pro Football Hall of Fame Is 'Not Exclusive Anymore'
Deion Sanders was a guaranteed Hall of Famer, but he believes that the Pro Football Hall of Fame 'is not exclusive anymore.'
No matter how you feel about Deion Sanders, everyone can agree on one thing: he isn't shy. Prime Time didn't just bring it on the field, either; from outfits to endorsements, there was no missing the quarterback. Sanders, for better or worse, hasn't faded into obscurity after retirement. In fact, he recently made a bold claim about the Pro Football Hall of Fame.
While Sanders has been honored in Canton, he feels like things are getting a bit crowded. He even went as far as saying the Hall of Fame "is not exclusive anymore."
Deion Sanders Hall of Fame career
It's hard enough to make it big in one sport. Deion Sanders, however, thrived across the board.
As a native Floridian, Sanders enrolled at Florida State. He quickly became a dominant force in the Seminoles' athletic program, playing baseball, football, and running track. No matter the sport, though, Sanders was unstoppable; he could intercept passes, return punts, steal bases, and sprint with equal ease.
When the time came to move to the next level, Sanders couldn't choose between baseball and football. He split his time between the two sports, without ever looking out of place on either field. His highest heights, however, came on the gridiron, where Sanders established himself as an elite defensive back and an electric return man.
By the time Neon Deion had called it a career, he had recorded 53 interceptions in 188 NFL games; he had also taken home Defensive Player of the Year Honors, been named to eight Pro Bowls, and claimed two Super Bowl titles. Unsurprisingly, he earned a spot in the Pro Football Hall of Fame during his first year of eligibility.
Deion Sanders questions the Pro Football Hall of Fame's entrance criteria
Once Deion Sanders retired, there were no questions about his Hall of Fame credentials; it was only a matter of time before the cornerback had a bust in Canton. Sanders, however, feels that the selection committee is getting a bit lax.
What is a Hall of Famer now? Is it a guy who played a long time?" Sanders wondered on the Dan Patrick Show. "It's so skewed now. Once upon a time, a Hall of Famer was a player who changed the darn game, who made you want to reach in your pocket and pay your admission to see that guy play."
"That's not a Hall of Famer anymore. Every Tom, Dick and Harry, you're a Hall of Famer, you're a Hall of Famer, you're a Hall of Famer," Sanders continued. "They let everybody in this thing. It's not exclusive anymore. And I don't like it."
Who belongs in the Hall of Fame?
While Deion Sanders has his own criteria for enshrinement in the Hall of Fame, reality isn't cut and dry. Try as we might, it's tough to pin down exactly who does or does not deserve enshrinement in Canton, Cooperstown, or anywhere else.
Sports have changed, meaning that pure statistical delineation doesn't work anymore; a running back in 2020, for example, won't get the same opportunities that someone like Jim Brown received. Similarly, the role of a Hall of Fame is changing.
Historically, places like museums and Halls of Fame were concerned with preserving the past. If you wanted to learn about Jim Thorpe or Christie Matthewson, you read about them in Canton or Cooperstown. In the age of the Internet, that role is less relevant; a Hall of Fame is now more about giving fans a chance to honor their favorite sports and players than defining who was and wasn't an all-time great.
As sports fans, we all can take things a bit too seriously. While there should be some standard for entry into a Hall of Fame, there's no need to be draconian. Your memories and experience with a player matters more than a bust or plaque anyway.