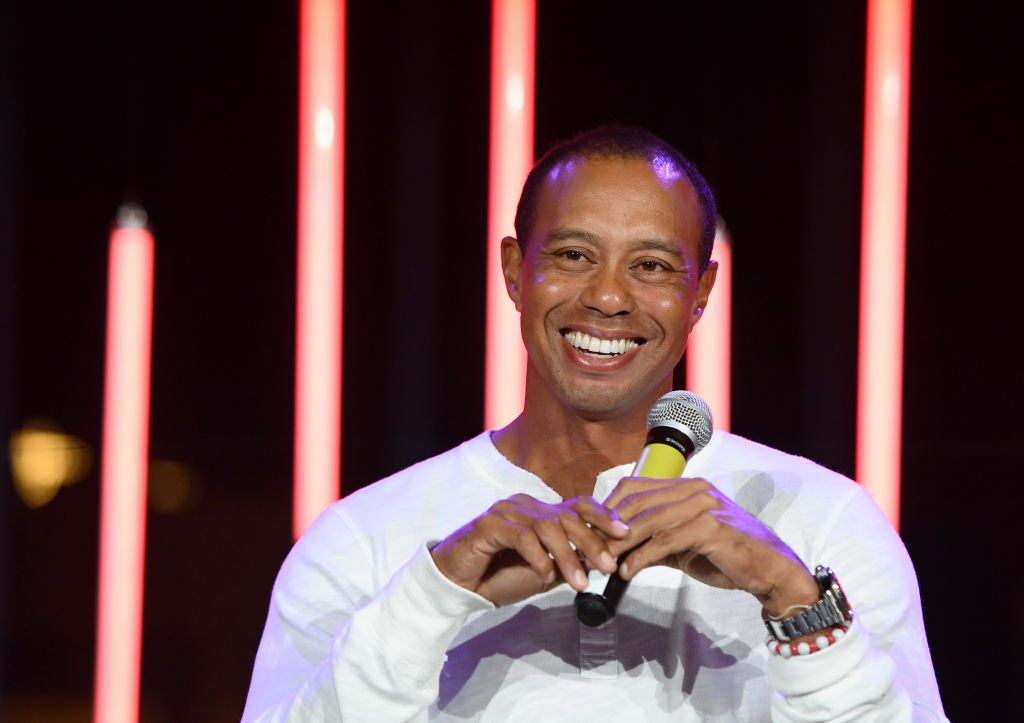 Tiger Woods Revealed the Only Two Non-Golfer Athletes Who He Thinks Could Play at the Pro Level
In a recent interview, Tiger Woods said that only two non-golfer athletes would have a chance to play the game at the pro level.
Tiger Woods is no stranger to teeing it up alongside fellow athletes who don't play golf for a living. He'll obviously be doing that on Sunday when he teams with Peyton Manning to take on Phil Mickelson and Tom Brady in a highly-anticipated two-on-two showdown to raise money for COVID-19 relief.
But of all the non-golfer athletes out there, who does Tiger Woods think could actually play professionally? Here's a hint: it's neither of the two quarterbacks he'll be playing with on Sunday at Medalist Golf Club. But one of the two guys he does think could play golf for a living does happen to be a former NFL quarterback and I'm betting you know who that is.
Tiger Woods says that only two non-golfer athletes have the chance to play at the professional level, but not on the PGA Tour
In a recent interview with "Golf Digest," Tiger Woods spoke on which non-golfer former pro athletes that he thought had a chance to play on the PGA Tour. His answer: nobody. The PGA Tour is comprised of players who have dedicated their lives to this insanely difficult sport. However, he did mention two names that he thought had a chance to play at the pro level on the Champions Tour.
"A PGA Tour player? I would say no one. But as a senior Tour player, I thought John Smoltz could do it, and I think he still can…The only other player that I think could really do it, and he just turned 40, is (Tony) Romo. I know it's 10 years away, but he has the speed, he has the game."

Tiger Woods
Both John Smoltz and Tony Romo have long been known for their golf games and Tiger has plenty of experience playing alongside both of them so that's certainly high praise.
John Smoltz once qualified for the U.S. Senior Open and Tiger Woods has vouched for his golf game in the past
Tiger Woods believes that John Smoltz could play on the Champions Tour and the 53-year-old former Cy Young winner has actually tried. The former Atlanta Braves pitcher has impressed many over the years with his golf game, including Tiger Woods, who once vouched for Smoltz's game, saying he'd never played with an amateur who shot the types of scores that Smoltz did.
Smoltz actually qualified for the U.S. Senior Open in 2018 but unfortunately missed the cut. But that hasn't stopped him from pursuing a career in the game. He made three starts on the Champions Tour last year via sponsor exemptions, his best finish being a tie for 53rd at the Cologuard Classic. He attempted qualifying school but failed to make it out of the first round, finishing in a tie for 54th. But he's determined to make another run at it in the future.
Tony Romo has made a number of starts on the PGA Tour
Tiger Woods has witnessed the strong golf game of Tiger Woods up close and personal as the two have been paired together in the past at the AT&T Pebble Beach Pro-Am. While Romo has dominated the celebrity circuit over the past few years, he's also teed it up in multiple PGA Tour events, including last year's Safeway Open, where he opened with a 2-under round of 70. Unfortunately, he missed the cut following a second-round 78 but he still finished ahead of more than a dozen pros and is highly respected in the golf world, even if some think that he shouldn't be taking up spots at events.
As Tiger mentioned, Romo still has 10 years before he can officially qualify for the Champions Tour but given the fact that he's no longer taking hits from linebackers and staying nice and healthy in the broadcast booth, it wouldn't be a shock to see Tony Romo earning some decent paychecks (like he needs it) playing golf down the road.