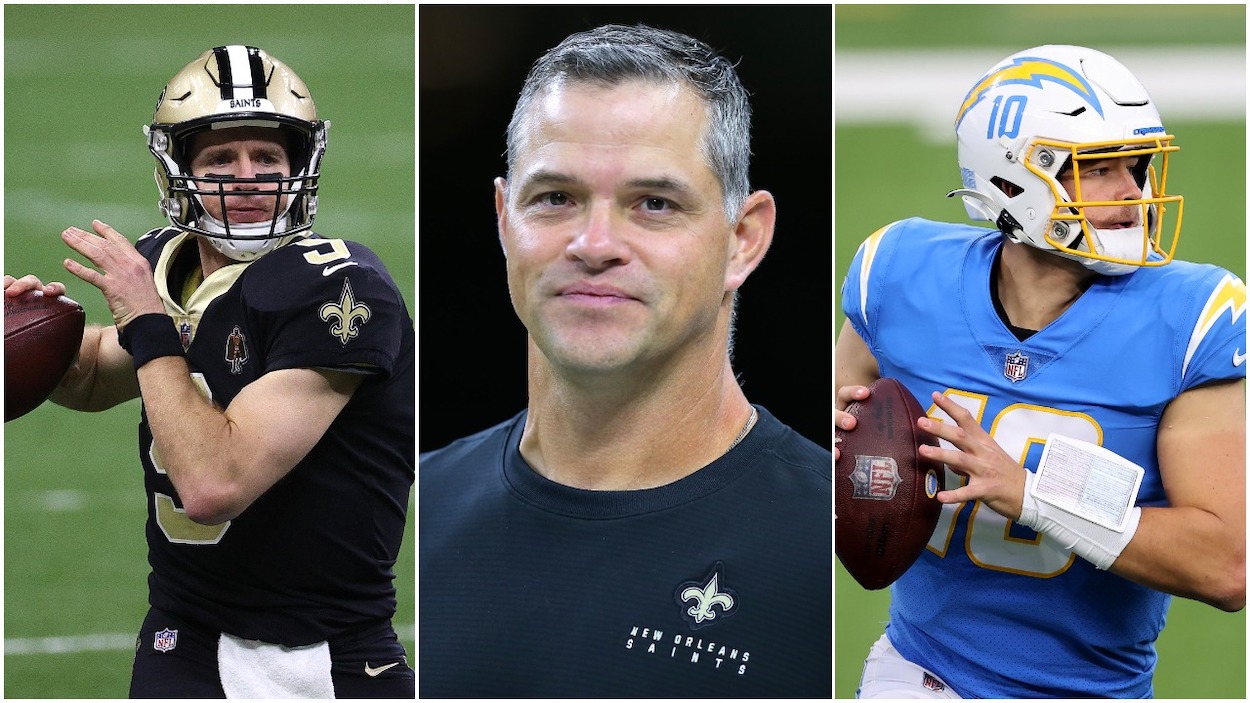 Justin Herbert and Drew Brees Have a lot in Common According to New Los Angeles Chargers OC
New Los Angeles Chargers offensive coordinator Joe Lombardi spent years with recently retired, soon-to-be Hall of Fame quarterback Drew Brees. While the two may seem different at first glance, Lombardi sees several similarities between how the Super Bowl winner and his new QB, Justin Herbert, approach the game.
At first glance, the New Orleans Saints' recently retired Drew Brees and Los Angeles Chargers' rookie sensation Justin Herbert don't seem to have a lot in common.
One quarterback is an upbeat 6-foot Texan and a second-round pick who didn't find great success until he signed with his second team. The other is a quiet 6-foot-6 Oregonian selected sixth overall who dazzled the NFL from his first start.
While these two sound like they're not just different but polar opposites, one person disagrees. Offensive coordinator Joe Lombardi thinks the two have more similarities than it seems, and he would know; he's coached both.
Joe Lombardi, the grandson of Vince Lombardi, is the new offensive coordinator of the Las Angeles Chargers
If Lombardi's last name sounds familiar in the context of the NFL, it should. He is the grandson of iconic Green Bay Packers coach Vince Lombardi according to Chargers.com.  Chargers head coach Brandon Staley brought in Lombardi, who coached him while the new head man was a quarterback in college.  
Lombardi has worked for the Atlanta Falcons and Detroit Lions during his NFL career but spent most of his time in the league working with Drew Brees in New Orleans. The new Chargers coach held the positions of offensive assistant and quarterbacks coach in two stints in the Big Easy.  
In addition to helping steward Brees' Hall of Fame career, Lombardi also has success with then-Lions QB Matt Stafford. He coached the former Georgia passer during his only Pro Bowl season.
Now, it is up to Lombardi to take Herbert and help mold him into a QB that can be as successful as Brees.
Lombardi sees similarities between how Brees and Herbert approach the game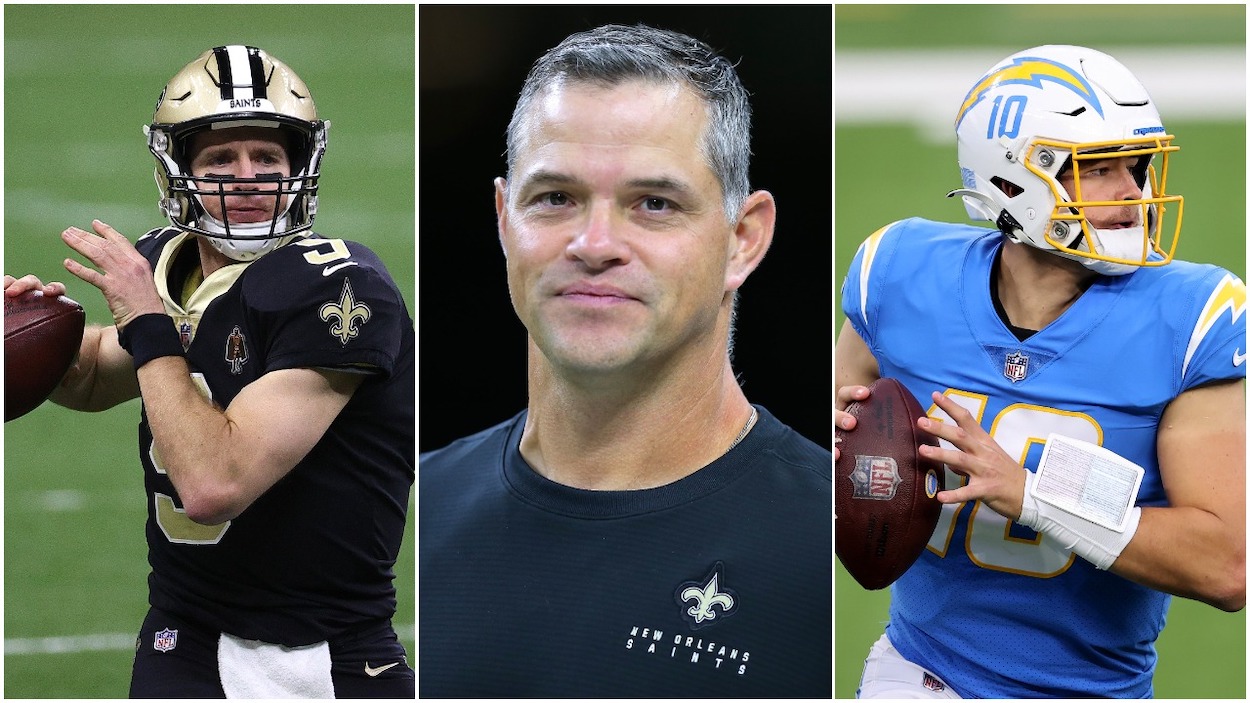 Brees and Herbert seemingly couldn't be more different in terms of size, skills, personality, and pedigree. However, Lombardi recently told the team website that the two signal-callers do share some traits:
[How] I would compare them is that they're both perfectionists. They both take their craft very seriously. They both want to go out and do everything right and they're both smart guys who learn well.
After the first few practices together during preseason OTAs, Lombardi was even more impressed with his new protégé. The OC continued gushing about Herbert, saying, "He's very smart, he's very competitive. He's a perfectionist. You can see why he was so successful last year. He wants to be great, and he wants to do everything perfectly."
Herbert needs to turn his individual success into team success in 2021
A lot went right for Herbert in his rookie season, but not much went right for the Chargers, right down to the way Herbert got the job. The former Oregon Duck only took over as the starter when a freak training room accident injured opening day starter, Tyrod Taylor.
Once he became the main man, Herbert responded like a future star. He threw for 4,336 yards with 31 TDs, a 66.6% completion rate, and just 10 picks. Even with these gaudy numbers, the Chargers only managed to produce a 7-9 record, which led to the firing of head coach Anthony Lynn.
In the offseason, in addition to hiring Staley and Lombardi, the Chargers revamped their offensive line and added weapons to help Herbert in 2021. The signed center Corey Linley from Green Bay and tackle Matt Feiler from Pittsburgh. They also drafted Northwestern tackle Rashawn Slater, Tennessee wide receiver Josh Palmer, and Georgia tight end Tre' McKitty.
All these additions should give Herbert and Lombardi a lot to work with in the coming season. They'll need their relationship to click more than any other, though, if they home to replicate what Brees achieved in New Orleans.
All stats courtesy of Pro Football Reference