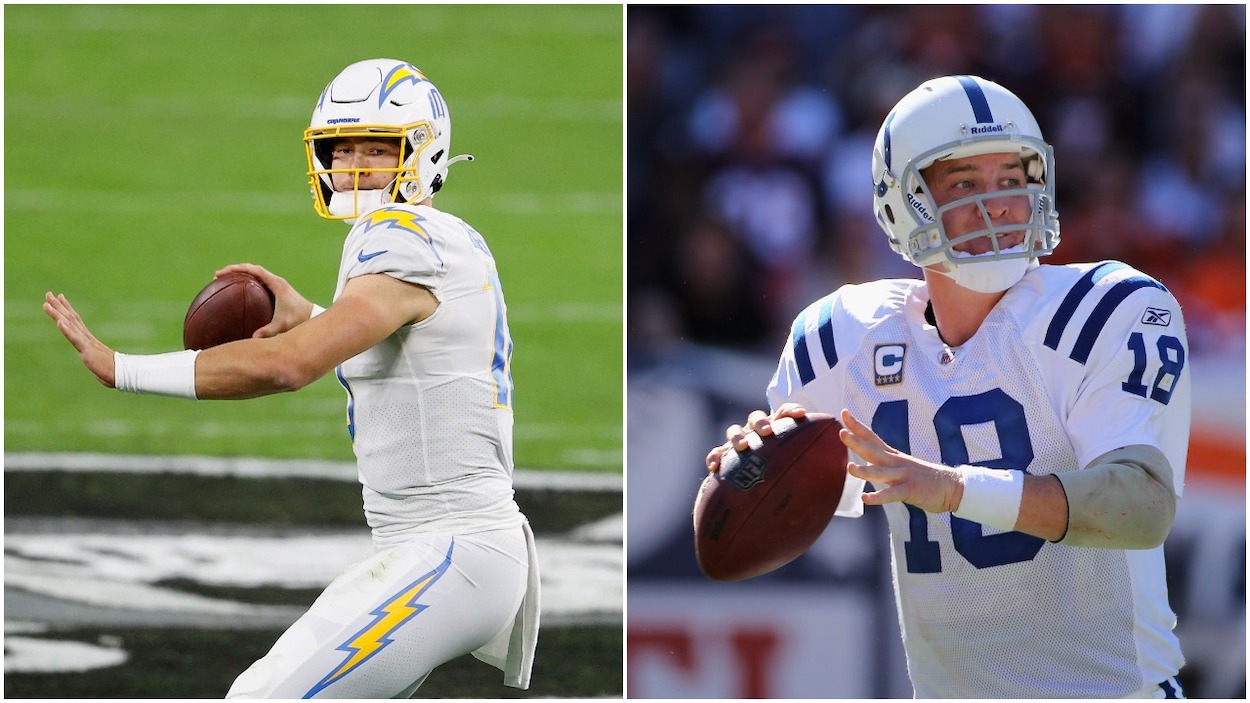 Justin Herbert May Be the Next Peyton Manning, at Least in Commercials
Los Angeles Chargers rookie quarterback, Justin Herbert, had a stellar first season where he earned comparisons to great NFL quarterbacks. With a series of hilarious offseason commercials, his acting is now drawing even more comparisons, this time to Hall of Fame QB and legendary commercial actor, Peyton Manning.
On the field, Los Angeles Chargers quarterback Justin Herbert is already drawing comparisons to great QBs of the past following his fantastic rookie season. Off the field, it looks like he may be following in another legendary passer's footsteps as well.
In the 2021 offseason, Herbert starred in a series of commercials for a car dealership group in his hometown in Oregon. These commercials are surprisingly funny and are reminiscent of the 30-second spot acting work of another pretty good quarterback, Peyton Manning.
Peyton Manning has starred in many hilarious commercials 
Manning was a constant presence on our TVs throughout his illustrious career with the Indianapolis Colts and Denver Broncos. Not just in big games, but between possessions when NFL broadcasts cut to commercials as well.
Manning is the master of the funny commercial, and he starred in many of them over the years.
Early in Manning's career, he showed off his acting chops in commercials for Mastercard. The QB would cheer on average people doing ordinary jobs, just like they cheered for him on Sundays. Most famously, Manning implored a deli counter worker to "Cut that meat!"
The University of Tennessee product would go on to star in commercials for other companies, such as Papa John's Pizza and Nationwide Insurance. He also made a memorable appearance with his parents, Archie and Olivia, and brothers Cooper and Eli in a classic ESPN Sportscenter commercial.
Justin Herbert is following in Manning's footsteps with a funny commercial series of his own
The LA Chargers made Herbert the No. 6 overall pick of the 2020 NFL draft. Ironically, one of the knocks on the University of Oregon QB was that scouts didn't see him as a leader in the huddle due to his quiet, shy demeanor.
Maybe the reports about his personality were overstated, or perhaps his stellar rookie year gave him confidence. Either way, Herbert is now showing off his comedy skills in a series of hilarious commercials for the Kendall Automotive Group this offseason.
Herbert sits in a recliner in the commercials and plays "armchair quarterback" to people doing everyday tasks. There isn't a ton for Herbert to do, but what he does, he does well. His understated delivery and sly looks to the camera show his comedic understanding and timing.
While these regional commercials won't play during a Monday Night Football game, Herbert's performance shows he's ready for a Manning-like star turn on TV.
Herbert played like Manning on the field in his rookie season too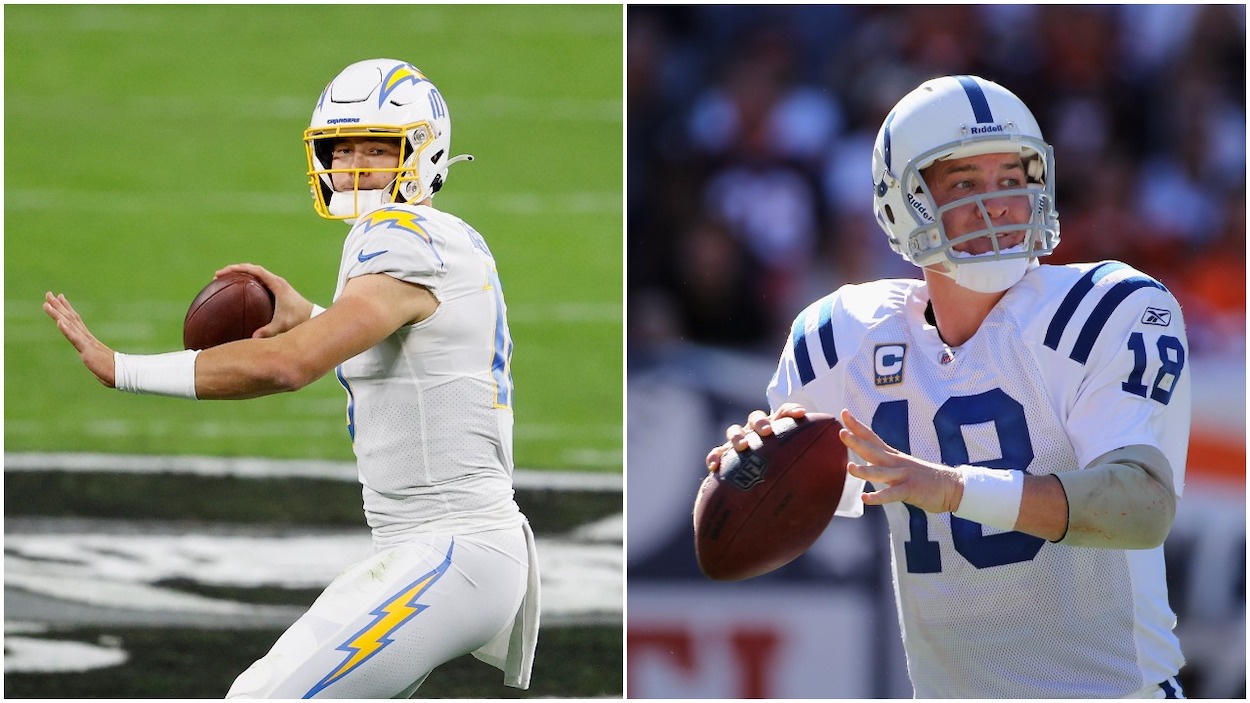 It's not just the funny ads that are making people see the similarities between Manning and Herbert. On the field, there are comparisons too.
Herbert took over as the Chargers starter in Week 2 when the team's training staff accidentally punctured starting quarterback Tyrod Taylor's lung just before kickoff. Although the start was the result of an unfortunate accident, Herbert never gave the job back.
Herbert threw for 4,336 yards and 31 touchdowns in his first year under center in the NFL. By comparison, Manning threw for 3,739 yards and 26 touchdowns in year one. The Colts signal-caller also set an NFL rookie record with 28 interceptions while Herbert only threw 10 this past season.
In Manning's second year, he was selected to the Pro Bowl, led his team to a 13-3 record, and made the playoffs.
Herbert is already replicating Manning's commercial prowess. Now he's undoubtedly hoping he can find similar sophomore success on the field as well.
All stats courtesy of Pro Football Reference