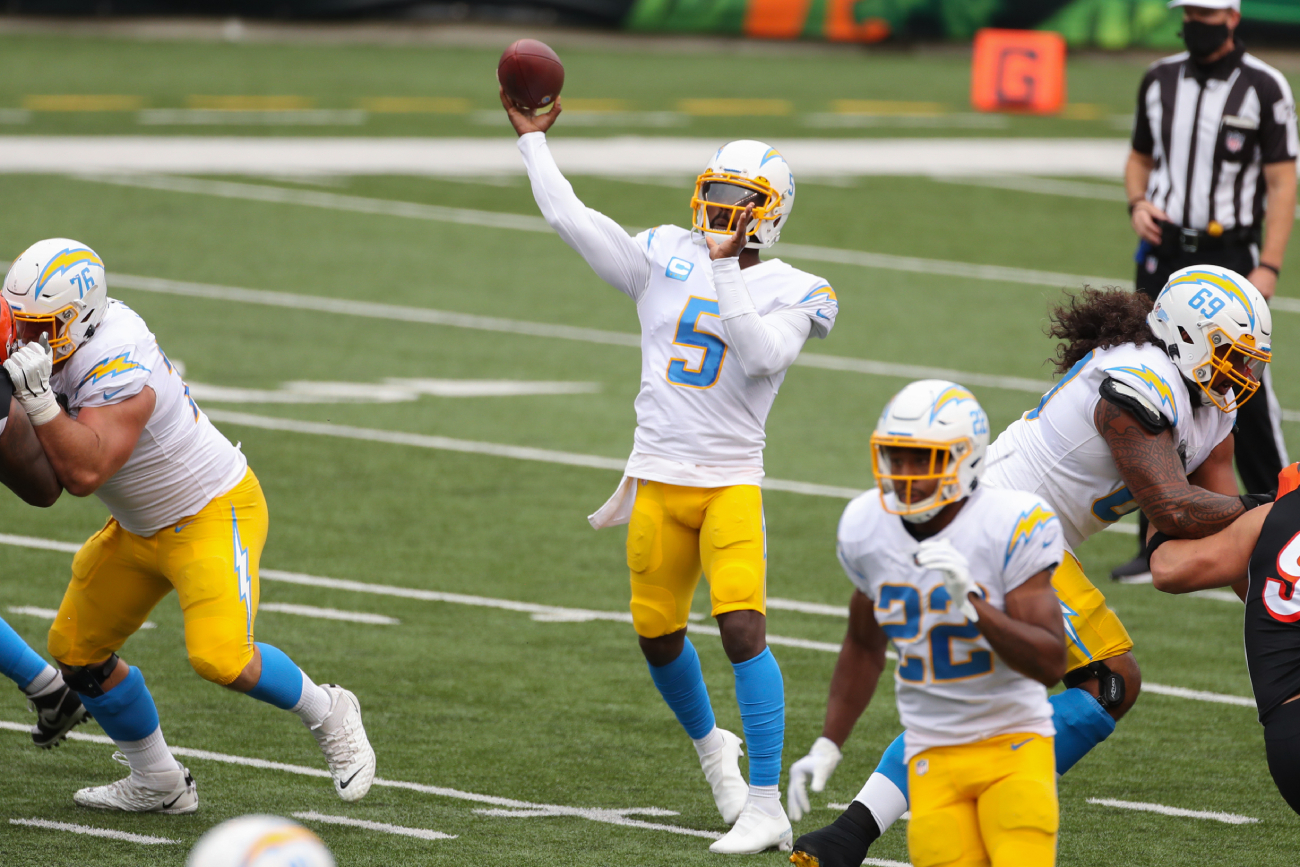 As Justin Herbert Shines, Tyrod Taylor Keeps a Positive Attitude
As Los Angeles Chargers rookie quarterback Justin Herbert shines, Tyron Taylor maintains a positive attitude on the sideline.
Tyrod Taylor got a raw deal. He's lost his starting quarterback job before to injury, but not this way. Now, the player who replaced him, rookie Justin Herbert, is lighting it up and has taken over the starting job for the Los Angeles Chargers. Through no fault of his own, Taylor is forced to watch from the sidelines and maintains his positive attitude.
Tyrod Taylor lost his job through no fault of his own
Right before his team's Week 2 matchup between the Kansas City Chiefs, Tyrod Taylor lost his job. Prior to the game, the Los Angeles Chargers quarterback was getting a pain injection for a rib injury. The Chargers' team doctor punctured the lung of Taylor while giving the injection, forcing Taylor to the hospital.
With Taylor out of action, the Chargers were forced to turn to rookie Justin Herbert. Herbert was the sixth overall pick in the 2020 NFL draft after a successful college career at Oregon. A 6-foot-6, 236-pound quarterback with mobility, Herbert had the daunting task of facing Patrick Mahomes and the Super Bowl champs with very little notice.
Herbert played like a seasoned veteran. He completed 22 of 33 passes for 311 yards and a touchdown. The Chargers took the Chiefs to overtime but fell 23-20. Taylor hasn't played since.
Herbert has taken charge since taking over
In his last four games as quarterback of the Los Angeles Chargers, Justin Herbert has thrown 13 touchdown passes. He's certainly done his part in running the offense, but the Chargers have struggled defensively and have gone 105 in Herbert's six starts. Herbert and the Chargers have averaged 32 points per game in the last four contests.
Herbert has a strong arm and he's fast on his feet for his size. "For a man that is 6-foot-6, he's very nimble," Chargers head coach Anthony Lynn said, according to the New York Times. "In today's NFL, with the speed of defenses, that's pretty important. So a guy that can do both, throw from the pocket and move and extend plays, that's a pretty unique skill set to me."
Herbert is drawing a lot of attention for his success as a rookie. He's tuning it all out. "One of the great things I've been taught is to not let it affect me," Herbert said. "Everything that I've been focused on is what's been said inside this building, or by my parents or previous coaches. I've done a good job of staying away from the noise."
Tyrod Taylor maintains a positive attitude
Tyrod Taylor has primarily been a backup quarterback in the NFL. He's been with four teams since he came into the league in 2011. His career began with the Baltimore Ravens when he played in 14 over four games. He didn't start any of them.
He became the starting quarterback for the Buffalo Bills in 2015. Taylor made 14 starts and threw 20 touchdown passes. Taylor made the Pro Bowl that season. He spent three seasons as the starter in Buffalo before moving on to the Cleveland Browns and then the Los Angeles Chargers.
In his first and only start this year, he led the Chargers to a victory over the Cincinnati Bengals. After he was sent to the hospital in Week 2 with the punctured lung by the team doctor, he could've made waves. He hasn't spoken much publicly about the incident but has maintained positivity through his social media posts by tweeting, "Adversity will teach you lessons that mountaintops never will." Taylor continues to be a leader even if it's not on the football field.