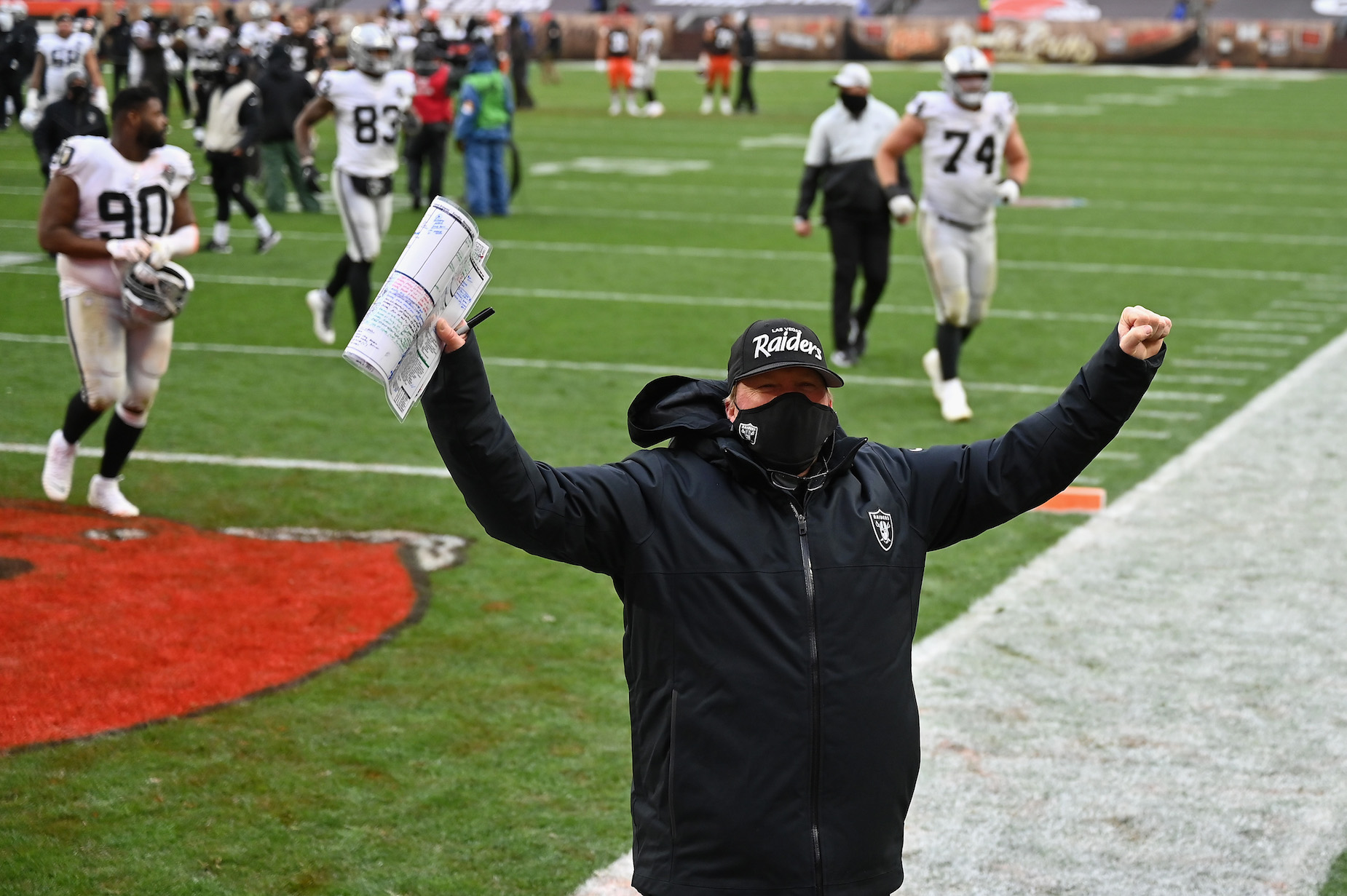 Jon Gruden Turned a Colorful Coaching and Broadcasting Career Into a $30 Million Net Worth
During his time as an NFL coach and an ESPN analyst, Jon Gruden has seen and done it all. The Raiders head coach has also built up a sizable net worth along the way.
Whether you know him from his time on the sidelines or in the TV studio, just about every NFL fan knows Jon Gruden. As his famous 'Chucky' nickname might lead you to believe, the current Las Vegas Raiders head coach is a bit of a character. From lying to his players about COVID-19 to singing the praises of Spider 2 Y Banana, Gruden does things his own way.
Even if you question Jon Gruden's body of work, though, the coach has built up a nice net worth over the course of his career. If nothing else, he's a success from a financial perspective.
Jon Gruden's NFL coaching career
During Jon Gruden's time in college, he never got off the bench as the backup quarterback. Unsurprisingly, he got into coaching after graduation.
Gruden started his coaching career in the college ranks, bouncing between programs like Southeast Missouri State and the University of the Pacific; he also spent time in the NFL with the 49ers, Packers, and Eagles. In 1998, however, he got a chance to run the show for himself.
The coach, of course, took charge of the Oakland Raiders; there, Gruden made a name for himself as a quarterback-guru and colorful, if sometimes vulgar, character, earning his Chucky nickname. Owner Al Davis, however, ultimately decided to trade the coach to the Tampa Bay Buccaneers.
In Florida, Gruden led the Buccaneers to the Super Bowl, defeating the Oakland Raiders to win the championship. After that success, though, Tampa Bay floundered and, in January 2009, the coach lost his job.
Spending some time as a member of the media before returning to coaching
After Jon Gruden lost his job with the Tampa Bay Buccaneers, the former coach found himself working for ESPN. While his time on Monday Night Football didn't last too long, he did make use of his quarterback expertise around the NFL draft and in his own 'QB Camp' series.
The call of the sidelines, however, proved to be too strong from Gruden. As S.L. Price explained in a Sports Illustrated story, the coach couldn't stay away from what he loved.
"I got tired of sitting in a dark room, watching tape by myself," Gruden explained in the story. "I took rumba-dancing classes; that didn't last—I wasn't any good. Bought a boat; I never used it. Live on a golf course; I never play. I'd go to the FFCA [the Fired Football Coaches Association, which Gruden himself created] early, and next thing I know it's 10:30 at night. I'm thinking, S—. I'm wasting my time. I got to go compete."
That set the stage for Gruden to reunite with the Raiders in January 2018. While he still hasn't turned the team into a Super Bowl contender, he's got the team looking better for their first season in Las Vegas.
Those dual careers have helped Jon Gruden build a $30 million net worth
Whether you're watching him pace the sidelines or remember his time in the TV studio, it's easy to write Jon Gruden off as somewhat of a zany, football-mad character. The head coach, however, has still managed to build up a sizable net worth during his NFL career.
Thanks in large part to his $100 million contract with the Raiders, Gruden has built up an estimated $30 million fortune, according to CelebrityNetWorth. While money isn't the be-all, end-all of success—if anything, many argue that Gruden is overpaid and overrated—it is a measure of his career.
Based on everything we know of Jon Gruden, he isn't coaching for the money. When push comes to shove, though, having millions of dollars isn't a bad perk for doing what you love.