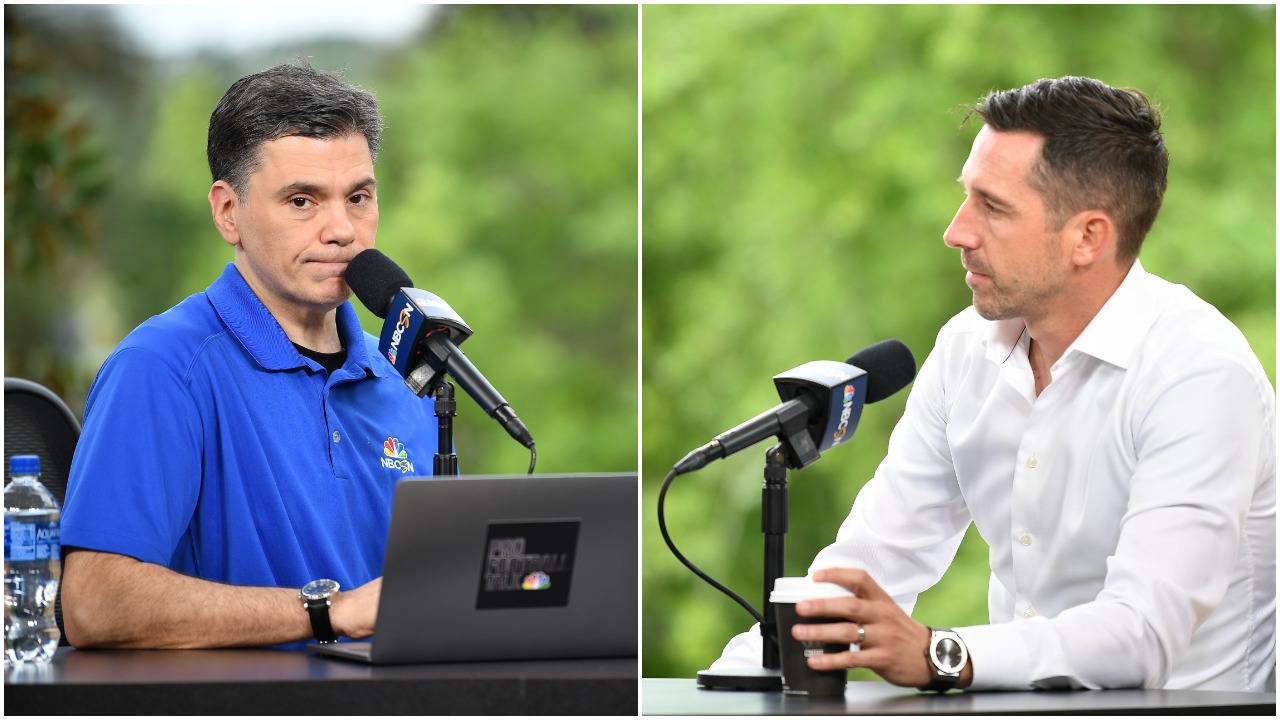 Mike Florio Trashes Kyle Shanahan for Laughing at Media Who Thought He Would Draft Mac Jones
PFT's Mike Florio crushed San Francisco 49ers coach Kyle Shanahan after he laughed at the media, including Florio's PFT colleague Chris Simms, as part of an escalating feud between the two. The feud stems from the 49ers trading up to draft Trey Lance in the 2021 NFL draft.
There is no love lost apparently between San Francisco 49ers head coach Kyle Shanahan and ProFootballTalk impresario Mike Florio.  
The feud seems to stem from ProFootballTalk poking fun at Shanahan's pre-draft comments about Jimmy Garoppolo's roster status and whether anyone is guaranteed to be alive at the end of a week. The coach referred to the football writer and his site as "annoying."
Now, Florio is kicking that feud up a notch by crushing Shanahan and the 49ers for trading up to draft QB Trey Lance and the "gratuitous mystery" around it. Shanahan said he laughed at media who thought he would draft Alabama QB Mac Jones over Lance, and that what set Florio off.
The San Francisco 49ers traded up for the No. 3 pick in the 2021 NFL draft
The feud started with San Francisco making the aggressive move to trade up in the 2021 NFL draft. The team traded from its No. 12 spot up to No. 3. To do this, they sent the Miami Dolphins the No. 12 pick, a 2021 third-rounder, and first-round picks in 2022 and 2023, per NFL.com.
While trading up in the first round for a quarterback isn't advisable, it did ensure the 49ers got their pick of Lance, Jones, or Justin Fields.
After the trade, there was lots of intrigue around whether Shanahan and the Niners would take Lance or Jones. Lance was the most exciting prospect. However, analysts like PFT's Chris Simms speculated that Jones fit better with Shanahan's offense. The theory was that Jones is similar to Kirk Cousins, the QB the now-Washington Football Team drafted when Shanahan was offensive coordinator under his father.
PFT reported that Shanahan scoffed at that notion in a recent interview, saying:
I do laugh at . . . that everyone thinks that they know exactly what I want at quarterback because I thought we had a chance to get [Kirk Cousins], the number one free agent quarterback who was going to be on the market in our second year, and since we did, people just assume that's how I would draw it up, which if you draw it up, obviously you're going to give the guy everything. I do believe that you have to be able to win from the pocket in this league as a quarterback or it will catch up to you. But holy cow, if you can run, it makes playing from the pocket a lot easier because those defenses are going to change and stuff.
This notion of Shanahan looking down his nose and laughing at the media set Florio off.
Mike Florio crushed Kyle Shanahan and the 49ers for past QB mistakes and panicking with this trade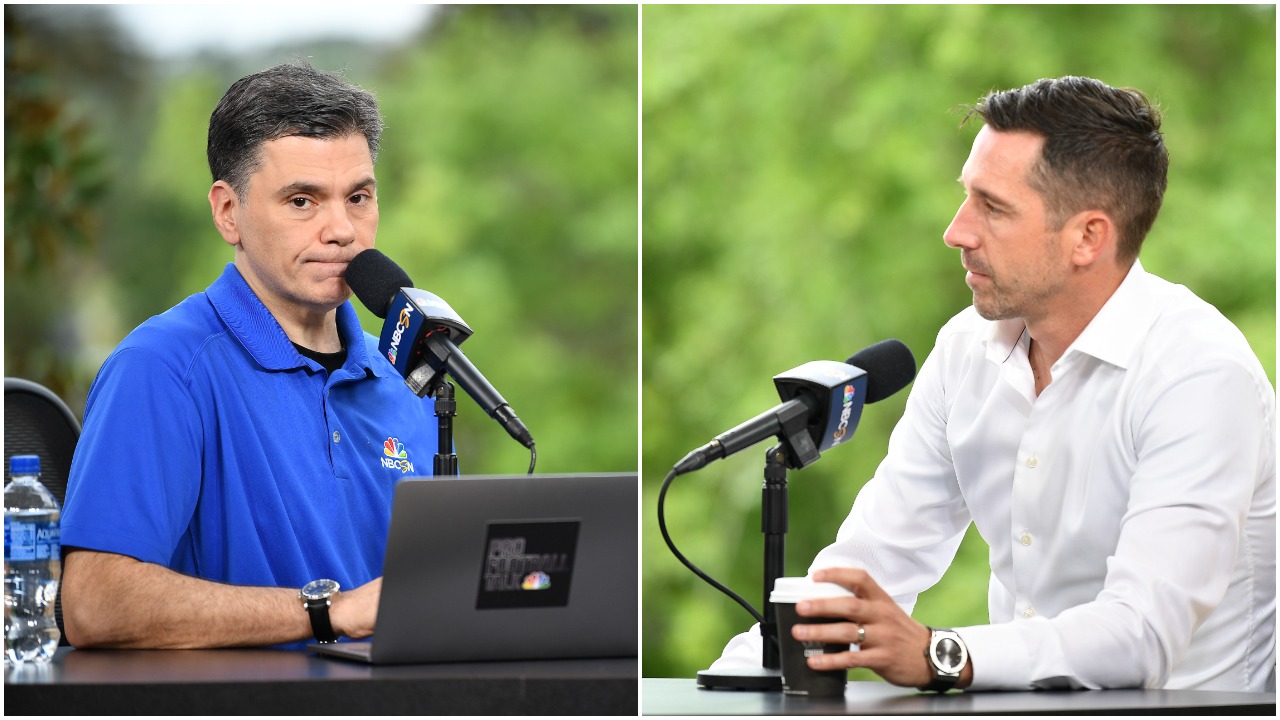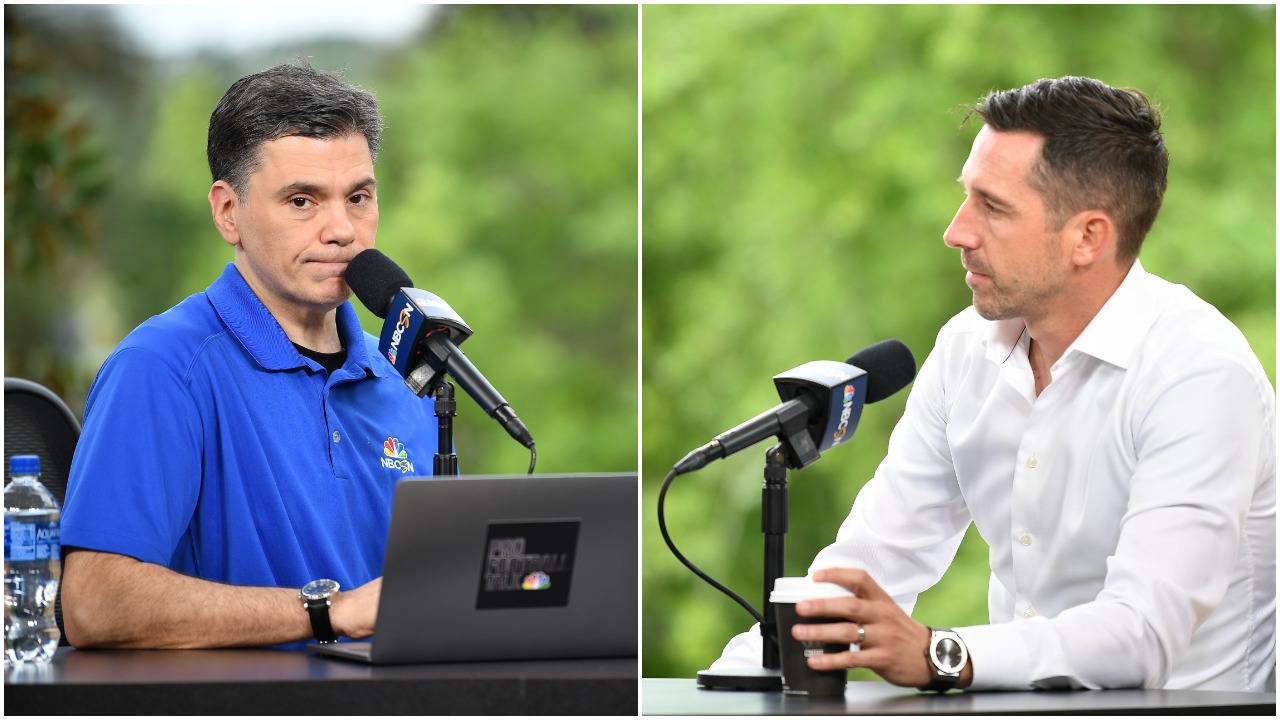 Some of Florio's contempt for Shanahan may stem from who the coach is laughing at. The NFL analyst leading the way on the 49ers picking Jones bandwagon was Florio's PFT colleague and Shanahan's college teammate at the University of Texas, Simms.
Florio started his attack on Shanahan, writing, "I think the 49ers have freaked out a little bit (or a lot) after whiffing on Mahomes in 2017 and Tom Brady (who wanted badly to play for his hometown team) in 2020."
The writer then suggests that Shanahan didn't actually know who he was taking when he traded up. He wrote that the whole thing was an "ill-advised guessing game" and "a piss-poor exercise by the franchise in crafting fan and media expectations."
Florio finished his critique of Shanahan with a flourish, writing, "It sure feels like the 49ers have f—ed this up, and it feels like (given the likelihood that Garoppolo will be the Week One starter for the 49er and given the very real possibility he'll stay healthy all year like he did in 2019), they may f— it up some more."
Shanahan is still giving mixed signals about his QB situation
With training camp for the 2021 season on the horizon, Shanahan seems no closer to deciding who the 49ers QB will be in the upcoming season.
The head coach said, per NBC Sports, that "I definitely see it as Jimmy is the starter," but also he's not ruling out Lance winning the job. There's even a report from The Athletic that Shanahan looked into trading for Aaron Rodgers.  
Kyle Shanahan's dad, Mike Shanahan, became a legendary NFL coach because he won two Super Bowls with John Elway. When he went to the Washington franchise, though, he had a revolving door of QBs that included Donovan McNabb, Rex Grossman, John Beck, Robert Griffin III, and Cousins, none of which led the team to incredible heights.
Did Kyle finally find his Elway in Lance or, is the 2021 draft pick just another mediocre QB that the coach will move on from quickly? It seems safe to assume we know which Mike Florio thinks, but we'll all have a better idea when training camp and the new season comes.
Like Sportscasting on Facebook. Follow us on Twitter @sportscasting19