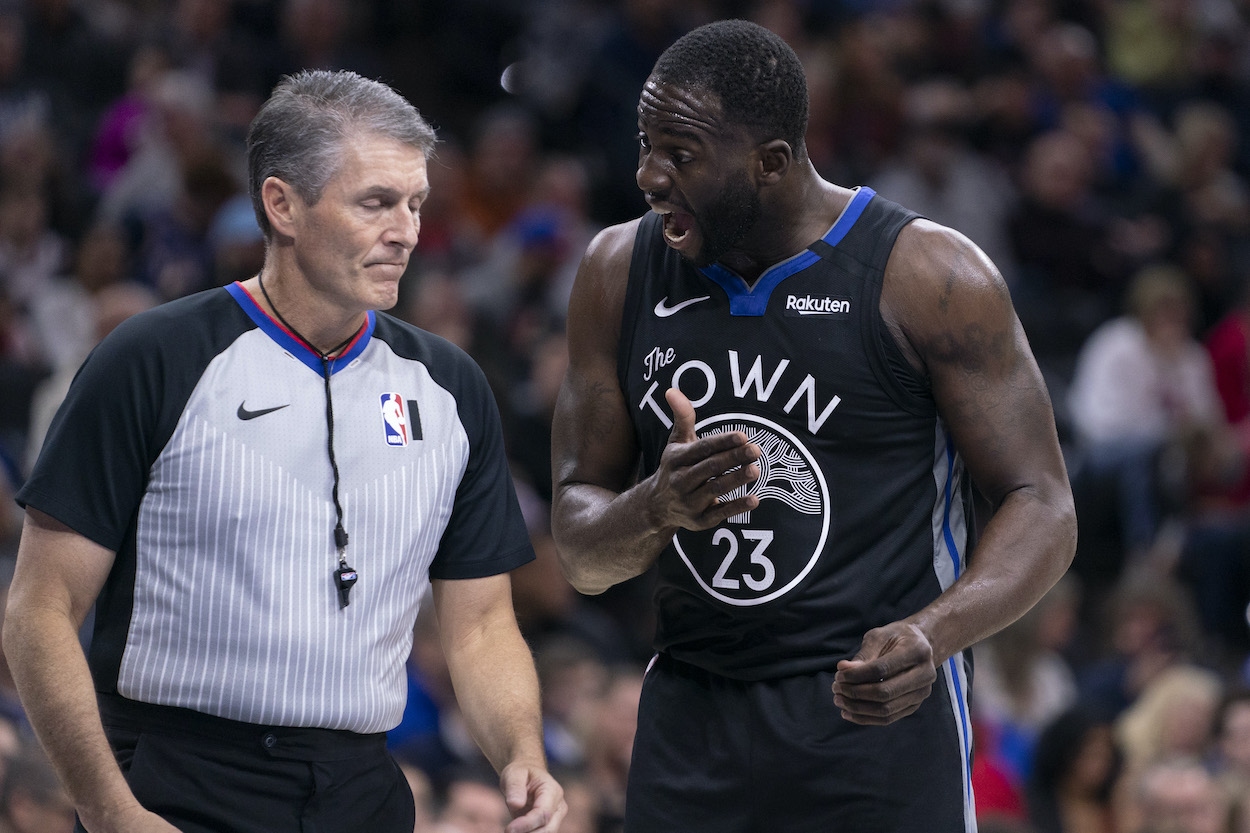 Draymond Green Attacks the NBA as Hypocrites in an Expletive-Filled Rant About NBA Players vs. Fans
Incidents involving NBA players vs. fans are on the rise in the 2021 NBA Playoffs as players have been spit on, hit with popcorn and almost hit with a water bottle. Outspoken Golden State Warrior Draymond Green thinks the NBA isn't doing enough to discourage this kind of fan behavior.
Draymond Green isn't shy about calling people out when he sees something he disagrees with. During the 2021 NBA Playoffs, Green has more time to do that because his Golden State Warriors went home in the Play-In Tournament.
Green's latest target in the NBA league office, which he sees as hypocritical for punishing on-court behavior but not doing enough to protect players after a series of incidents involving NBA players vs. fans.
There have been several NBA players vs. fans incidents in the 2021 NBA Playoffs
For over a year, there were no fans at NBA games as the COVID-19 pandemic made large gatherings, like sporting events, dangerous. The league, players, the media, and the fans all seemed to agree that the game isn't the same without the cheering masses. All parties wanted fans to return as soon as possible.
In the 2021 NBA Playoffs, fans have returned at least in some capacity to all the participating NBA arenas. While this has mostly been a positive return to normal, there have been several unfortunate incidents involving NBA players vs. fans.
A fan in Philadelphia dumped popcorn on Washington Wizards guard Russell Westbrook, and a fan in New York spit on Atlanta Hawks star Trae Young. In Boston, a fan threw a water bottle that narrowly missed hitting Brooklyn Nets point guard Kyrie Irving.
The home teams involved ejected and banned the fans who perpetrated these attacks from their arenas. However, the Boston fan was the only one arrested and charged with a crime.
Draymond Green called out the NBA on Shaquille O'Neal's 'The Big Podcast'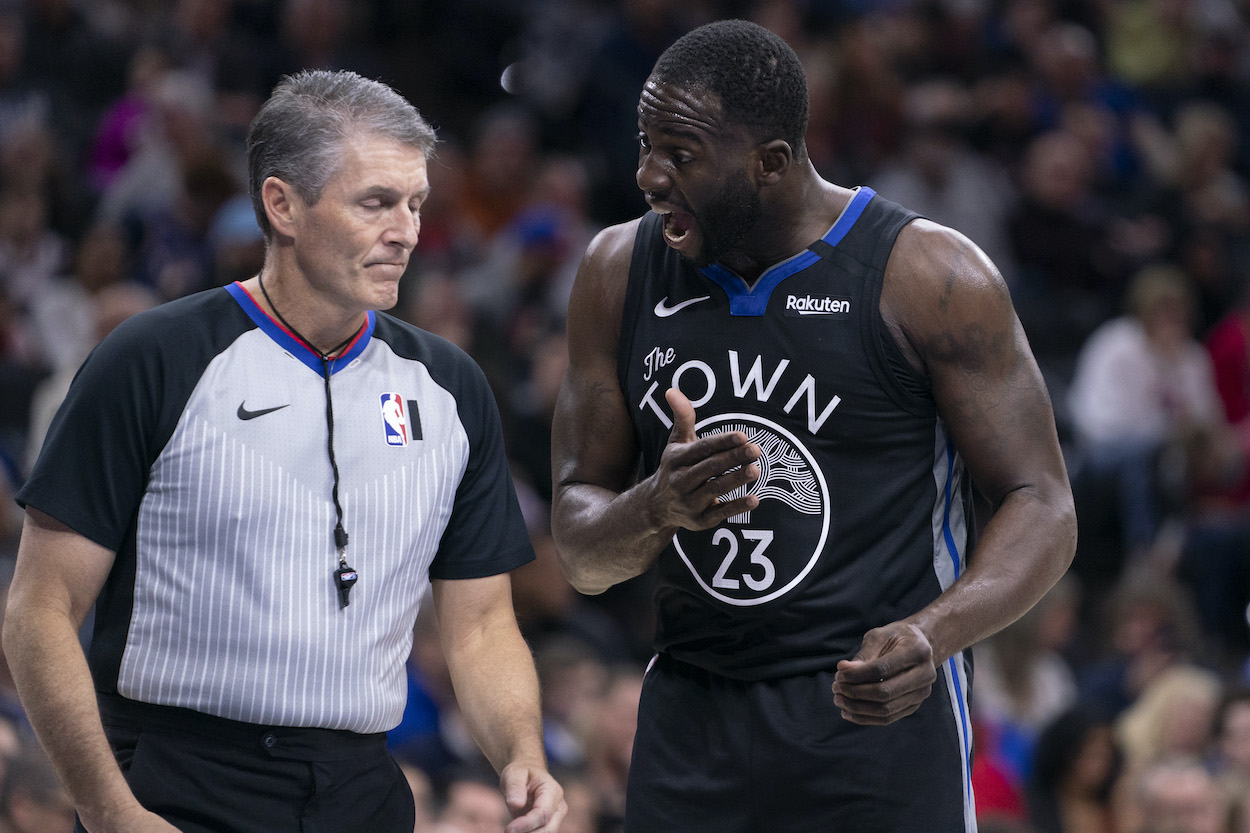 Green is a player who knows all about NBA discipline. Referees have issued dozens of technical fouls to the demonstrative forward over the years, and the NBA league office has fined and suspended him on multiple occasions.
The fact that the league comes down on him and his NBA brethren so hard, but, in his opinion, lets misbehaving fans off lightly is something Green can't stomach. Speaking to NBA legend and TNT analyst Shaquille O'Neal on his podcast, The Big Podcast, Green said, "The NBA has taken it so far left to where a guy says 'f**k you,' and you say 'f**k you' back, you'll get fined."
Green continued asking where the same level of protection is for NBA players from attacks by fans:
Now when you see all these instances where there's actual spit, or there's a water bottle thrown this close to Kyrie's face, where there's popcorn poured on [Russell Westbrook], then it's like, 'oh man, maybe we do need to protect the players.' No, you should have been protecting the players.
He also said the punishments the NBA is doling out to fans is a small price to pay for helping their favorite team get in the opponent's head or giving fans "their five, 10, 15 seconds of fame." Green continued incredulously, "The only punishment is that they cannot come back to the game? Who f**king cares?"
Draymond Green went from a second-round pick in the 2012 NBA draft to an outspoken star
The fact that Green even has a platform where he can take the NBA to task is somewhat remarkable. As a four-year player at Michigan State who averaged 10.5 points and 7.6 rebounds in his career, he wasn't a top NBA prospect.
In the 2012 NBA draft, which included future stars like Anthony Davis, Bradley Beal, and Damian Lillard, Green was selected with the No. 35 overall pick in the second round.
This pick paid off in spades for the Warriors. Green rewarded the Bay Area franchise with a nine-season-and-counting career with three All-Star appearances, the 2016-17 Defensive Player of the Year Award, and three NBA Championships.
At 31, Green still has a few years left in the tank, but he's already flexing his NBA analyst muscles, sitting in on TNT's Inside the NBA during this year's playoffs.
Green seems like he is as uninhabited and fearless in the studio as he is on the court. This is excellent news for (well-behaved) NBA fans, but it might make the league a little nervous knowing they have to deal with Green's well-reasoned criticism for years to come.
All stats courtesy of Basketball Reference and Sports Reference