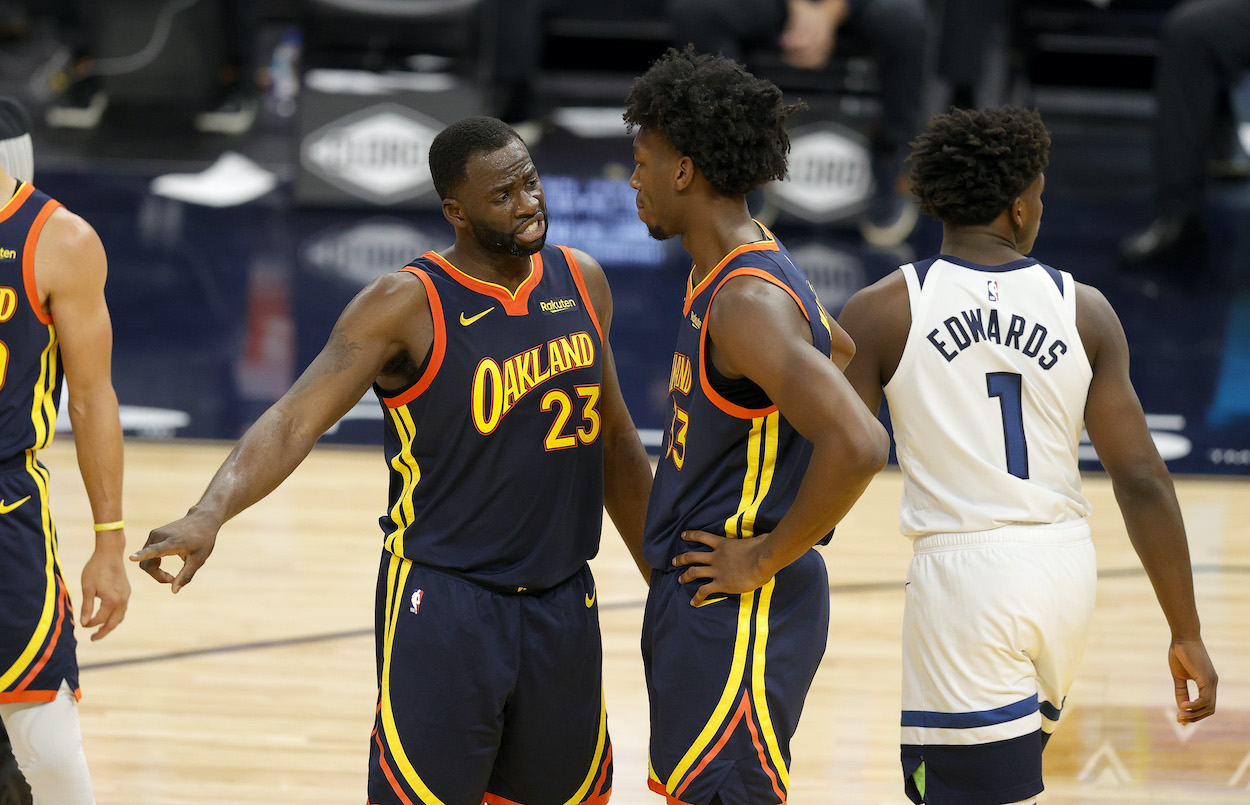 Draymond Green Takes a Subtle Shot at Teammate James Wiseman on TNT
The Golden State Warriors' Draymond Green sat in on 'Inside the NBA' on TNT this week. While discussing the Washington Wizards' future, the veteran took what sounded like a subtle shot at his young teammate, James Wiseman. His dislike of rookies with All-Stars may get worse, though, in the 2021 NBA draft.
The Golden State Warriors' Draymond Green is never one to mince words or be shy about giving his opinion. When it comes to putting a teammate on blast, though, it's a trickier situation.
Green, who's been sitting in on TNT's Inside the NBA studio show, subtly shared his feelings on the viability of putting a draft pick next to All-Stars. His quote wasn't directly about the Warriors' No. 2 overall pick, James Wiseman, but it is easy to connect Green's comments and the rookie big man.
The Golden State Warriors had a disappointing season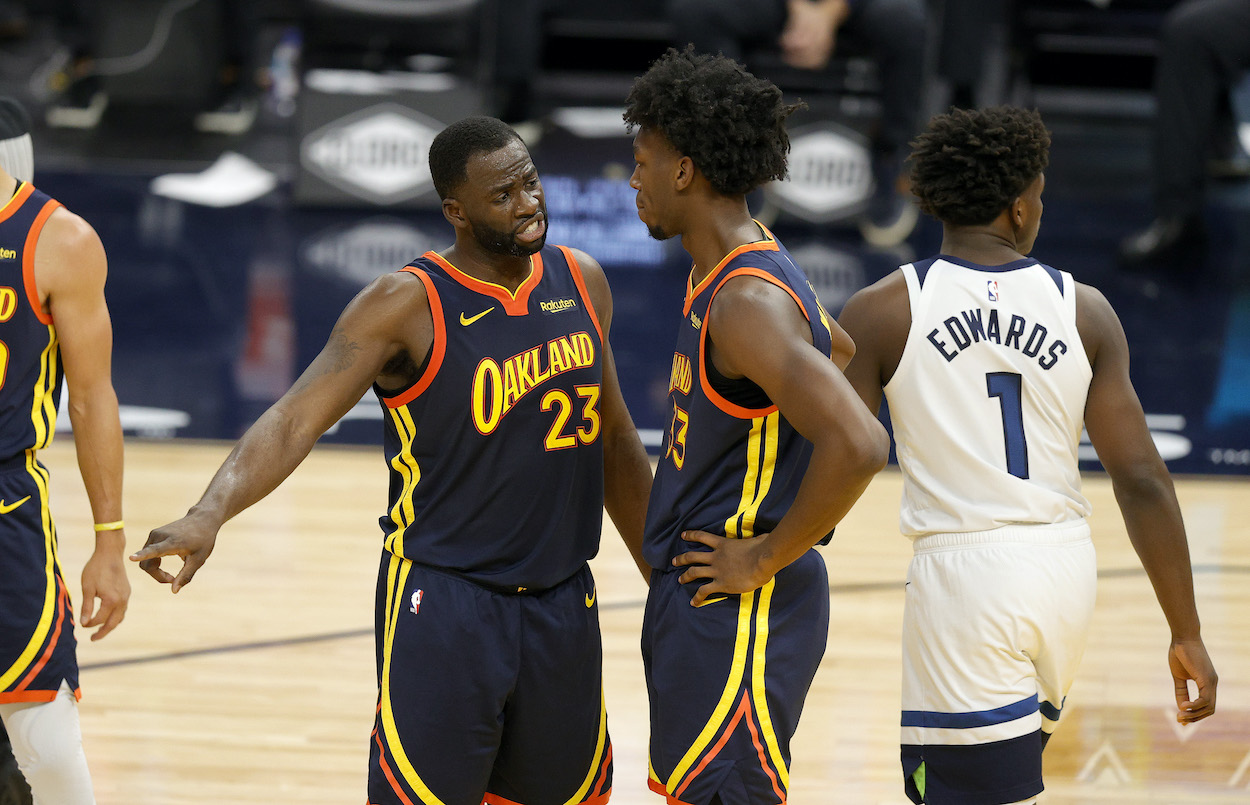 The Toronto Raptors beat the Warriors in the 2019 NBA Finals, but Golden State lost way more than just the trophy. The series saw both Klay Thompson and Kevin Durant go out with injuries that cost them the entire next season, and for Durant, it was his last game playing for the Bay Area team before leaving for Brooklyn.
Next season, the Warriors understandably struggled mightily, finishing with a 15-50 record. That finish earned the team a spot in the 2020 NBA draft lottery where they won the No. 2 pick, which they used to take Wiseman from Memphis, the most highly prized big in the draft.
With Wiseman aboard, Thompson returning, and Stephen Curry and Green refreshed from a shorter season than they are used to, the 2020-21 campaign was shaping up for the Warriors to return to their perch at or near the top of the Western Conference.
The season didn't go as planned for the Warriors, however. Thompson, coming off his torn ACL, suffered a torn Achilles' tendon in a pickup game before the season. Wiseman, who showed flashes of potential at times, never quite fit into coach Steve Kerr's offense. He also missed 33 games with wrist and knee injuries, including Golden State's last 21 games.
Even with all the turmoil, the Warriors still finished the regular season in the No. 8 spot in the Western Conference thanks to a Herculean effort from Curry that saw him win the NBA scoring title by averaging 32 points per game. The team lost back-to-back games in the NBA Play-In Tournament to the Los Angeles Lakers and Memphis Grizzlies to end its season.
Draymond Green doesn't think rookies and All-stars can find playoff success together
The outspoken Green hasn't been outwardly critical of Wiseman to the media. He did, however, get ejected from a game this season for yelling at Wiseman in a funny situation. The referee thought he was yelling at him while Green was actually chastising his rookie teammate, per ESPN.
While discussing the Washington Wizards' future on Inside the NBA following their 4-1 series loss to the Philadelphia 76ers, Green made a comment that seemed to express his true feelings about young NBA players like Wiseman.
Analyst Kenny Smith laid out two paths forward for the Wizards. "They have two options," Smith said. "They have to say, 'We're gonna do a rebuild, or we're going to do a veteran rebuild.'"
Green built on this assessment, saying, "If you're bringing back draft picks [from a Russell Westbrook trade], that doesn't help Bradley Beal." He then summed up his thoughts with a quote that just as easily could be about the Warriors as the Wizards:
Getting draft picks and placing them next to two All-Stars? That don't work.
Green's strong take on putting a high draft pick next to two All-Stars sounds a lot like it's coming from personal experience.
The Warriors may be adding more high draft picks in the 2021 NBA draft
Green obviously doesn't love the idea of putting a high draft pick next to two All-Stars. It will be interesting to see how he feels next year if the Warriors put multiple high draft picks next to three All-Stars, which is in play for the 2021-22 season.
Thompson (five All-Star appearances) is probably coming back to the team with Curry (seven All-Star appearances) and Green (three All-Star appearances) next season, while Wiseman will be in year two.
There is a strong chance that the Warriors will have two lottery picks in the 2021 NBA draft. In addition to their own pick (currently No. 14 before the draft lottery), the franchise also owns the rights to the Minnesota Timberwolves' pick (now No. 6) as long as that pick doesn't end up at Nos. 1, 2, or 3 following the lottery.
Listening to what Green says on TV, he seemingly wouldn't be a huge fan of Golden State bringing in two more premier youngsters to the squad, especially when two lottery picks could bring back a nice veteran piece.
Green should be careful what he wishes for, though. A trade package of Wiseman, two lottery picks, and Green, with his $22 million salary, is an even more enticing package to bring back an incredible veteran piece to pair with two All-Stars in Curry and Thompson.  
All stats courtesy of Basketball Reference