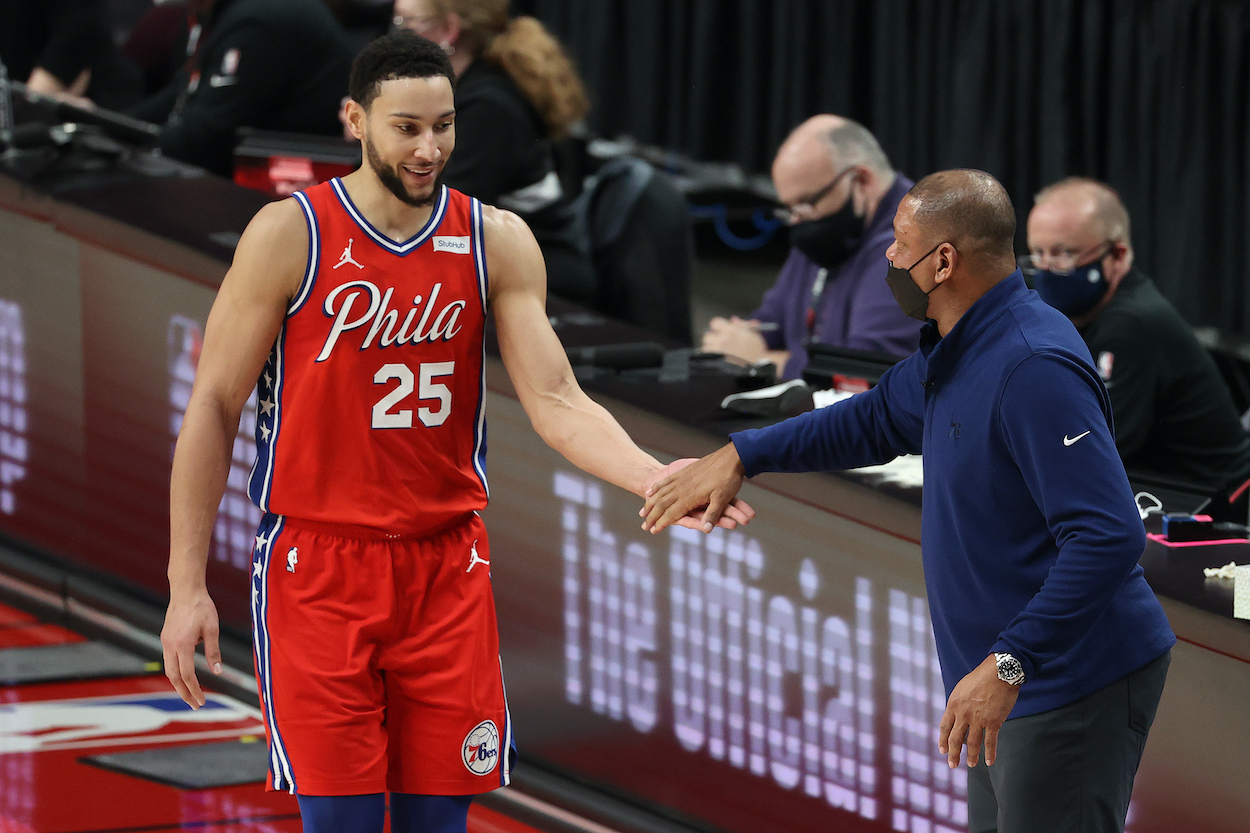 Doc Rivers Defends Ben Simmons for His Poor Shooting and Ruthlessly Calls Out the City of Philadelphia
After a 5-11 night at the free throw line, Ben Simmons received support from Sixers head coach Doc Rivers.
Ben Simmons slander is nothing new for Philadelphia 76ers fans. When one of your star players refuses to shoot a jump shot beyond five feet from the basket, it can just get a little frustrating.
But Sixers head coach Doc Rivers will not stand for any of the hate that's been coming Simmons' way. After Philly's Game 4 loss to the Washington Wizards in which Simmons went 5-11 from the free-throw line and was intentionally fouled late in the game, Rivers quickly came to his point guard's defense. He even took a shot and the city of Philadelphia and the media for continuing to rip Simmons for his shooting performance.
Ben Simmons' shooting struggles continue
In the 76ers' Game 1 win against the Wizards, Simmons recorded 15 rebounds, 15 assists, a block, and a steal in 38 minutes of play. He was also a +18 in the game, which was second on the team behind only Joel Embiid.
But all fans could talk about was Simmons' measly six points on 3-9 shooting and his 0-6 performance from the free-throw line. It's understandable that the Philly faithful wants their star point guard to at least be a competent shooter, but sometimes they ignore just how dominant he is in every other facet of the game.
Simmons haters were back in full force Monday night after the Sixers' Game 4 loss. The Wizards used the hack-a-Shaq strategy late in the game to purposefully send Simmons to the line on three straight possessions down the stretch. Simmons made one of two in all three trips to the charity stripe, and the Sixers went on to lose the game, 122-114.
Through four games in the series, Simmons is now 5-20 from the free-throw line. Expect plenty more intentional fouls from Washington in Game 5.
Doc Rivers defends Simmons for his poor shooting and takes a shot at Philadelphia fans
After Game 4, fans were quick to blame Simmons and his poor free-throw shooting for the loss. But Rivers is fed up with fans and media members targeting the three-time All-Star for his one flaw.
"You guys keep this Ben Simmons narrative alive, which to me is freakin' insane," Rivers said after the game. "Ben is not a 40-point guy, it's not what he does, he does other things for your team. And I just don't understand why that's not sinking in, in our city. Everybody on the team doesn't have to be a scorer to help the team. Ben scores, but Ben creates scoring for us, that's what he does."
Rivers is clearly dumbfounded that fans can't see what Simmons brings to the team. He's a ferocious, versatile defender. He's elite at pushing the pace off a defensive rebound or steal and creating open looks in transition. The Sixers wouldn't be the No. 1 seed in the Eastern Conference without him.
But…but… the shooting!
"If I'm Ben at some point I'd get tired of it," Rivers continued. "I just would, because he's just too good and he does so many good things for this basketball team, and I keep saying, 'celebrate him!' Celebrate all the stuff he does well, we don't do that enough."
Rivers doesn't plan on taking Simmons out of the game late
During his postgame press conference, Rivers received a question about whether he would think about taking Simmons off the floor down the stretch when teams are trying to send him to the free-throw line. He shot that one down pretty quickly.
"No," he sternly replied. "You want me to take Ben Simmons off the floor? I will pass on that one. He's pretty good, so I'll pass on that suggestion."
Rivers is confident Simmons can and will turn his free-throw shooting around.
"I didn't think he was scared at the moment, he just didn't make them," he said. "So you know again, with Ben we're going to keep him on the floor unless you guys want us to bench him the whole game. If anybody wants us to do that, just let me know. And then I'll know you don't know basketball."