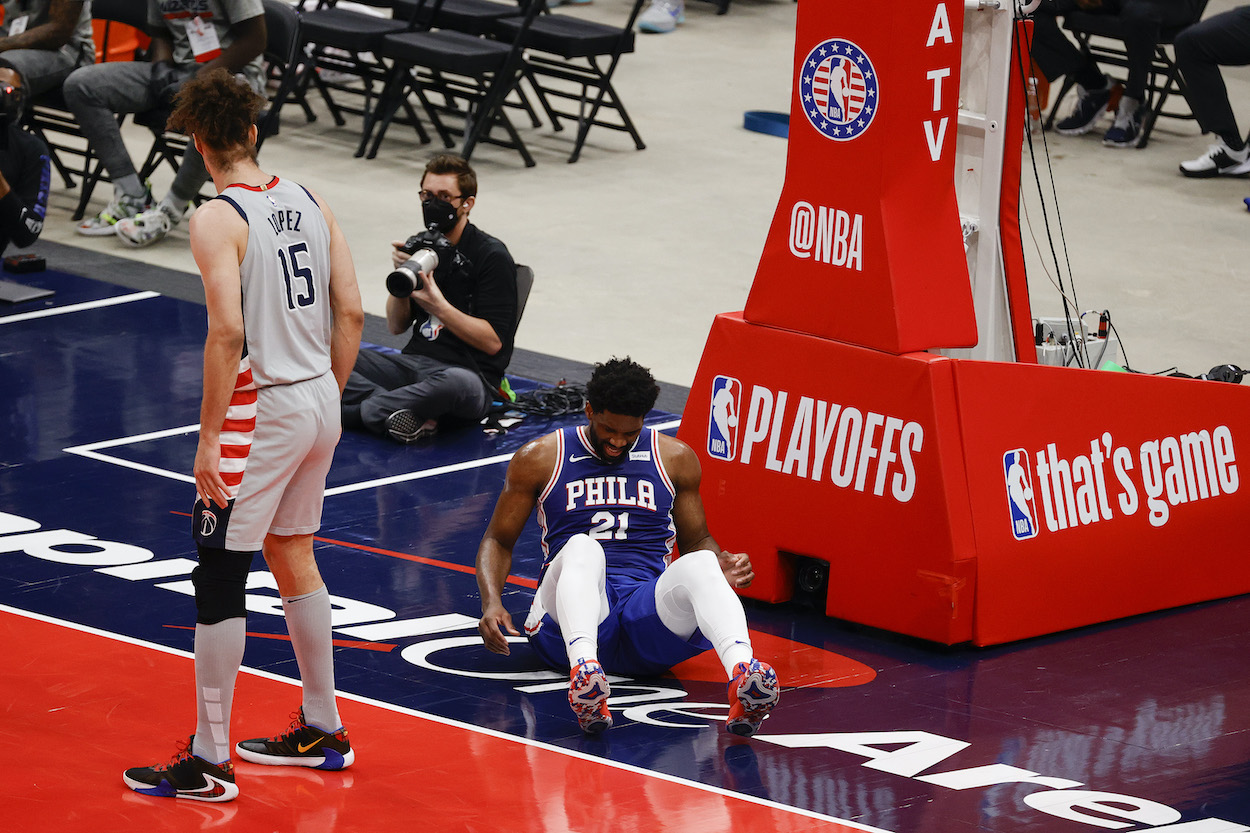 Sixers Fans Should Be Extremely Worried About the Initial Diagnosis of Joel Embiid's Injury
Joel Embiid's injury received a frightening initial diagnosis from the Sixers after the big man fell hard on his backside during Game 4.
When Joel Embiid went down hard under the basket during Game 4 of the first-round playoff series between the Philadelphia 76ers and the Washington Wizards, the entire city of Philadelphia fell silent. Without Embiid, the Sixers' championship hopes and dreams would evaporate into the abyss.
But the star big man and MVP candidate was eventually able to walk off on his own power, which sent a collective sigh of relief down the spine of the 2-1-5. Embiid was later ruled out for the rest of the game, seemingly as a precautionary measure. However, the initial diagnosis of Embiid's injury should frighten Sixers fans far and wide.
Joel Embiid leaves Game 4 after falling hard on his backside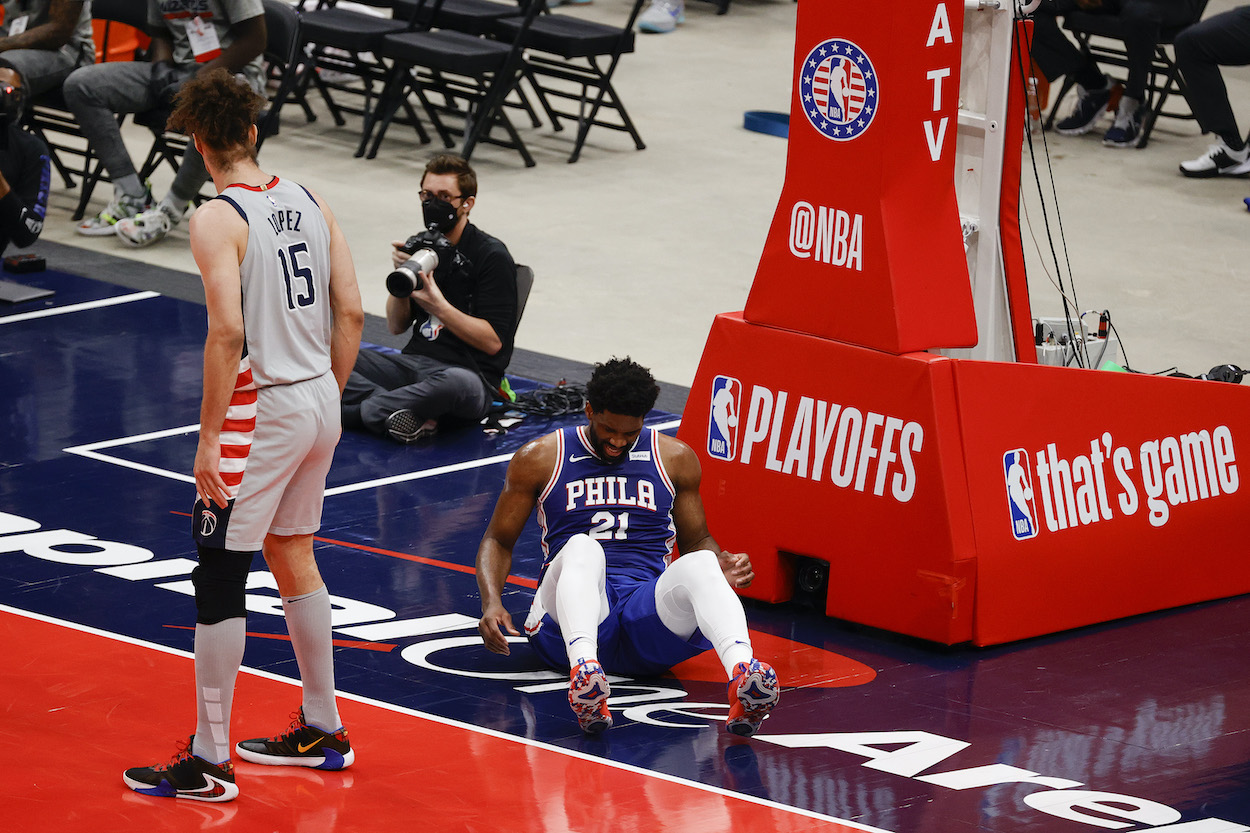 The Sixers looked to be on their way to a four-game sweep of the Wizards when they took a 20-12 lead late into the first quarter. Their defense was stifling, the ball was moving around fluidly, and no one in a gray jersey could stop Embiid.
But just as Philly was about to take a stranglehold on Game 4, it all came crashing down.
With just under five minutes remaining in the first quarter, Embiid drove to his left and attempted a contested layup over Wizards center Robin Lopez. The Sixers' do-it-all big man lost control in the air and fell hard on his backside right under the basket. Embiid winced in pain for a moment before standing up and attempting to walk it off. After getting to his feet, he held his right hip and bent over as more pain rushed to his side.
Embiid remained in the game for a few more minutes and even scored a bucket after the injury, but he immediately headed for the locker room after he was subbed out. 76ers fans figured the team was just being cautious with their star center and that he was just shaken up after landing hard on his hip.
But the initial injury diagnosis didn't involve Embiid's hip at all.
Joel Embiid injury receives a frightening initial diagnosis
The Sixers would've been completely fine if Embiid had just caught a stinger on his hip or backside. That might be sore for the next few days, but it's nothing he would have to worry about long-term.
When Embiid's injury diagnosis first came back, though, it was an immediate sign of concern.
At halftime of Game 4, the Sixers ruled Embiid out for the rest of the contest due to "right knee soreness." Wait, what? Knee soreness? He landed on his back. That must be some mistake.
But taking a closer look at the fall, Embiid's right knee appeared to buckle just slightly on his way down to the ground. He initially landed on his right foot, which seemed to put a great deal of stress on his knee during the fall. Obviously, a possible knee injury is much more worrisome for Sixers fans than a simple hip bruise, so they will be waiting anxiously for the next update on Embiid's status.
The Sixers' championship hopes rest on Embiid's right knee
The 76ers were in fine shape heading into Game 4 of their first-round playoff series. They were healthy at the right time, they received a friendly draw in the first two rounds of the playoff bracket, and they were about to earn some much-needed time off after sweeping the Wizards with ease.
But 24 hours later, that's all changed. After losing Game 4 with an Embiid-less roster, the Sixers have to travel back to Philadelphia for a Game 5. And they just might be without their best player on Wednesday — or worse, for even longer.
The city of Philadelphia hasn't been this worried about a knee since Carson Wentz left a regular-season game against the Rams with a knee injury in 2017. A few months later, the Eagles won the Super Bowl.