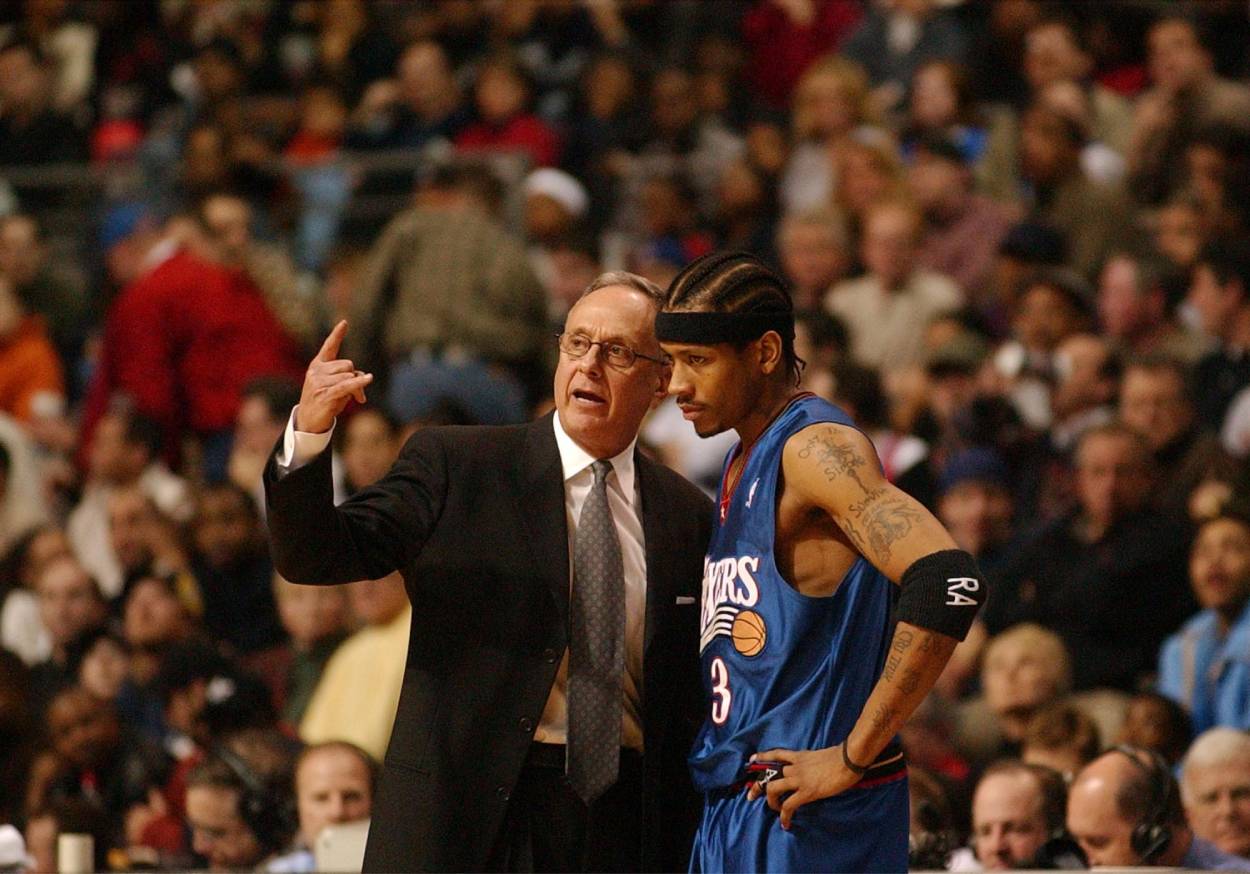 The 76ers Could Have Traded Allen Iverson in 1999 if Larry Brown Got His Way
The rivalry between Allen Iverson and head coach Larry Brown got so ugly that the Philadelphia 76ers nearly traded Iverson in 1999.
Philadelphia 76ers legend Allen Iverson stuck to his guns throughout his career, and that often created tension between him and Larry Brown, his longtime head coach.
Brown and Iverson each wanted to win titles with the 76ers, but they had their share of issues along the way. Their feud became so bad at one point that the head coach wanted the front office to trade his superstar guard.
Larry Brown wanted to trade Allen Iverson in 1999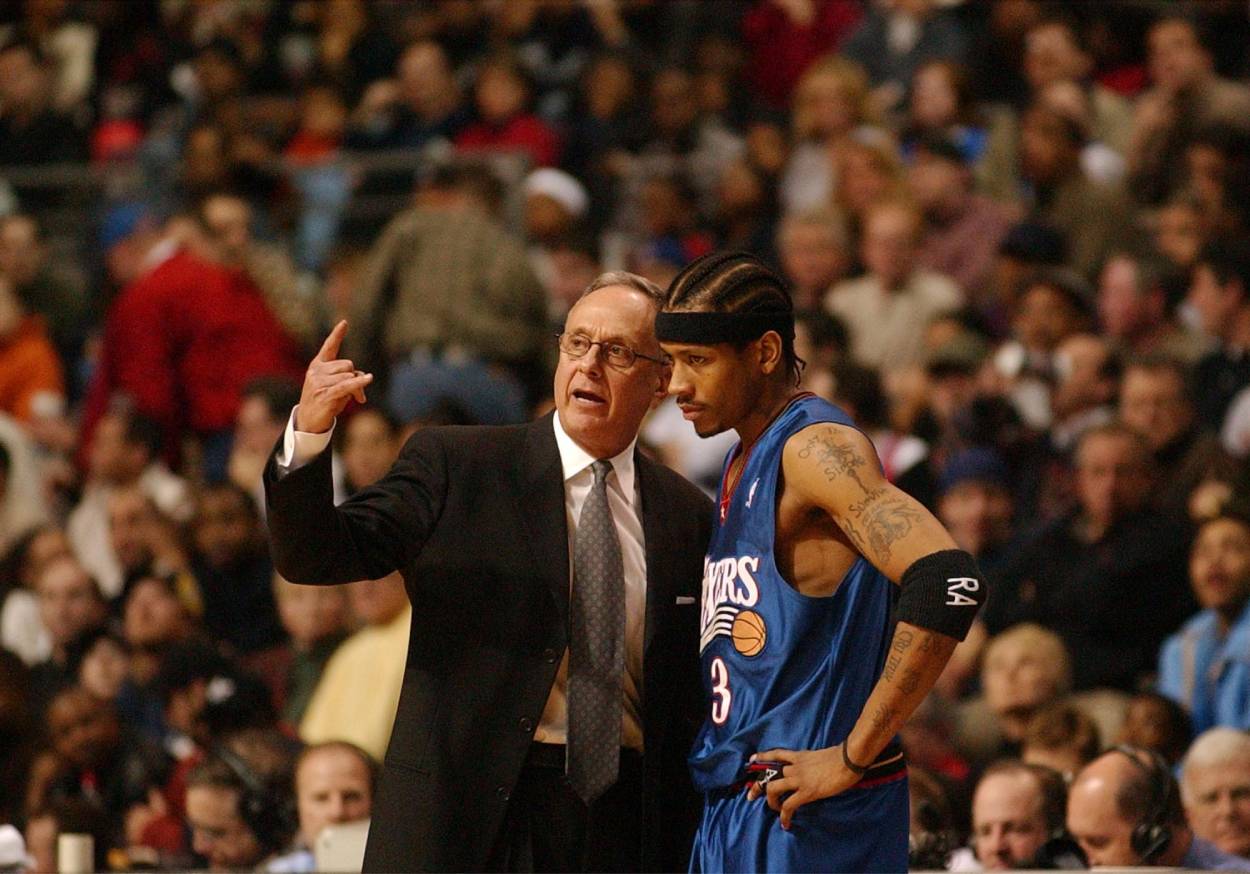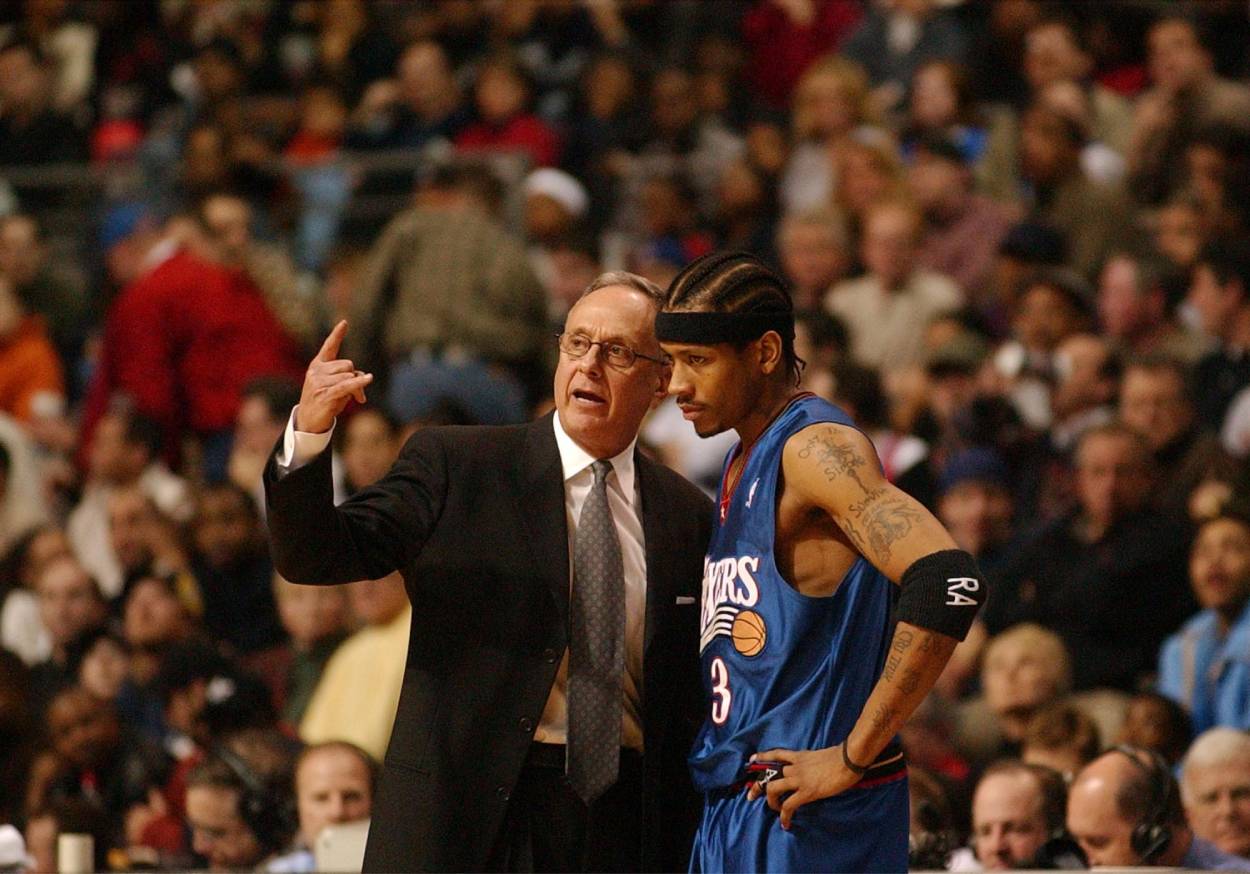 Allen Iverson has always been a free spirit. Not as free as Dennis Rodman, of course, but someone who embraced being different and living to his heart's content.
The All-Star guard became an NBA icon in the post-Michael Jordan era with baggy clothing, insightful commentary, and sensational highlights. However, he also fought with head coach Larry Brown, who wanted his star guard to focus solely on basketball.
Brown's stance and traditional views never meshed well with Iverson, and vice versa. GQ profiled Iverson in April 2007, and their oral history produced some interesting anecdotes. Pat Croce, the 76ers' former president and a minority owner, said the feud between the two became so bad that the team held something close to an "intervention" in December 1999.
"Larry wanted me to get rid of Allen the next day, and Allen wanted me to fire Larry that day. I got deep down into it: 'Larry, Allen thinks you're like the prison guard.' 'Allen, what do you think Larry feels like when you're m-f'ing him when you come off the court?' … Eventually, Allen got up and walked around the table, and hugged Larry. That was a turning point for the team."

Pat Croce
Although Croce did not specify when in December the meeting took place, he is right about one thing: Iverson and the 76ers took off once the new millennium arrived. The 76ers went 32-18 in games played after Jan. 1, 2000, en route to a 49-33 finish and a loss in the Eastern Conference semifinals.
The 76ers later parted ways with Iverson during the 2006-07 season
The Philadelphia 76ers didn't trade Iverson in December 1999, but he wouldn't play in the City of Brotherly Love for life.
Brown stepped down after the 2002-03 season and took the Detroit Pistons' head coaching job. The 76ers kept going through coaches until Iverson had enough. After feuding with head coach Maurice Cheeks in 2006, the former MVP requested a trade.
The 76ers traded Iverson to the Denver Nuggets in December 2006. He and Carmelo Anthony teamed up on a rising Western Conference powerhouse until Denver sent Iverson to Detroit early in the 2008-09 season.
A little over a year later, Iverson returned to the 76ers — now coached by Eddie Jordan — in late 2009. He averaged 13.9 points across 25 games but left the team in February 2010 for personal reasons involving his daughter's health.
Brown and Iverson have had a closer bond over the years
That meeting in December 1999 didn't exactly turn Brown and Iverson into the best of friends. However, it at least placed them on a similar wavelength.
The All-Star guard never changed his ways, and he remained one of his generation's most iconic players. Brown realized he couldn't change Iverson, but he could get the most out of a player who wanted to be the best at what he did.
Retirement has been kind to both figures and their relationship. Iverson praised Brown in his Hall of Fame speech in the fall of 2016 and thanked the coach for his leadership and constructive criticism.
On the other side, Brown has spent recent years admitting how much he admired Iverson's dedication to the game and overall talent. It's a heartwarming ending for two people who, had they not sat down and placed their cards on the table, may never have made up.
Like Sportscasting on Facebook. Follow us on Twitter @sportscasting19.