Allen Iverson Has an Extra $10,000 in His Bank Account Because He Didn't Pay a Rapper After a 1-on-1 Game
NBA legend Allen Iverson challenged the rapper Mase to a 1-on-1 basketball game. It didn't go so well for Mase, who had a massive lead at one point.
In the prime of his career with the Philadelphia 76ers, All-Star guard Allen Iverson didn't have many foes who could realistically keep up with him in a 1-on-1 challenge.
Still, he had his share of challengers. Iverson, who was no stranger to the music community, played Mase — also known as Ma$e — in a game, and the details remain fascinating over 20 years later.
Allen Iverson and Mase played a 1-on-1 basketball game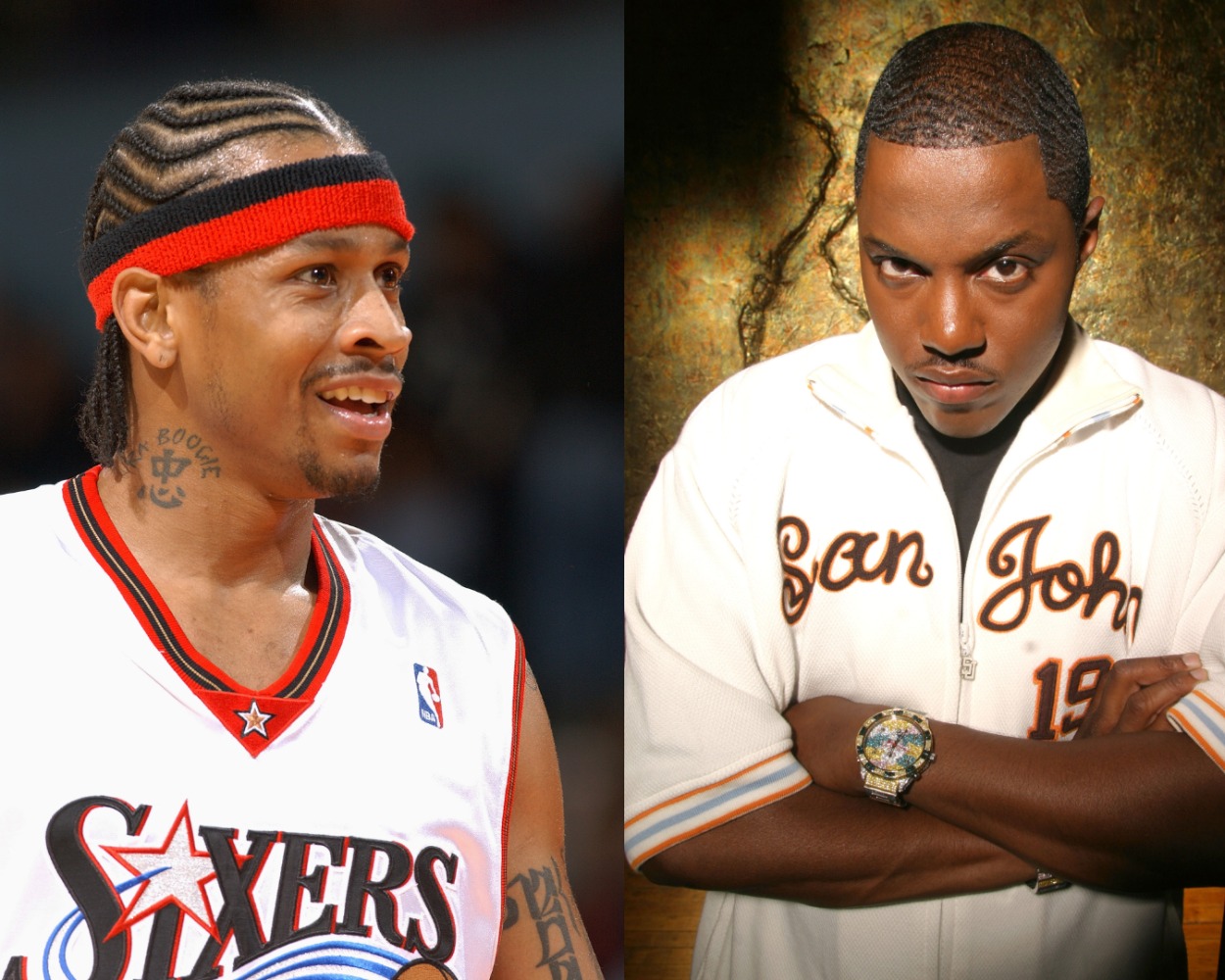 Allen Iverson is one of the greatest players in NBA history, and many of his opponents wound up with their ankles figuratively broken.
If the league's top defenders couldn't stop Iverson, what hope did a celebrity have? During a 2002 interview with Playboy, Iverson recalled playing Mase, a popular rapper from New York, in a 1-on-1 basketball game.
Iverson intentionally staked Mase to a 19-0 lead, and whoever reached 20 points first would win $10,000. The NBA star intended to score 20 unanswered points and pocket the money.
"So we started playing, and once I stopped him five times in a row, he started beating me up, fouling me every time. I tied it at 19, and he knew he was in trouble because I shot a jumper and missed, and he grabbed the rebound and put it back in. He didn't take it back or nothing. And then he ran off the court, jumping around like he won."

Allen Iverson
Unfortunately for Mase, he left the court that day without an extra $10,000 in his wallet.
"Hell if I was about to pay him," Iverson said.
Mase had a successful rapping career
Iverson has long had extensive ties to the music community, and that was definitely the case during his playing career.
It made sense that his path would eventually cross with Mase, born Mason Durrell Betha. The rapper rose to prominence in the late 1990s after working with the Notorious B.I.G. and Sean Combs, who you may know as Puff Daddy, P. Diddy, or Diddy, depending on the day.
As of publication, Mase had six songs that reached the top 10 on the Billboard Hot 100. All of those songs were prominent between 1996 and 1999.
Mase is also well known for taking a five-year hiatus from rap to become a minister. During the interview with Playboy, Iverson briefly discussed the rapper's transition from musical artist to minister and remarked Mase must have been serious about dedicating himself to religion.
Iverson's reasoning? He hadn't recently seen Mase at any topless bars.
Iverson mentioned the rapper in his Hall of Fame speech
Iverson never forgot about his past, whether it was his childhood struggles in Virginia or experiences he had during his playing career.
When Iverson entered the Naismith Memorial Basketball Hall of Fame in 2016, he mentioned several celebrities in his speech. He thanked the likes of Michael Jackson, Tupac Shakur, the Notorious B.I.G., and so forth for "being the music" throughout his career.
Before mentioning those famous artists, Iverson also gave Mase a shoutout. That might be the first and last time Mase hears his name at a Hall of Fame speech.
Like Sportscasting on Facebook. Follow us on Twitter @sportscasting19.