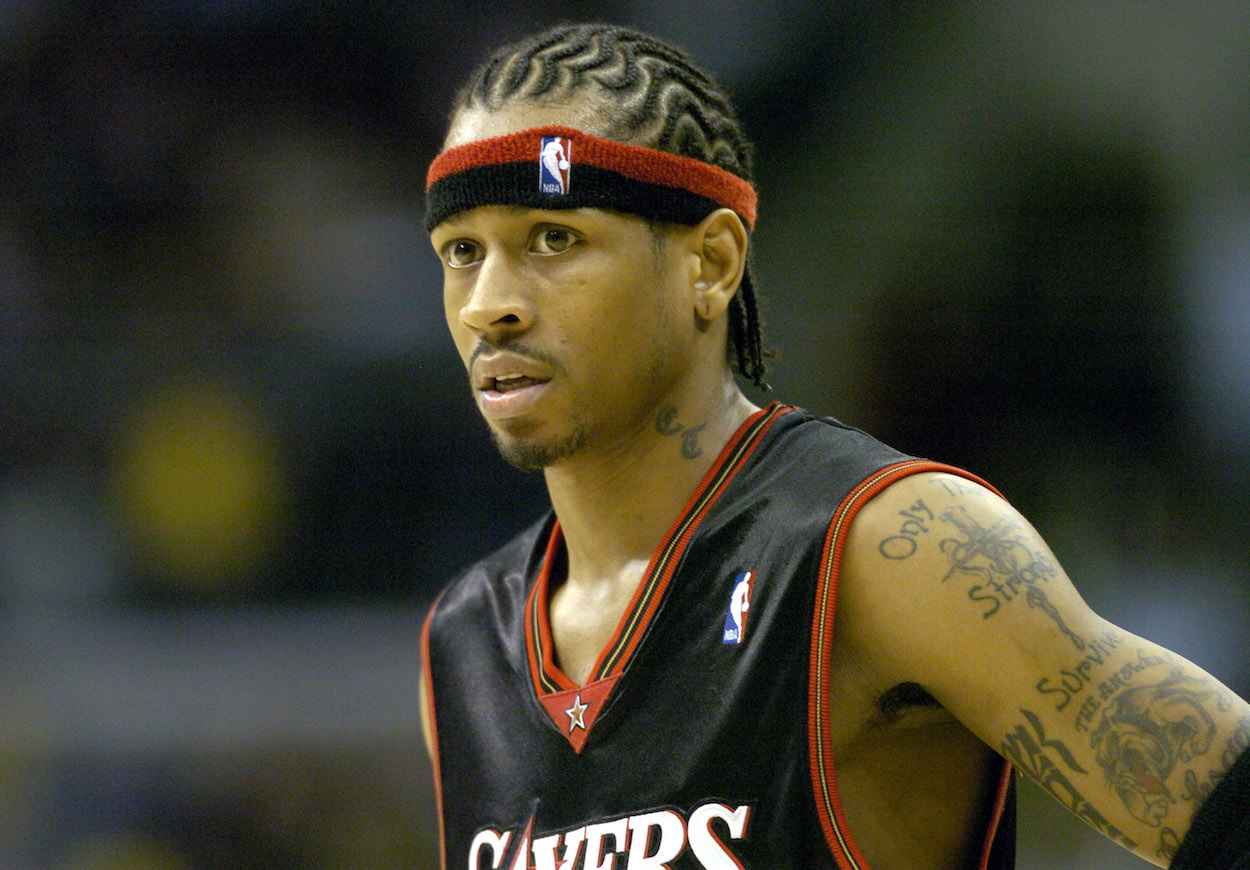 Allen Iverson's Ruthless Competitiveness Forced the Sixers to Go to Extreme Lengths to Ensure He Couldn't Play Injured
Former Sixers GM Billy King recently admitted that he sometimes had to hide Allen Iverson's jersey so that he couldn't play injured.
When you're building the ideal basketball team in the NBA, you want to start with players that you know are going to leave their heart and soul on the floor every time they suit up for a game. One of the greatest players who embodied that mindset was Hall of Famer Allen Iverson.
Iverson treated every game he played in the NBA like a battle between life and death. Even if he was severely injured, he would still try to find his way to the court and give it a go. During A.I.'s tenure with the Philadelphia 76ers, the team had to go to extreme lengths to stop him from playing hurt. Former general manager Billy King recently admitted the only way the Sixers could keep Iverson off the court was to steal his jersey from the locker room and hide it before games.
Allen Iverson was a fearless competitor in the NBA
Iverson might've been smaller than 99% of the players he went up against during his NBA career, but you wouldn't have known it from the fearless manner in which he competed night in and night out. Iverson believed he was better than anyone who had the nerve to try and guard him. Even as a 21-year-old rookie in 1997, he went toe-to-toe with Michael Jordan and crossed him out of his shoes in one of the most iconic moments of his career.
It didn't matter the opponent. It didn't matter the adversity. Iverson was so successful in the NBA because his heart was bigger than his body.
The Sixers went to extreme lengths to ensure Iverson couldn't play injured
Throughout his 10-year stint with the Sixers, Allen Iverson never wanted to miss a single game. Iverson would suit up and play a full game with a torn ACL if he could still run and shoot a basketball, so the Sixers had to reign him in when they knew he wasn't healthy enough to play.
Former 76ers GM Billy King recently appeared on the Audacy NBA Show and explained exactly how they did that.
"(Iverson) didn't wanna take a day off in games. Now practice, maybe, but games, he didn't wanna take the time off," King said. "When he was injured and we knew he couldn't play, we used to hide his jersey. Because he would come to the locker room looking for his jersey, we'd lock it somewhere so he couldn't get it."
But, apparently, hiding Iverson's jersey wasn't even good enough sometimes.
Allen Iverson once found one of his hidden jerseys
Normally, hiding Iverson's game jersey would be enough to keep him off the court when he was too injured to play, but in one instance, King evidently didn't hide it well enough.
"One time, in New York, he found his jersey but didn't have any shoes," King said. "He was trying to send the ball boy to the Foot Locker around the corner. He said 'just give me a pair of their Reeboks. I can play in those.' Then he pointed to an attendant, 'what size are you, just give me those shoes,' because he wanted to play so bad."
A.I. was just a different breed.