Ben Simmons Just Savagely Ended the Defensive Player of the Year Race and Exposed Rudy Gobert With 3 Simple Words
The race for the 2021 NBA Defensive Player of the Year Award is seemingly down to two. Rudy Gobert, who's won the award twice in the last three seasons, is the favorite to capture his third DPOY trophy. But Ben Simmons is not far behind him in second place.
With just about a month left in the regular season, it's anyone's award to win down the stretch. On Tuesday, Simmons tried to put an early end to the race by taking a savage shot at Gobert.
Ben Simmons and Rudy Gobert battling for DPOY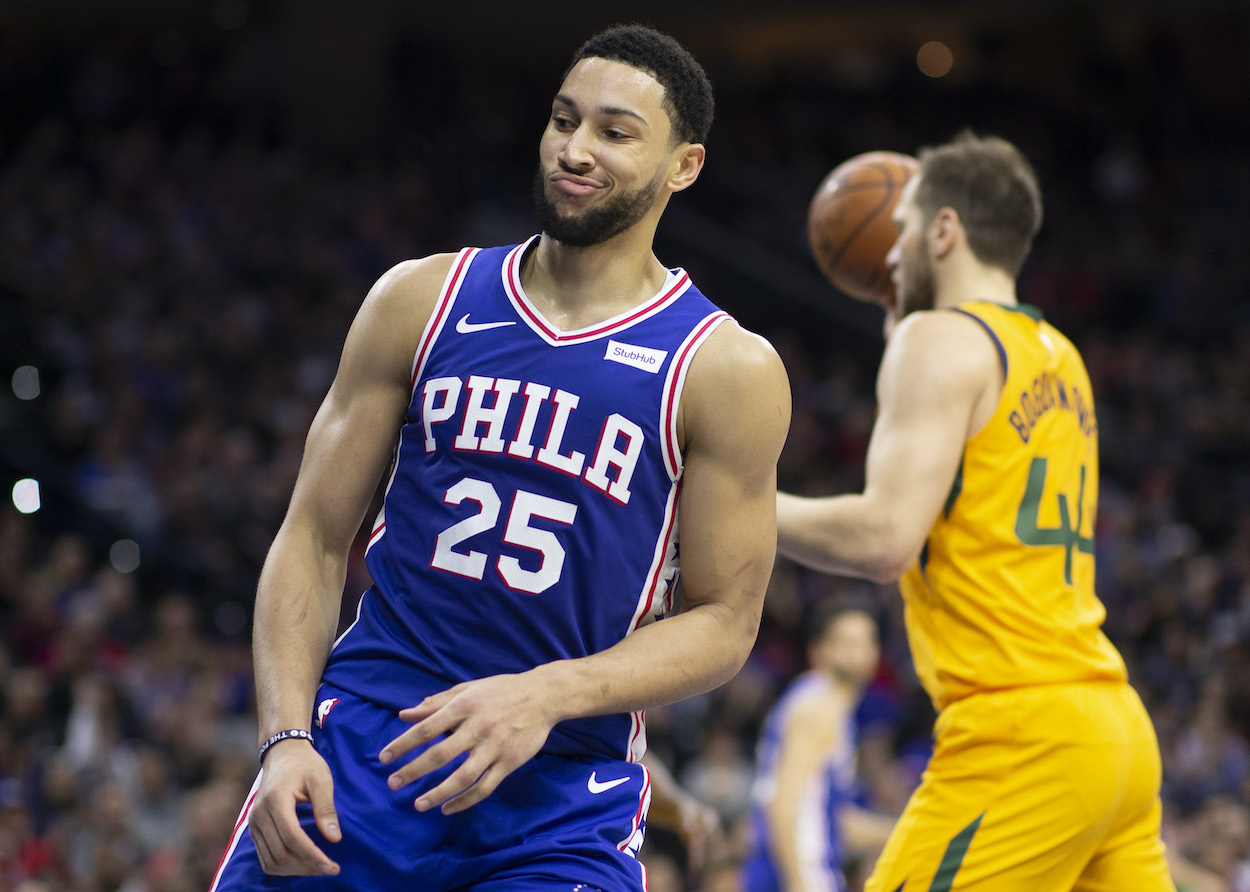 For the last three seasons, Rudy Gobert has basically held a stranglehold over the NBA Defensive Player of the Year Award. He won the award in 2018 and 2019 and came in third last year behind Anthony Davis and eventual winner Giannis Antetokounmpo.
Gobert is looking to make it three DPOY wins in four seasons, but there's a new challenger gunning for his throne in 2021: Ben Simmons.
Simmons' defensive versatility and overall disruptiveness have led the Sixers to the second-best defensive rating in the NBA this year. He also ranks seventh in steals per game with 1.6.
According to Vegas Insider, Gobert (-335) is still the overwhelming favorite to take home another DPOY trophy. Simmons (+230) is second, and the next-closest player is Myles Turner (+700).
Simmons just savagely ended the DPOY race and exposed Gobert with three simple words
As the 2021 NBA regular season winds down, both Gobert and Simmons will be making their final cases to be named DPOY. On Tuesday, Simmons appeared on ESPN's The Jump and made a compelling argument while taking a savage shot at Gobert in the process.
"I'm one of those guys who can guard one through five," Simmons said. "Obviously, there's a lot of respect for Rudy. I know what he's capable of. I know he's great down there in the paint.
"But he's not guarding everybody, and that's just what it is. He guarded me in Utah … I had 42."
"And apparently I'm not a scorer," Simmons joked. "It is what it is."
"I had 42." Those three words might just be enough to call the race early. NBA fans and media pundits love to criticize Simmons for his inability to shoot the ball outside the paint. But if that's true, then how did Gobert let him score 42 in his paint, in his house, and in the midst of a battle for his award?
Makes you think.
Simmons or Gobert: Who should be DPOY?
If the NBA season ended today, who would be named the Defensive Player of the Year? Let's dig through the numbers.
Gobert ranks No. 1 in defensive win shares (4.0) this year, while Simmons is tied for fourth (2.7). The Jazz center also ranks No. 1 in defensive rating among qualified players (100.8). Simmons ranks fourth (105.5). Gobert ranks second behind Myles Turner in blocks per game (2.8, which is also the highest mark of his career), and Simmons doesn't even rank inside the top 50. Simmons does have Gobert beat in steals per game and overall team defensive rating, but that's about it.
Simmons might be right on Gobert's heels, but he probably needs a special final month to catch the DPOY favorite.
All stats courtesy of Basketball Reference