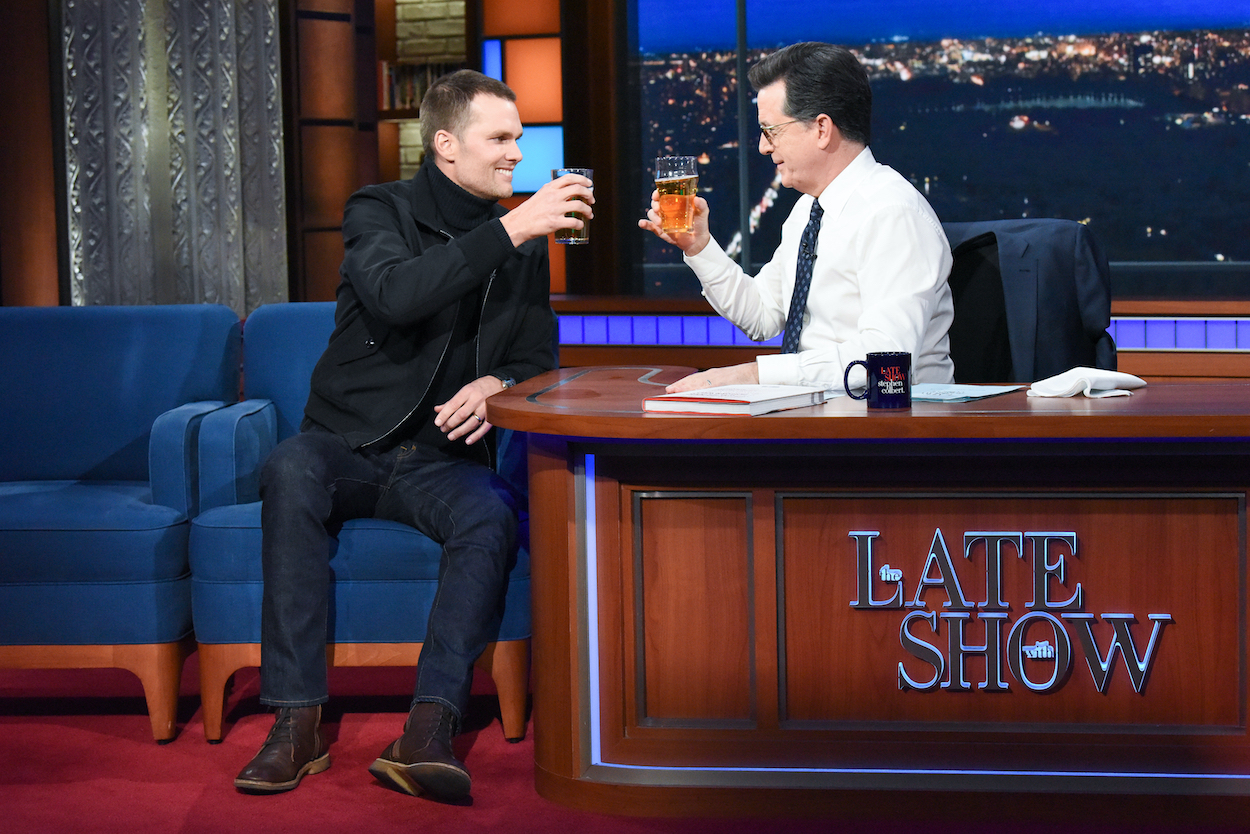 A Brief History of NFL Lineman (and Aaron Rodgers and Tom Brady) Chugging Beer at Games
A new NFL trend is linemen chugging beer at sporting events. It has happened at NHL and NBA playoff game, once even at the expense of Aaron Rodgers. While it's impressive and fun to watch, NFL legend Tom Brady puts them all to shame when it comes to throwing back cold ones.
NFL players who play on the O-line are massive individuals. Many consume food and beverages to excess to keep their enormous frames. For some NFL linemen, this apparently includes occasionally chugging beer.
Over the years, several linemen have been in the news for chugging beers at sporting events. This has thrilled the fans at these games and, often, their teammates attending the games with them as well.
On occasion, these linemen's superstar quarterbacks have tried to keep up, with mixed results.
New York Jets O-lineman Dan Feeney chugged a beer at a New York Islanders playoff game
The New York Jets offensive line recently took a team bonding trip with their rookie quarterback, Zach Wilson. Wilson and his protectors watched the New York Islanders play the Pittsburgh Penguins and seemingly had a great time.
As the game was heading into a commercial break, NBC cameras caught offseason signing Dan Feeney chugging a beer. He promptly followed that by smashing the can against his mullet-adorned head.
The announcers broke out laughing, and the crowd went wild. Feeney's new teammates did too. Even Wilson, who comes from a much more conservative environment at Brigham Young University, seemed to enjoy Feeney's antics.
Taylor Lewan of the Tennessee Titans pounded two beers while watching the Nashville Predators 
Lineman Taylor Lewan has also made news lately for hockey game beer-chugging. While attending a Nashville Predators game against the Carolina Hurricanes, the team showed local hero Lewan on the big screen.
After a nice moment holding his daughter, the arena camera panned to a group of fans funneling beers down a fish (yes, you read that right, and apparently, it's a thing at Predators games).
Not to be outdone, Lewan chugged a tall boy, getting most of it on his face and jersey when the camera cut back to him. The 6'7", 309 lbs. former Michigan Wolverine then ripped off his jersey, exposing his tattooed torso. A fan then threw Lewan another beer, and he downed that one as well, all while the crowd went bonkers.
Aaron Rodgers got embarrassed trying to chug beer like his lineman at an NBA game
It's not just at NHL games where NFL linemen chug beer. It happens at NBA playoff games as well.
In 2019, Green Bay Packers tackle David Bakhtiari chugged two beers to fire up the crowd at a Milwaukee Bucks game. After pounding the libations, the large lineman stood up and pointed across the court, challenging another fan to a chug-off.
Sitting courtside on the other side of the arena was his QB, Aaron Rodgers.
Rodgers, who the TV broadcast hilariously identified as a "'Game of Thrones' Extra & NFL MVP," took the challenge. Unfortunately for Rodgers, he is not good at chugging beer. In the 10-seconds he drank for, he wasn't able to finish his ¾ of a beverage.
To celebrate his win (and rub salt in Rodgers' wounds), Bakhtiari chugged one more beer on camera for good measure.
Tom Brady is the king of NFL beer-chuggers
While Feeney, Lewan, and Bakhtiari were all impressive chuggers (and Rodgers was terrible), is it any surprise that the possibly the greatest NFL beer-chugger of all time is none other than Tom Brady?
Brady has shown off his prodigious chugging prowess on multiple occasions, including once taking down his center, David Andrews, at a Super Bowl ring ceremony, as shown on Twitter.
His most famous beer-chugging occasion came during an appearance on The Late Show with Stephen Colbert. The late-night host and the quarterback discussed several aspects of Brady's diet, and Colbert even got TB12 to try his first-ever strawberry (seriously).
When Colbert pulled two beers out, that's when the magic happened. The host challenged Brady to a chugging contest, and Brady smoked the former Daily Show anchor. The QB even had time to go back and drain the last drops before Colbert finished his pint.
What's the moral of all these stories?
As fun as it is watching NFL linemen chug beers, nobody beats the GOAT.
Like Sportscasting on Facebook. Follow us on Twitter @sportscasting19