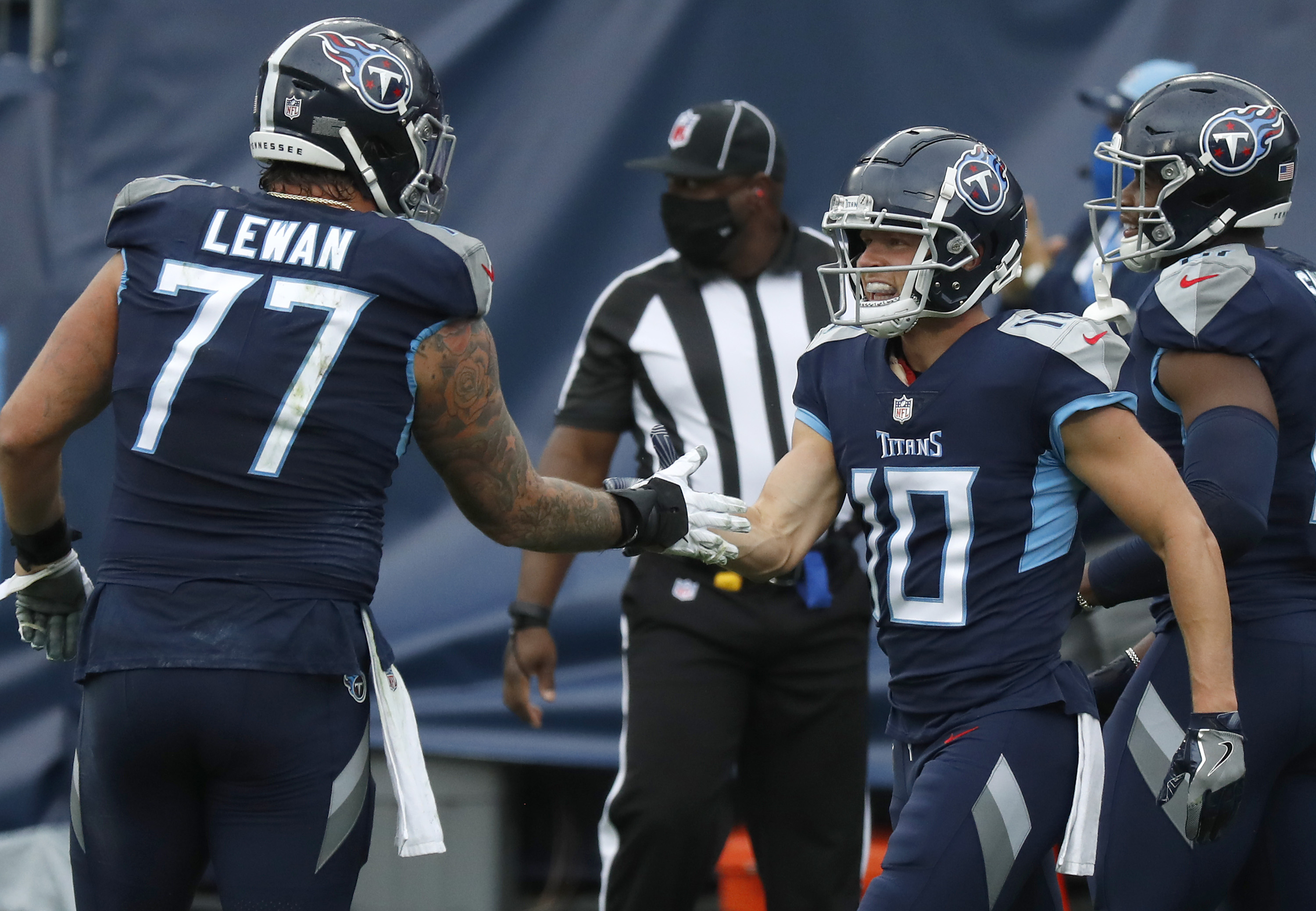 Injured Taylor Lewan Has an Emotional Message for Tennessee Titans Fans
Injured Tennessee Titans offensive lineman Taylor Lewan posts an emotional message to fans after his season-ending ACL injury.
Two days after a season-ending ACL injury and Tennessee Titans offensive tackle Taylor Lewan isn't all doom and gloom. The Pro Bowl offensive tackle for the undefeated Titans has his promising season abruptly cut short Sunday during his team's thrilling overtime victory over the Houston Texans. While the road to recovery remains long and difficult, Lewan remains positive.
The Tennessee Titans are rolling
To say the Tennessee Titans have overcome adversity in 2020 would be quite the understatement. The Titans have been affected by the coronavirus (COVID-19) bug harder than any other team in the NFL. Despite 24 members of the organization testing positive for the virus, the team stands tall at 5-0.
The season has been a whirlwind for the Titans. They have been accused of holding their own workouts when their own facility was shut down because of positive COVID-19 cases. The NFL had warned teams not to do so. The Titans have seen their schedule revamped multiple times and even had to play a game on a very rare Tuesday night.
Despite the challenges, the team is on a roll. The offense has been spectacular, scoring better than 30 points in its last four games. Tennessee hit the 42 point mark in each of its last two games. Last week, the Titans marched down the field with less than two minutes left to score a game-tying touchdown against the Houston Texans. Tennessee then won it in overtime on a Derrick Henry touchdown run.
Taylor Lewan tears ACL on Sunday
While the Tennessee Titans are enjoying an undefeated season during the wacky 2020 campaign, they suffered some damaging news in that overtime win over the Houston Texans last week. Pro Bowl offensive tackle Taylor Lewan went down with a knee injury during the third quarter. He was able to walk off under his own power.
After some tests, it was determined that Lewan tore his ACL and will miss the rest of the season. It's a tough blow for the Titans. Lewan is a three-time Pro Bowler, earning the honor from 2016-2018. During that stretch, he missed just one game.
Lewan played his college football at Michigan. He was a first-round pick in the 2014 NFL draft. The Titans selected the 6-foot-7, 309-pound offensive lineman with the 11th overall pick.
Lewan turns from best Titans OL to biggest Titans fan
The Tennessee Titans face the Pittsburgh Steelers on Sunday in a battle of undefeated teams. This game was originally scheduled for Week 4, but was pushed back when the Titans were dealing with an outbreak of COVID-19 cases. The Titans will be without Taylor Lewan, who posted an emotional message on social media, knowing he will miss the rest of the season with an ACL injury.
On Monday, the day after Lewan was injured against the Texans, he went for an MRI and it confirmed what most feared – a torn ACL. He then posted a message, asking fans not to feel sorry for him. "I wanted to let everyone know I got an MRI today," he wrote. "I Tore my ACL yesterday against Houston. Don't feel sorry for me, I'm going to handle this rehab like a Pro and come back better than ever. Thank you @Titans fans for your support. #NoBadDays."
Lewan now becomes the Titans' biggest fan, painfully watching from the sideline. "I can't wait to watch my guys crush it, I'm going to be the biggest Titans fan each and every Sunday. We are doing something special here and this small set back doesn't change a thing!"
All stats courtesy of Pro Football Reference.