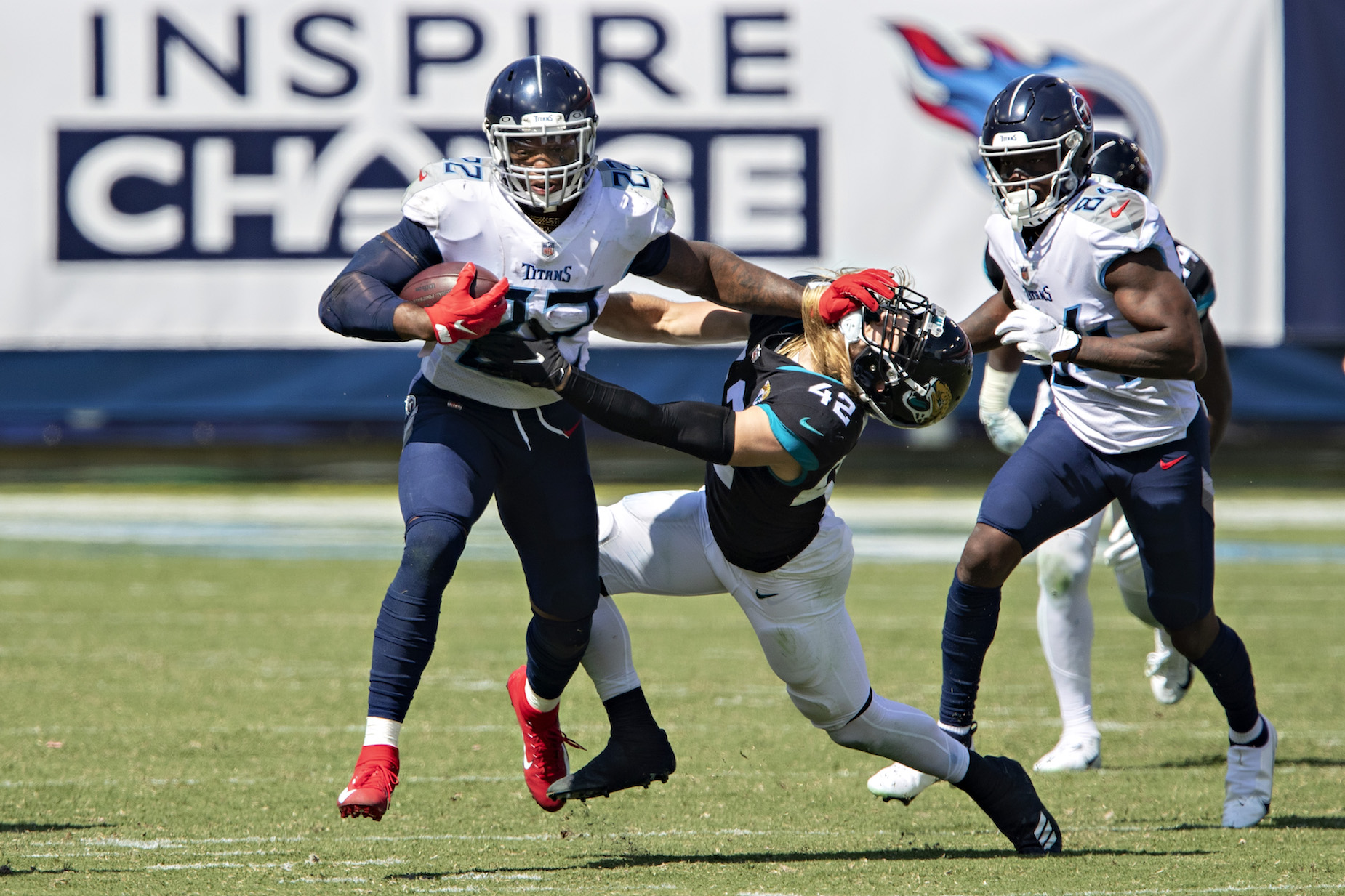 Just How Big Is Tennessee Titans Running Back Derrick Henry?
If you've ever watched a Tennessee Titans game, you know that Derrick Henry is a massive man. Exactly how big is the running back, though?
While it's not exactly groundbreaking to say that NFL players are big men, there is some room for variance within the league. Kansas City Chiefs rookie Clyde Edwards-Helaire, for example, clocks in at less than six-feet tall; at the other end of the spectrum, Derrick Henry's sheer size has become a bit of a meme.
Although a picture is worth a thousand words, images of Derrick Henry towering over other NFL players raises one important question. Just how big is the Tennessee Titans running back?
Derrick Henry's road to the NFL
For the most part, star athletes show signs of greatness long before they reach the pros. For Derrick Henry, that was certainly true.
Henry first made a name for himself in high school, where he posted a stat line that looks like something out of a video game. After piling up more than 4,000 rushing yards as a senior, the running back took his talents to the University of Alabama.
While Henry didn't get too many touches as an NCAA freshman, he still showed plenty of potential, averaging more than 10 yards per carry. He split carries with T.J. Yeldon during his sophomore campaign, before seizing the top job as a junior.
Once in the starting job, though, Henry didn't miss a beat. He exploded for 2,219 rushing yards and 28 touchdowns as the Crimson Tide rolled to the national championship; the running back also took home the 2015 Heisman Trophy for his troubles.
Becoming the big man on the Tennessee Titans' campus
On the back of that NCAA success, Derrick Henry joined the Tennessee Titans as the 45th-overall pick of the 2016 NFL draft. Despite his sheer size and obvious talent, though, professional success didn't come easily.
During his rookie year, Henry shared the backfield with DeMarco Murray and finished the campaign with 490 rushing yards and five touchdowns. As an NFL sophomore, he rushed for 744 yards, but couldn't reach the end zone more than five times.
Henry saw a bit more action in 2018 before taking over the Titans' starting job in 2019; similar to his college career, that increased responsibility set the stage for an explosion. The running back dominated the competition, chewing up 1,540 yards of turf and scoring 16 rushing touchdowns. That was enough to earn a trip to the Pro Bowl and a $50 million contract extension.
Just how big is Derrick Henry?
When you see Derrick Henry barreling over defensive linemen without breaking his stride, it's apparent that the running back is a mountain of a man. But how big is the Tennessee Titans star?
According to the Tennesse Titans' official website, Henry clocks in at 6 feet, 3 inches tall, and 247 pounds. While those measurements may sound impressive in isolation, they seem even larger when you compare the Titans' running back to the rest of his peers. In January 2020, Adam Stites of SBNation noted that, since 2011, the average running back stood 5 feet, 11 inches tall, and weighed 219 pounds at the NFL scouting combine; it's no wonder that Henry can look like a man among boys.
While size isn't the only factor for an NFL running back, Derrick Henry is more than just a big body presence; he ran a respectable 4.54-second 40-yard dash at the combine and isn't content to simply serve as a battering ram. When the chips are down, however, being a massive 6-3, 247-pound mountain of muscle certainly doesn't hurt.
Stats courtesy of Sports-Reference and Pro-Football-Reference