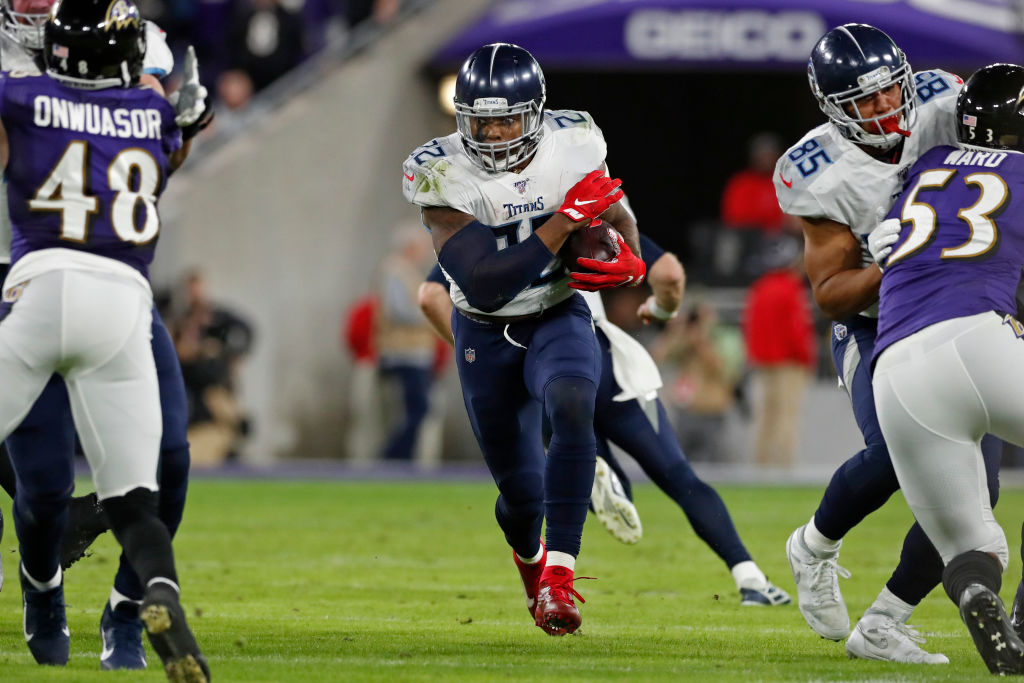 How a Conversation with Eddie George Set Derrick Henry Up for NFL Success
Derrick Henry has been dominating the NFL of late. His success, however, started from a conversation with Titans running back Eddie George.
While the NFL might be a quarterback-centric league, a good running back can still dictate the course of a football game. Just look at Derrick Henry of the Tennessee Titans; after picking up the regular season rushing title, he's dominated two-straight playoff games. He's gotten some help from another Titan, though: Eddie George.
On Sunday, the Tennessee Titans will try to pull off an upset and make it to the Super Bowl. If they do, it will probably be thanks to Henry and, by proxy, George.
Derrick Henry's football career
During his time in high school, Derrick Henry made a name for himself as a running back and a sprinter. Ultimately, he decided to make a career on the gridiron rather than the track.
While Henry had his pick of colleges, he decided to enroll at the University of Alabama. He didn't get many touches as a freshman but still showed great potential; he averaged over 10 yards per carry during his first NCAA campaign. Henry shared carries with T.J. Yeldon as a sophomore before taking over the top spot as a junior. He didn't miss a beat, rushing for over 2,000 yards, racking up over 28 touchdowns, and taking home the Heisman Trophy.
Despite that dominance, Henry fell into the second round of the NFL draft, where he was selected by the Tennessee Titans. While he took some time to get up to speed, the running back has established himself as a star. He broke the 1,000 yard as a plateau in 2018 before smashing his own high-water mark in 2019.
Taking advice from Eddie George
During the 2018 season, the Titans reportedly put Derrick Henry on the trading block. It was around that time that Eddie George, a Titans legend in his own right, gave the young running back a call.
"There were some trade rumors circulating about whether or not he was on the trade block," George told Ian Rapoport NFL.com. "And I told him, 'Where there's smoke, there's fire. But you determine this. It's up to you. You have to run like your career depends on it, because it does.' And he was like, 'OK, I got it. I understand.' And he did."
George also urged Henry to rely on his physicality to establish a ground game. "You have to show you can convert the third-and-1, fourth-and-1 consistently, that you can be the guy to set up long runs and play bully ball," George recalled. "We had a long conversation about that. I said, 'You have to impose your will, let them know that I'm 6-3, 250 pounds, and this is the way it's going to be for the next 60 minutes. Are you willing to deal with that?' He had to treat those first and second quarter runs as body blows so when you get to the fourth quarter, it's a knockout punch."
George believes that change of philosophy made all the difference. "He took it to heart," the former Titan said. "He took the benefits of the philosophy, took it to heart and ran with it. In my mind, he's been a changed man."
Derrick Henry can keep building his legacy on Sunday
While it's not exactly fair, playoff performances can make or break a player's legacy. On Sunday, Derrick Henry will have a good shot to strengthen his growing legend.
After taking home the regular-season rushing title, Henry has posted two dominant postseason performances. He'll be even more important against the Chiefs, though. Not only will he be the Titans' primary source of offense, but he'll also be responsible for keeping the chains and clock moving; if Tennessee holds onto the ball, Patrick Mahomes won't be able to work his magic.
If the Titans can pull off the upset on Sunday afternoon, Derrick Henry will deserve a great deal of credit. Eddie George, however, will deserve some credit, too.