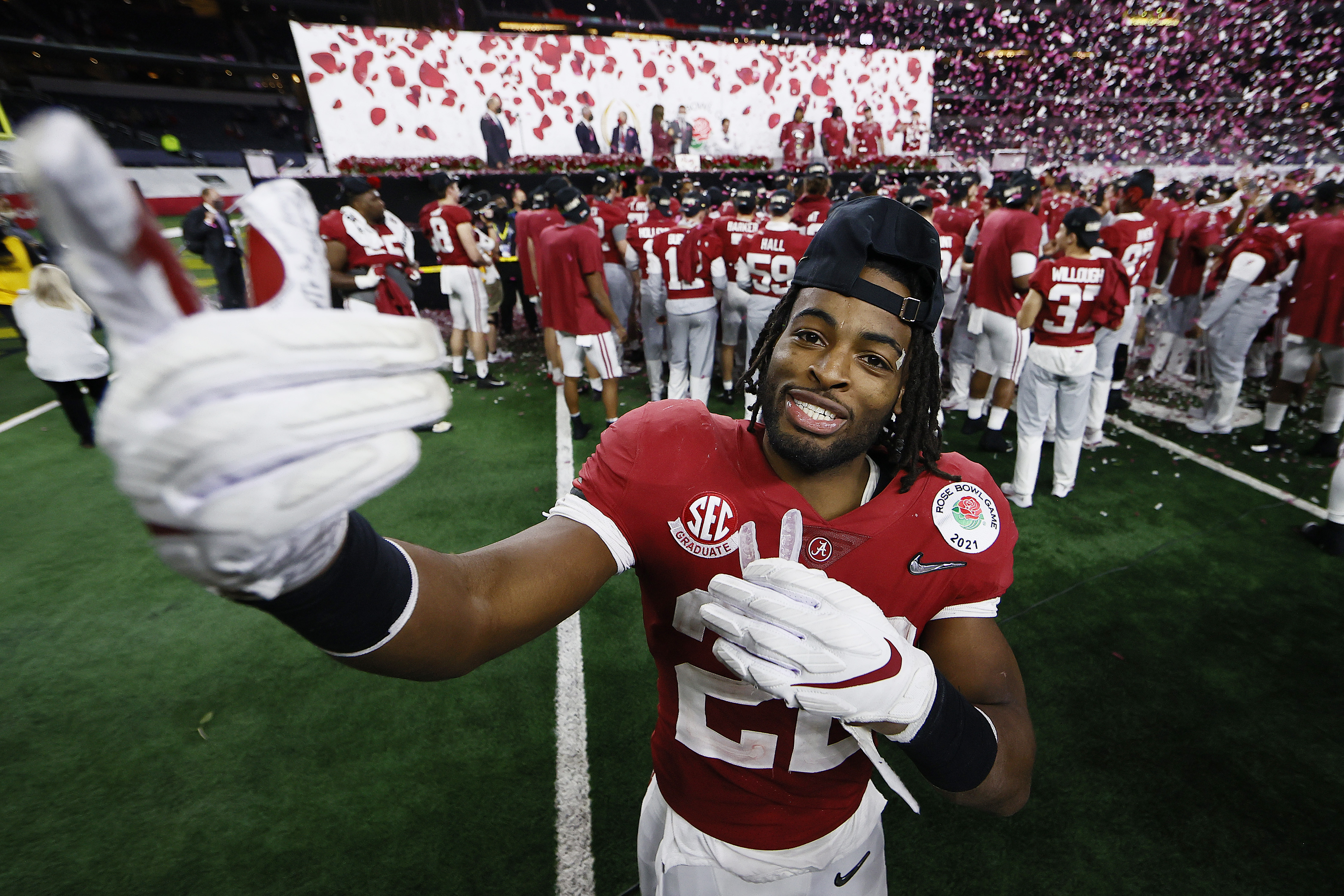 Steelers 1st Round NFL Draft Pick Najee Harris Proclaims 'Megan Rapinoe's My Dawg'
Najee Harris, first-round NFL draft pick of the Pittsburgh Steelers, shares an unexpected special connection with USWNT star Megan Rapinoe.
Many NFL draft picks look up to athletes who came before them. It is not uncommon for draftees to cite football players like Tom Brady or Odell Beckham Jr. as inspirations. Some will even mention athletes, such as LeBron James, in other big-time professional sports.
The Pittsburgh Steelers' first-round pick, Najee Harris, cites a more surprising inspiration though. The former University of Alabama standout takes inspiration from and has a special relationship with an athlete you may not expect: United States Women's National Team and professional soccer player Megan Rapinoe.
Najee Harris was the first running back selected in the 2021 NFL draft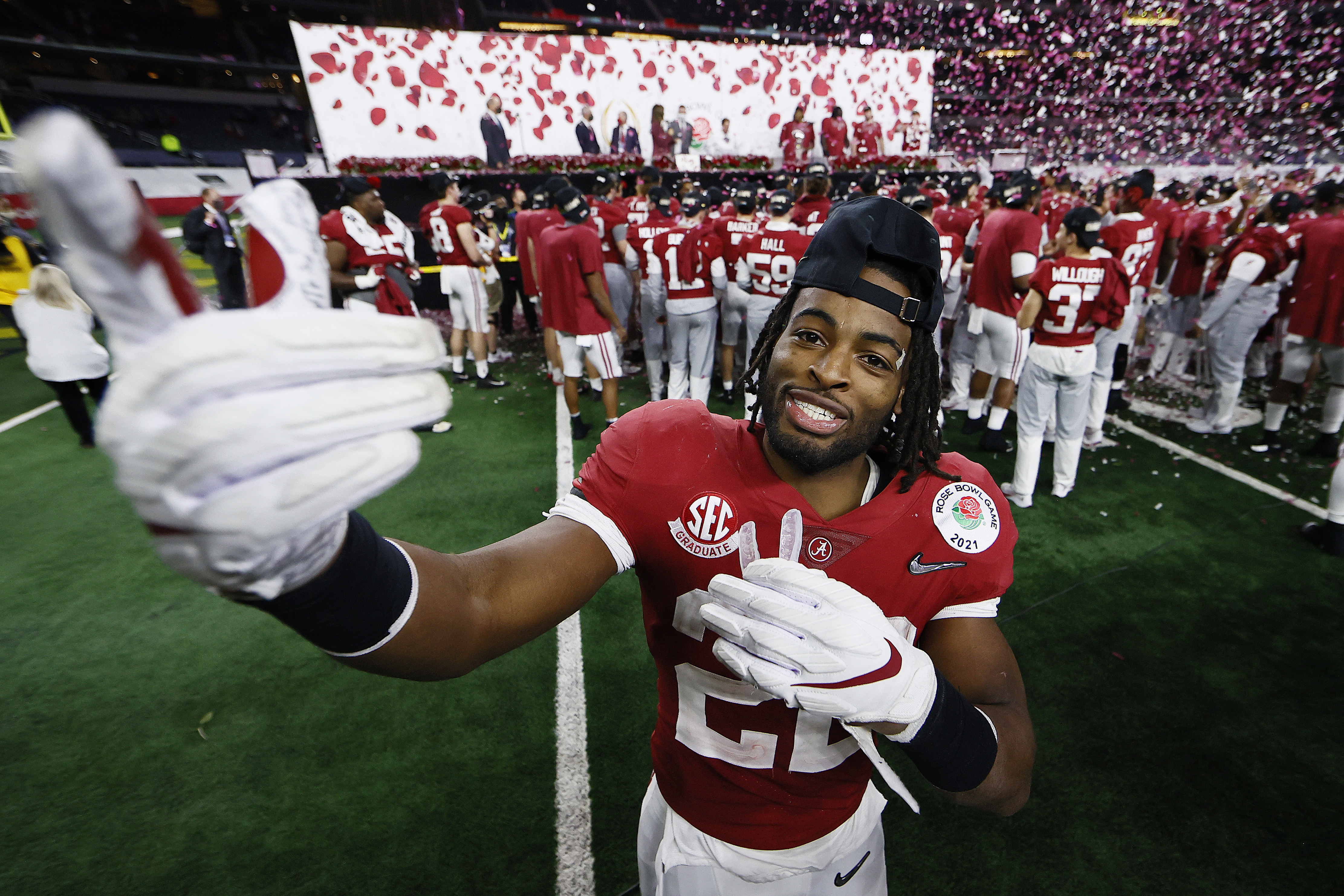 In the modern NFL, running backs increasingly present less value to NFL franchises. This decreased value shows up in the fact that they are being drafted lower and paid less than ever before. It takes an exceptional player at this position to go in the first round. The Steelers seem to think Harris may be this type of special player, drafting him at No. 24 overall in the 2021 NFL draft.
This selection was one of the most predictable picks of the 2021 NFL draft. As ESPN reports:
In a draft full of surprises, Harris and the Steelers was a predictable fit. Harris was Pittsburgh's target all along, the team's first first-round running back selection since Rashard Mendenhall in 2008. Many teams considered the 6-foot-2, 230-pound Harris the best tailback in the class, an every down back who absorbs contact, breaks away from defenders — or hurdles them. 
Harris joins the team that was last in the NFL in rushing offense in 2020 with just 1,351 yards on the ground. Steelers head coach Mike Tomlin told reporters at a press conference on Steelers.com, "Obviously, I feel better about where we are today than I did on Monday," regarding their running game.
Megan Rapinoe is a highly-decorated soccer player and an activist
While Harris is just beginning his professional career, Rapinoe has played at the highest levels of her sport for a long time. As reported by Sports Illustrated, Rapinoe played soccer at the University of Portland and first became well-known at the 2011 Women's World Cup. She continued as a prominent member of the USWNT, helping the team win the 2015 and 2019 World Cup trophies.
In recent years, Rapinoe has become known as much for her role as an activist for social justice as for her on-field exploits. She famously fought for equal pay for USWNT members. She also took a knee during the national anthem in support of Colin Kaepernick's protest in 2016.
In 2019, the winger rejected an invitation to the White House following her World Cup win due to her feelings about then-president Donald Trump. Her most prominent display of protest came during that 2019 World Cup. This is where she struck what is now known as "The Pose" after her goals in the quarterfinals versus France. It was a direct response to a Twitter fight with President Trump.
Harris and Rapinoe have a special relationship 
"The Pose" made a reappearance in late 2019 when Harris, as told by ESPN, used it as a touchdown celebration against South Carolina. The two athletes would continue their mutual admiration on social media. Prior to the 2021 College Football Playoff National Championship, Harris explained why he looks up to Rapinoe.
He started by saying they have a lot in common. They both hail from California and both enjoy the late rapper Nipsey Hussle. Harris spoke about his respect for her courage in speaking out about equal pay and social justice issues. He summarized his feeling by saying, "I guess you could say not too many males will say they look up to a woman nowadays, but I really look up to her just for what she does outside of sports."
Harris and Rapinoe's relationship may not be the typical young player/star athlete connection, but that makes it more interesting. It certainly makes their interactions worth watching as Harris begins his Steeler career and Rapinoe prepares for the 2023 World Cup.
All stats courtesy of Pro Football Reference