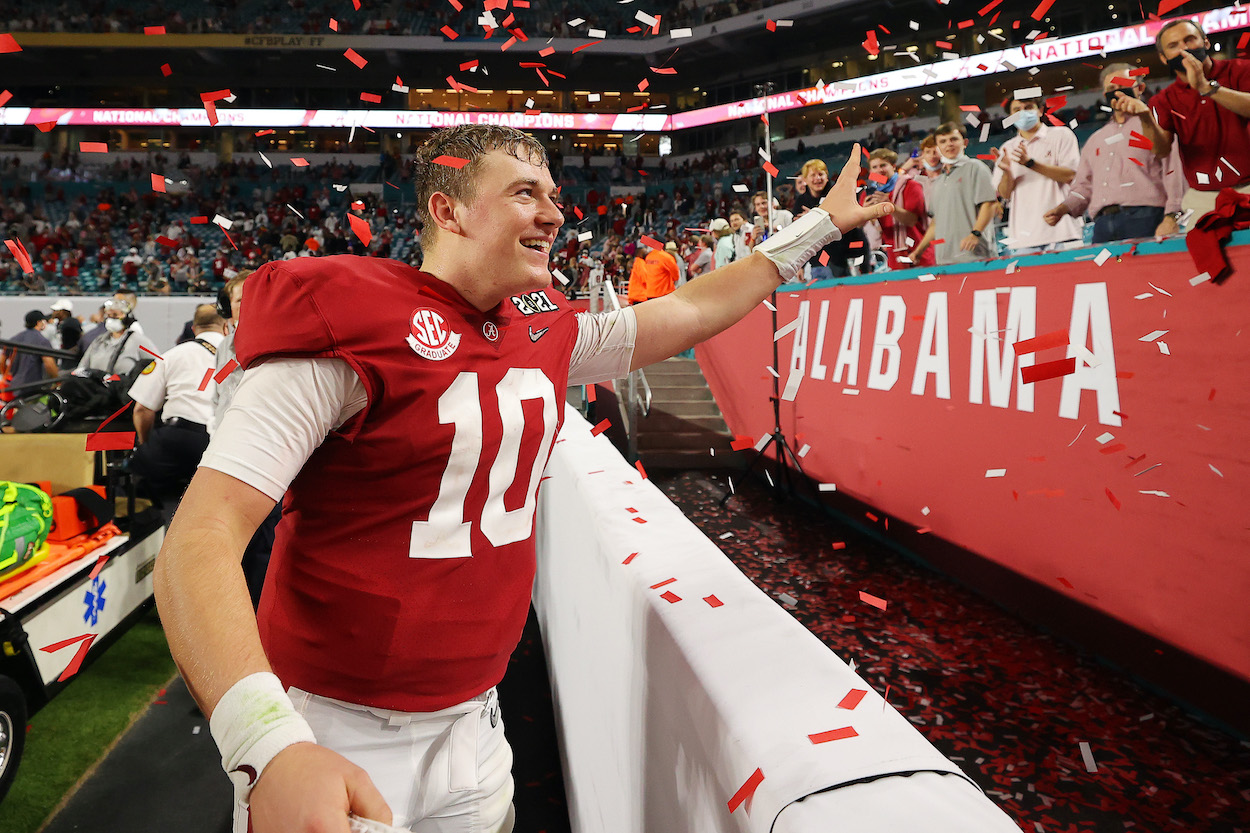 2021 NFL Mock Draft: 49ers Get Their Franchise Quarterback, Patriots Aren't So Lucky
It's finally draft day. Time to check out Sportscasting's final NFL mock draft ahead of Thursday's big event.
NFL draft day is finally here, and so many glaring questions are about to be answered Thursday night. Who will the 49ers decide on with the No. 3 overall pick? Will the Patriots, Bears, or Washington trade up to grab a quarterback? How far do Justin Fields, DeVonta Smith, and Micah Parsons fall?
Check out Sportscasting's final NFL mock draft ahead of the big night.
1. Jacksonville Jaguars: Trevor Lawrence — QB, Clemson
Urban Meyer took the Jaguars' head coaching job under the impression that Lawrence was going to be his starting quarterback. Congratulations, Jacksonville. You're about to strike gold.
2. New York Jets: Zach Wilson — QB, BYU
Wilson has seemingly been locked into the No. 2 pick for weeks. The Jets finally (maybe) get the franchise quarterback they've been yearning for.
3. San Francisco 49ers: Mac Jones — QB, Alabama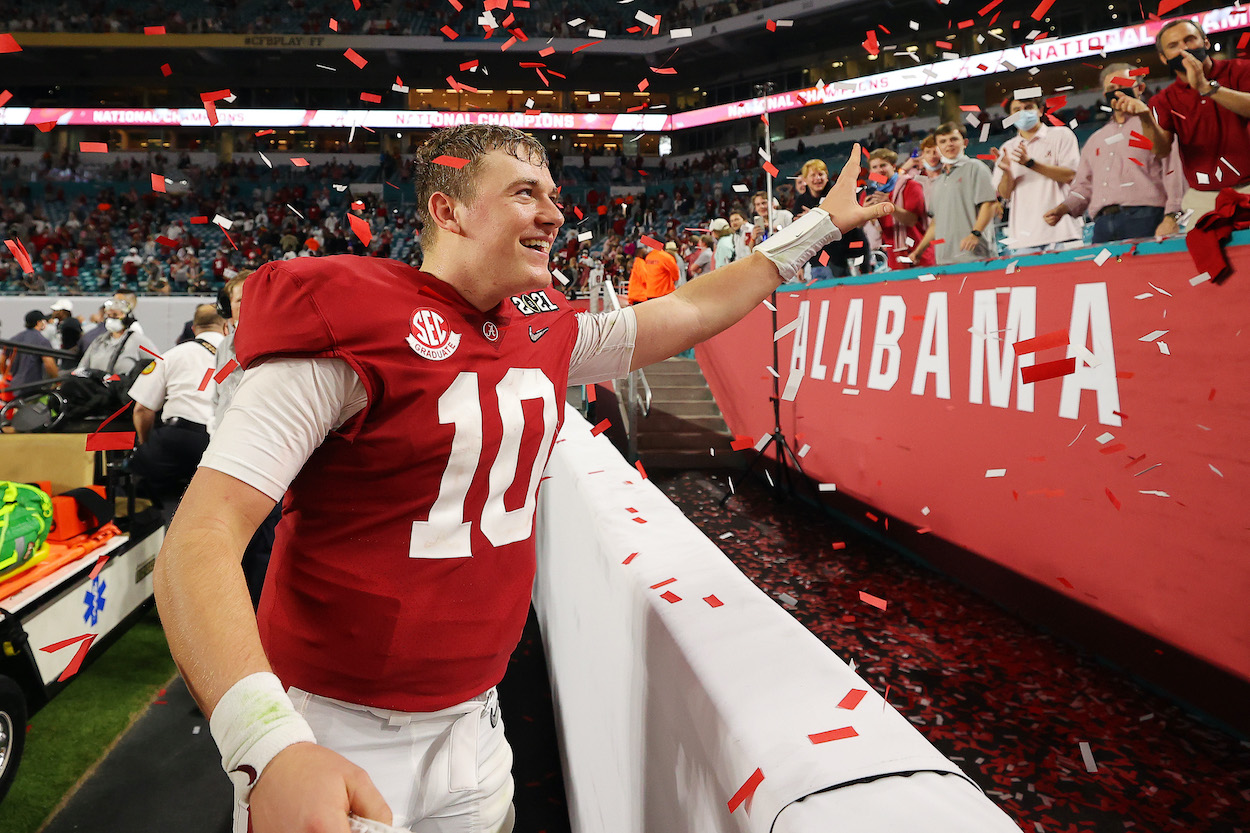 It's hard to believe the 49ers traded all the way up to No. 3 overall without knowing exactly who they wanted to target with the pick. Kyle Shanahan clearly has an eye for Jones, and he'll ultimately have the final say in the decision.
4. Atlanta Falcons: Kyle Pitts — TE, Florida
Don't overthink this one, Terry Fontenot. Sure, you could use a quarterback to pilot the team into the future, but Pitts might be the most sure thing in this draft class behind Lawrence.
5. Cincinnati Bengals: Ja'Marr Chase — WR, LSU
Yes, the Bengals badly need offensive line help. And yes, Oregon's Penei Sewell is still on the board at five. But when you finally land a stud franchise QB in Joe Burrow, you do everything to make him happy. There's no better way to do that than by reuniting him with his favorite target at LSU.
6. Miami Dolphins: Penei Sewell — OT, Oregon
The Dolphins are probably hoping Chase slips to them at No. 6, but they'd be more than OK settling for Sewell here. Miami just traded OT Ereck Flowers to Washington, leaving an open spot along the offensive line.
7. Detroit Lions: Jaylen Waddle — WR, Alabama
The Lions have so many needs on both sides of the ball it's hard to narrow in on just one. Why not help out new QB Jared Goff and get him a speedy toy to play with?
8. Carolina Panthers: Justin Fields — QB, Ohio State
Let's have some fun. Fields' stock has fallen in recent weeks for reasons some can't comprehend, but he has Pro Bowl upside in the NFL. After trading Teddy Bridgewater to the Broncos, the Panthers need a backup plan behind Sam Darnold. Hard to find a better one than Fields.
9. Denver Broncos: Trey Lance — QB, North Dakota State
Drew Lock clearly isn't the answer under center for the Broncos. Denver will have to wait for Lance to develop into a starting quarterback in the NFL, but he might have the highest ceiling of all the QBs in this draft.
10. Dallas Cowboys: Jaycee Horn — CB, South Carolina
A lot of buzz surrounding Patrick Surtain II here, but the Cowboys might like Horn's physicality and immense upside a bit more at No. 10. Jerry Jones is also no stranger to surprises.
11. New York Giants: DeVonta Smith — WR, Alabama
The Giants need to find out if Daniel Jones is worth investing in moving forward. Add Smith to an offense with Kenny Golladay and Saquon Barkley, and they'll know soon enough.
12. Philadelphia Eagles: Patrick Surtain II — CB, Alabama
The Eagles will most likely take one of the top three wide receivers if one falls to them at 12. But with all three off the board here, Howie Roseman grabs an impact cornerback who can start from day one opposite Darius Slay.
13. LA Chargers: Rashawn Slater — OT, Northwestern
The Chargers have found their franchise quarterback in Justin Herbert. Now it's time to get him some much-needed protection.
14. Minnesota Vikings: Jaelan Phillips — EDGE, Miami
The Vikings need extra bodies on both their offensive and defensive lines. Although there aren't many dominant pass-rushers in the 2021 draft class, Phillips represents the most intriguing prospect.
15. New England Patriots: Micah Parsons — LB, Penn State
Linebackers aren't valued in the NFL draft like they used to be, so even though Parsons might be the most talented defensive player in the 2021 draft class, we could easily see him falling to this range. Bill Belichick gets a stud for years to come.
16. Arizona Cardinals: Caleb Farley — CB, Virginia Tech
The Cardinals could be another team looking to make a move up in the first round. With limited late-round picks, Arizona could also trade back to acquire more assets, but Farley would be too good to pass up here. He has the potential to become the best corner from this class.
17. Las Vegas Raiders: Alijah Vera-Tucker — OL, USC
After losing Trent Brown this offseason, the Raiders have plenty of room to improve along the offensive line. Vera-Tucker is considered one of the safest picks in this draft, and Las Vegas would be thrilled if he dropped to No. 17.
18. Miami Dolphins: Jeremiah Owusu-Koramoah — LB, Notre Dame
After filling their vacant offensive tackle spot with the No. 6 pick, the Dolphins could be in play for a receiver here. But with none of the remaining options enticing enough for the 18th pick, Miami bolsters its defense with a versatile ball hawk who can start from Week 1.
19. Washington Football Team: Christian Darrisaw — OT, Virginia Tech
With all of the top five quarterbacks taken by this point, Washington has to call an audible in the first round. And there's nothing Ron Rivera values more than being sturdy in the trenches.
20. Chicago Bears: Teven Jenkins — OT, Oklahoma State
The Bears are in virtually the same boat as Washington on Thursday night. If they don't make a move for a first-round QB, they'll most likely be looking for an offensive lineman to start right away. Jenkins can do just that at either tackle or guard.
21. Indianapolis Colts: Kwity Paye — EDGE, Michigan
Paye has been generating buzz to possibly be the first defensive player selected in the draft, so the Colts would be thrilled if he dropped all the way to them at 21. The only piece this defense is missing is another edge rusher. Mission accomplished for Chris Ballard.
22. Tennessee Titans: Greg Newsome II — CB, Northwestern
The Titans have a need at both wide receiver and cornerback, but Newsome II seems like the best fit here. Tennessee was torched through the air week after week last season.
23. New York Jets: Elijah Moore — WR, Ole Miss
What a start this would be for the Jets. The second-best quarterback prospect in the draft and an explosive weapon who can score from anywhere on the field to pair with him? Things are finally looking up in New York.
24. Pittsburgh Steelers: Najee Harris — RB, Alabama
The rumors about Pittsburgh loving Harris as a first-round option are too juicy to ignore. After losing James Conner this offseason, the Steelers fill that hole with the best RB in this draft.
25. Jacksonville Jaguars: Azeez Ojulari — EDGE, Georgia
The Jaguars could try to add another weapon for Lawrence at this spot, but they have a glaring need for some pass-rushing talent on the defensive side of the ball. Ojulari is a raw athlete with an undeniable motor, but he'll need to add some finesse moves to realize his potential in the NFL.
26. Cleveland Browns: Zaven Collins — LB, Tulsa
The Browns need more playmakers on defense to compliment Myles Garrett and Denzel Ward. Collins can be a plug-and-play guy from the jump with multi-year Pro Bowl upside. Easy choice for Cleveland here.
27. Baltimore Ravens: Jalen Mayfield — OT, Michigan 
After waving goodbye to Orlando Brown last week, the Ravens have a new opening at right tackle. Mayfield can jump right into the starting rotation immediately.
28. New Orleans Saints: Tyson Campbell — CB, Florida State
The Saints have a glaring need at cornerback, and even though Campbell might not be a home run first-round talent, he fills an opening in the defensive backfield and can blossom into a longtime starter.
29. Green Bay Packers: Rashod Bateman — WR, Minnesota
The Packers have had their eyes on Bateman for weeks, and frankly, if they don't pick a wide receiver at 29, Aaron Rodgers might just start packing his bags.
30. Buffalo Bills: Travis Etienne — RB, Clemson
Once thought of as the best running back in the 2021 class, Etienne can jump into Buffalo's backfield and become Western New York's version of Alvin Kamara.
31. Baltimore Ravens: Terrace Marshall Jr. — WR, LSU
If the Ravens don't go OT-WR (or vice versa) with their two first-round draft picks, it would be a surprise. Lamar Jackson needs more weapons on the outside, and Marshall would be a perfect fit for Greg Roman's offense.
32. Tampa Bay Buccaneers: Jayson Oweh — EDGE, Penn State
The Buccaneers are in an envious position heading into this year's draft. Tampa Bay is bringing back all 22 starters from last year's Super Bowl roster, so they can afford to get creative here. Oweh is a freak athlete off the edge who will definitely need some coaching before he sees the field, but his ceiling is infinitely high.