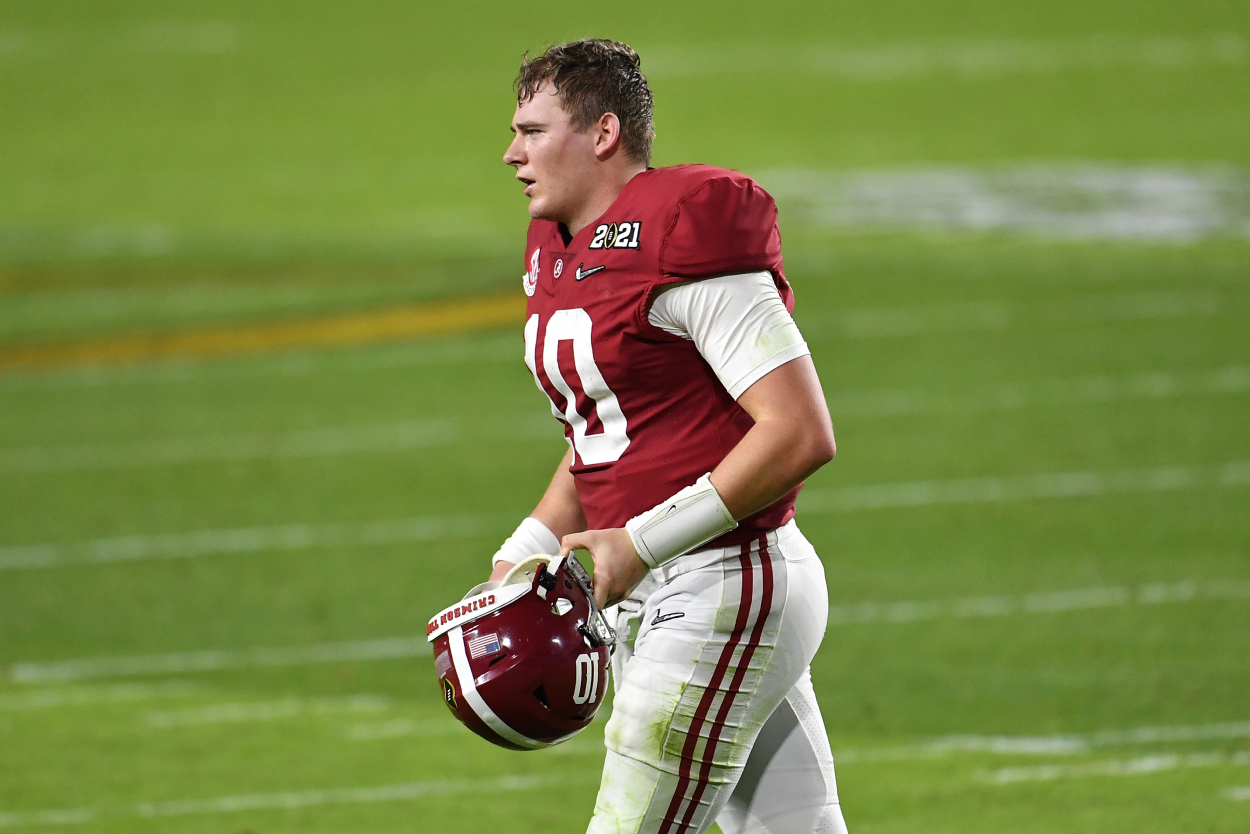 Cris Collinsworth Insists 49ers Want Mac Jones but Says They May Make an 'Un-Shanahan-like' Move
Cris Collinsworth believes the San Francisco 49ers want Mac Jones but isn't so sure they will draft him.
The 2021 NFL draft is sure to be an intriguing one. It's almost a certainty Trevor Lawrence and Zach Wilson will be the first two players selected Thursday. It's also very likely the top three picks will be quarterbacks. The San Francisco 49ers will pick third, and that's where things get interesting. NBC Football analyst Cris Collinsworth is adamant the Niners want Alabama's Mac Jones, but he's hearing head coach Kyle Shanahan & Co. may make an "un-Shanahan-like" move.
The 49ers made a big move to trade up to the No. 3 slot
The 49ers were slated to pick 12th overall in the 2021 NFL draft, but made a blockbuster moved with the Miami Dolphins to move into the third slot. In doing so, the Niners paid a hefty price. San Francisco sent its 12th pick, a third-round compensatory pick, and first-round picks in 2022 and 2023 for the Dolphins' No. 3 pick.
The 49ers and Dolphins made the deal a month ago. Jimmy Garoppolo is the current 49ers quarterback, but he's been hampered by injuries throughout his time in San Francisco. He's appeared in 25 of 48 games after signing a five-year deal worth $137.5million. Niners GM John Lynch said moving up will give the team many options. He also is aware of the price they paid.
"This was made with a lot of deliberation, a lot of study, a lot of opinions from multiple people, and we ultimately arrived that we thought was worth it," Lynch said, according to NBC Sports. "We also, I think, paid somewhat of a premium for doing it early.  One thing I always remember Bill Walsh (saying) when I was at Stanford was you've got to beat your opponent to the punch. We felt like it was a matter of time before the first domino fell and we wanted to be a part of that."
Cris Collinsworth believes the Niners want Mac Jones but…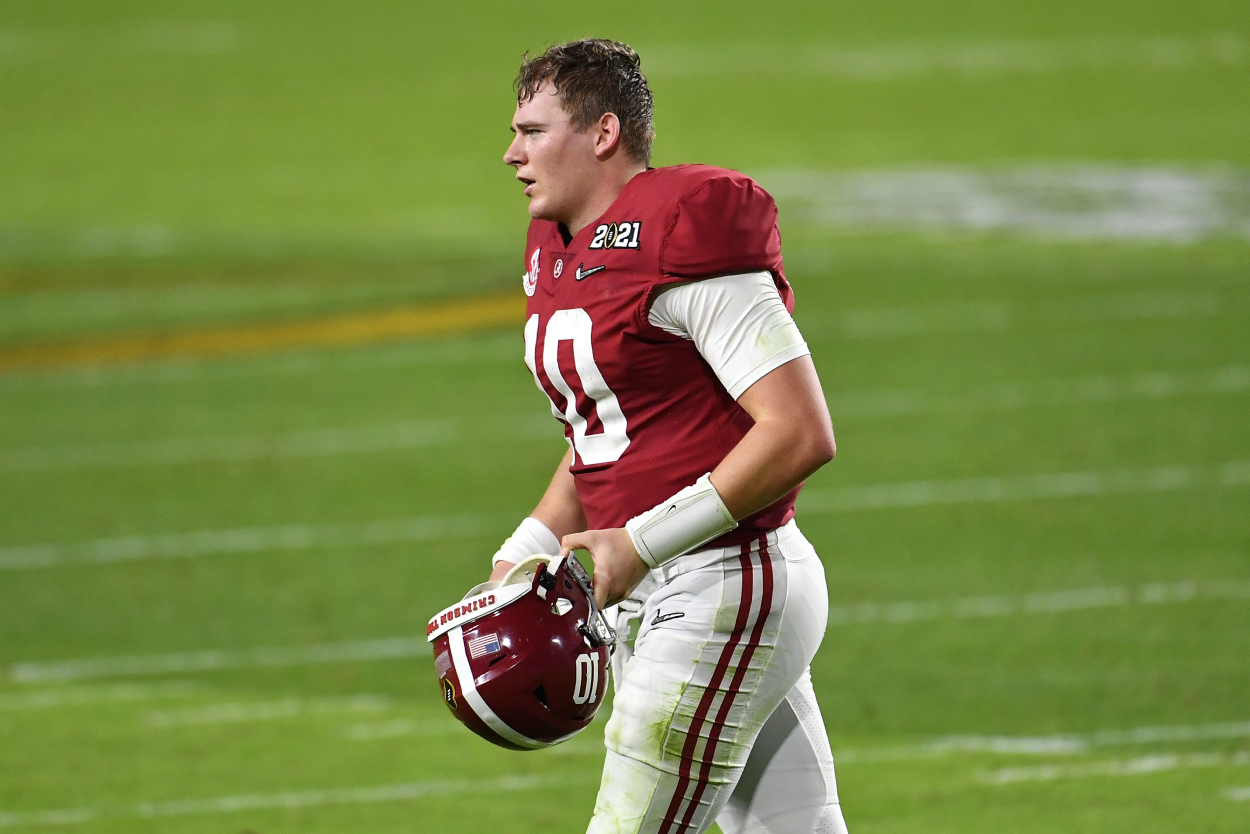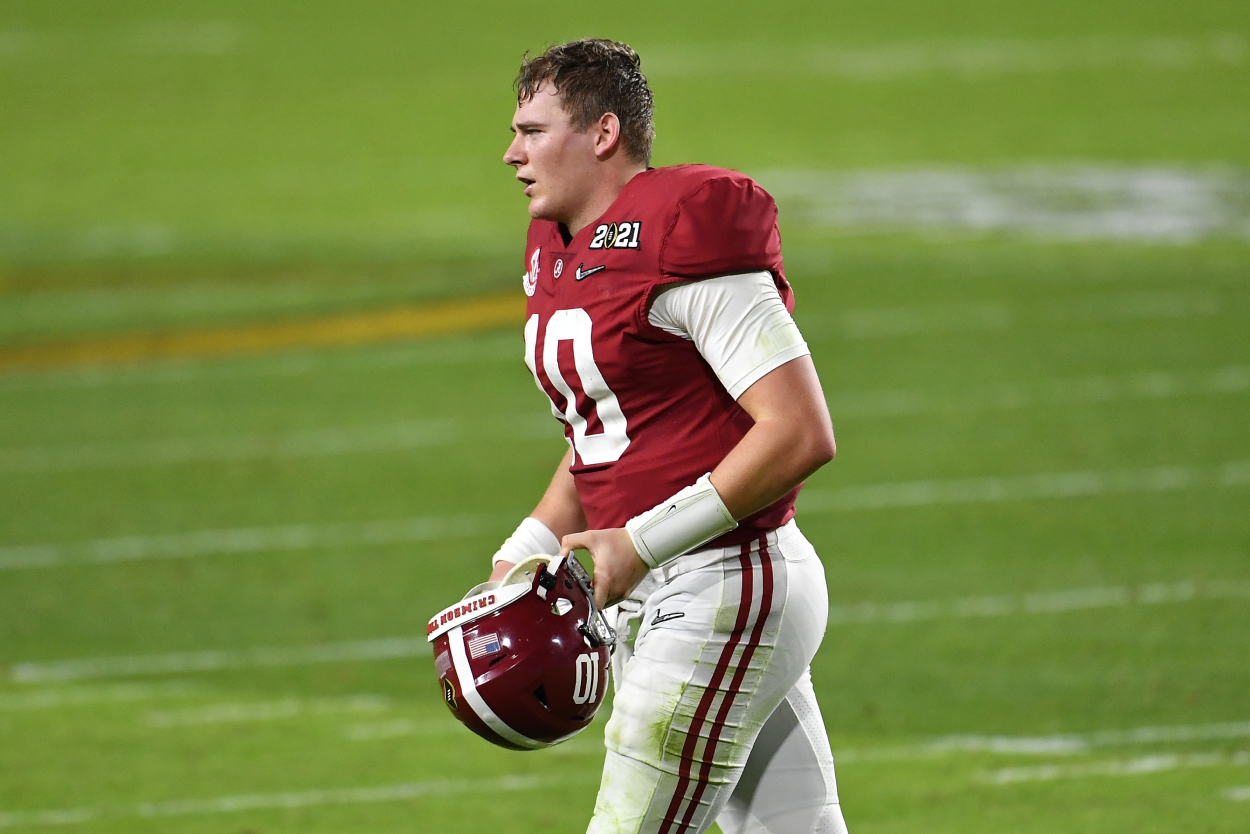 RELATED: Jimmy Garoppolo May Have Played His Last Snap With the San Francisco 49ers
During a recent appearance on Doug Flutie's Flutie Flakescast podcast, Collinsworth said he believes Alabama quarterback Mac Jones is the guy the Niners want to pick at No. 3. He also said that's not who the San Francisco fans want. "It's bizarre," Collinsworth said. "What did they give up, three number one picks? I think they went up there to get Mac Jones.
"I think (former Atlanta Falcons coordinator Kyle) Shanahan saw Matt Ryan and saw someone who was smart and he could depend on him and is going to make the right reads. I'm sure Nick Saban gave him this glowing recommendation that he's accurate and a humble guy. All the things that Shanahan wants. Nobody will ever tell me that they traded up to get anybody else other than Mac Jones. That's what they were doing."
Collinsworth then threw a curveball. "In San Francisco, they don't want Mac Jones," he said. "The fan base is losing their minds that 'are you kidding me, you move up all this way and we're gonna end up with another version of Jimmy Garoppolo? Why not just keep Jimmy Garoppolo and draft somebody else?'"
Cris Collinsworth said an 'un-Shanahan-like' move may be coming
Collinsworth said drafting Jones is now far from a sure thing. "The conversation has really turned because of the fan base pushing back," he said on the Flutie Flakescast podcast. "Now, part of me thinks that's insanity. We're gonna let social media now pick the number three player in the draft? I mean social media does everything else in the world. They might as well do this, too."
Collinsworth played for Shanahan's father, Mike, at the University of Florida. Mike Shanahan was the offensive coordinator for the Gators. Collinsworth knows both Shanahans well and said he couldn't see Kyle Shanahan give in to the fan base. "None of (the Shanahans) get pushed around," Collinsworth said. "They're not going to make a decision because social media thought something else."
Collinsworth wasn't so sure that would hold true. "I do think there's something afoot there," he said. "It sounds like they're coming off Mac Jones and I guess they're gonna go to Trey Lance and let Garoppolo play a year and develop him and then let Trey Lance try and take it over. I'm not saying they're wrong for debating whether or not it should be Trey Lance or a Justin Fields, I'm just saying this is very un-Shanahan-like to be willing to give in."