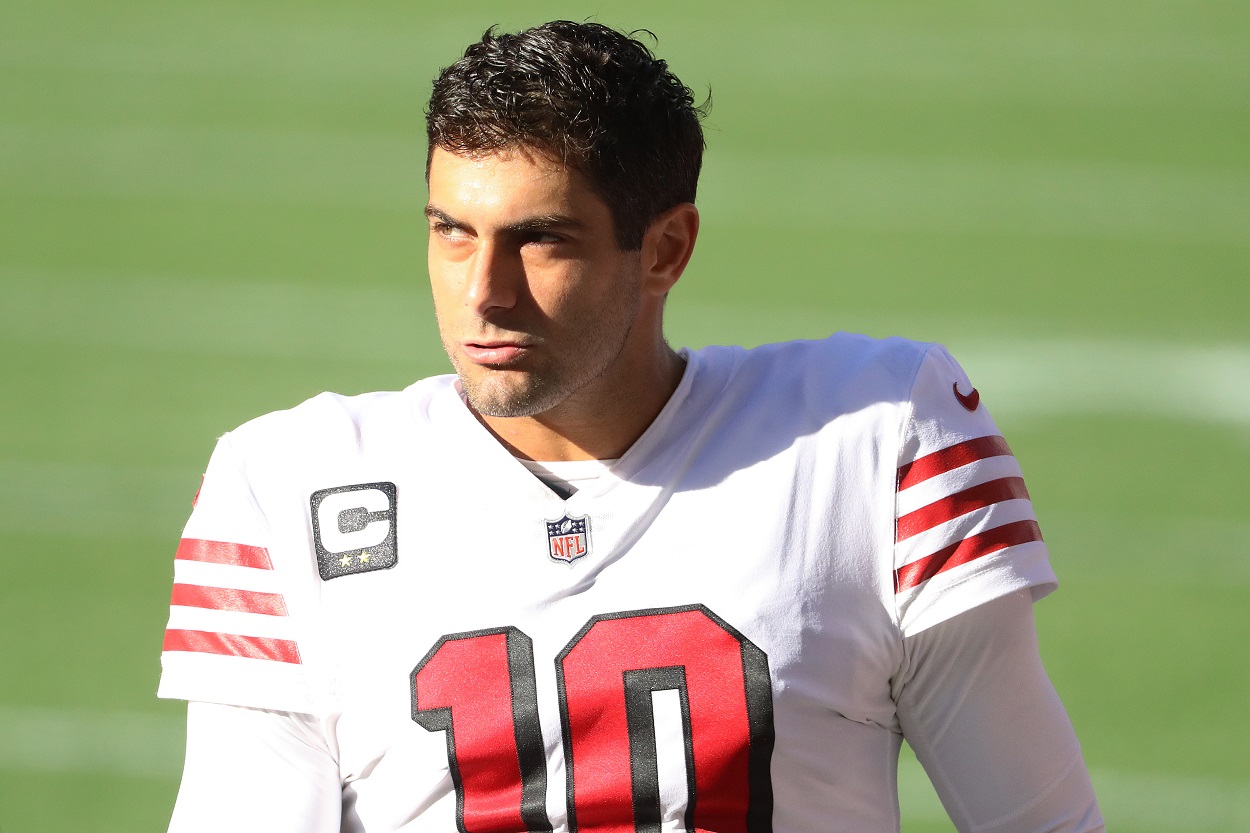 Kyle Shanahan Is Actually Hoping Jimmy Garoppolo Is 'Pissed Off' at the 49ers Trading Up to Take a QB in the NFL Draft
Kyle Shanahan seems to think Jimmy Garoppolo being upset the 49ers traded up to take a quarterback in the NFL draft might be a good thing.
The San Francisco 49ers have made no secret of the fact that they plan to take a quarterback with their newly-acquired No. 3 pick in the 2021 NFL draft. Obviously, that left many to wonder how Jimmy Garoppolo, whose future with the franchise has been up in the air for quite some time now, felt about the move. But Niners head coach Kyle Shanahan doesn't seem to be worried about that at all and actually seems to hope that his current starting quarterback is upset about the team bringing in some competition.
The 49ers traded up to acquire the No. 3 pick in the NFL draft and are clearly targeting a quarterback
For those who missed it, the San Francisco 49ers created quite the stir late last week when they acquired the No. 3 overall pick in this year's NFL draft from the Miami Dolphins in exchange for the No. 12 pick this year (which the Fins flipped into the No. 6 pick in a trade with the Eagles), a first-rounder and a third-rounder in 2022, and a first-rounder in 2023.
As the 49ers have obviously been trying to deal Jimmy Garoppolo this offseason, it was a clear sign that the team plans to take a quarterback at No. 3. Now, which quarterback that will be remains to be seen. We know it won't be Trevor Lawrence as there's no question that he'll go to the Jaguars at No. 1 so it will likely depend on what the Jets decide to do at No. 2. Will it be BYU's Zach Wilson, Ohio State's Justin Fields, North Dakota State's Trey Lance, or Alabama's Mac Jones?
Oh, by the way, every one of those names just mentioned are on the 49ers' radar as Shanahan and Niners GM John Lynch seem to agree that any of those quarterbacks could be the future of the franchise. So where does that leave Jimmy G?
Kyle Shanahan says Jimmy Garoppolo plays better when he's mad
In a 40-minute session with the media on Monday, John Lynch and Kyle Shanahan spoke on a number of topics surrounding the San Francisco 49ers, most notably the quarterback situation involving Jimmy Garoppolo and whomever they select with that No. 3 pick in the draft.
Shanahan acknowledged that the team is still willing to trade Jimmy G if the right offer comes along but also stated that his current quarterback gives the Niners the best chance to win now, assuming he stays healthy anyway as Garoppolo has played just 25 of a possible 48 regular-season games over the past three seasons. Shanahan understands that his quarterback was likely upset when the 49ers made the deal with the Dolphins but says that might not be such a bad thing (h/t ESPN).
"I'm sure Jimmy was a little pissed off from it, just like I would be, too. The more mad Jimmy gets, usually the better he gets. (If) Jimmy just gets madder and stays healthy, this is going to be a good thing for Jimmy, too, which could be a great problem for the 49ers."

San Francisco 49ers head coach Kyle Shanahan on Jimmy Garoppolo
So how does Jimmy Garoppolo actually feel about all of this?
49ers GM John Lynch says Jimmy Garoppolo 'welcomes competition'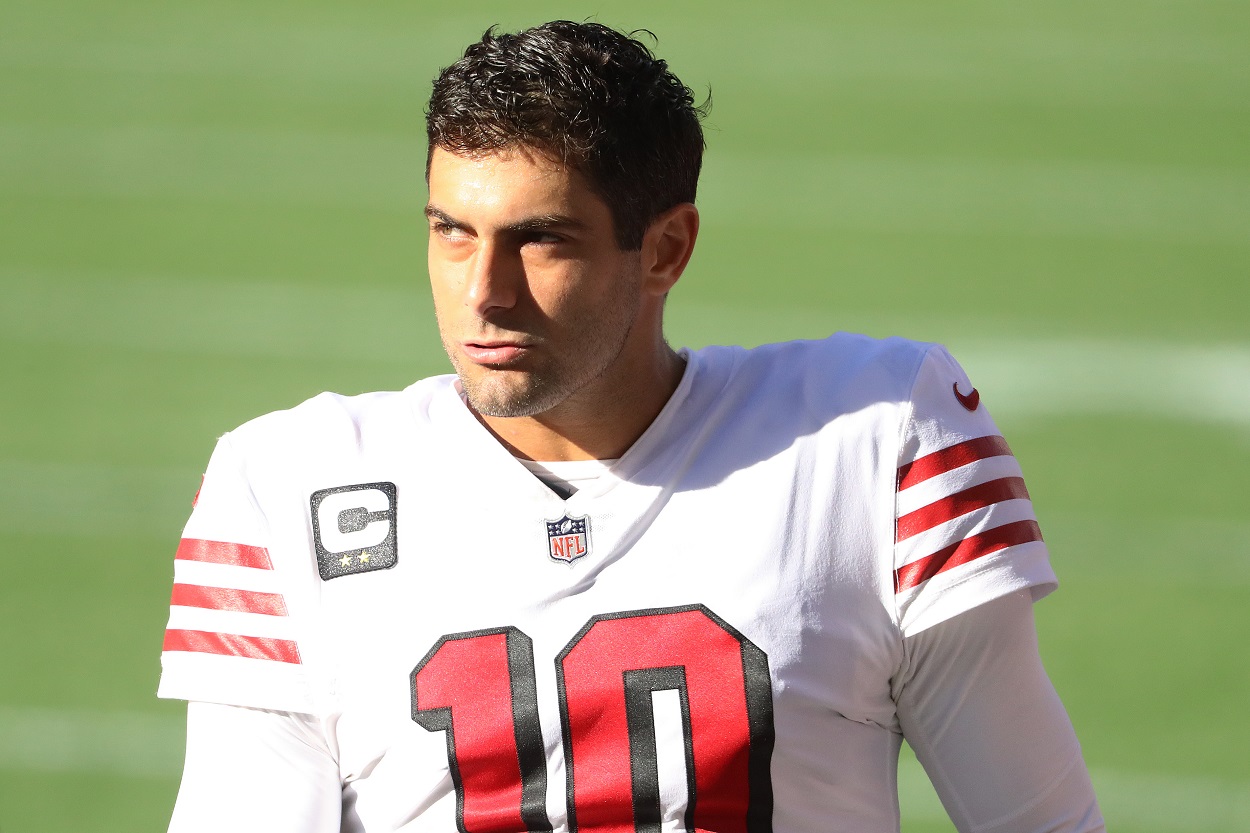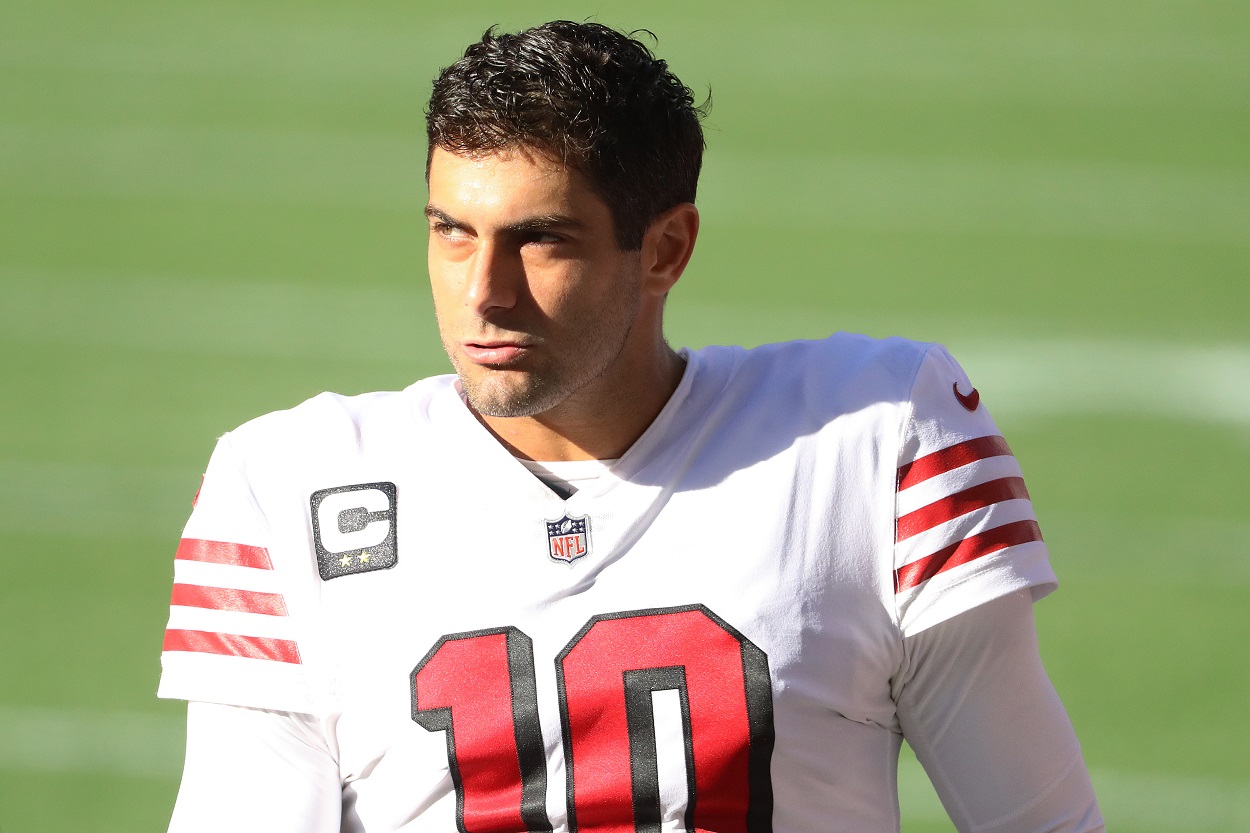 As it stands right now, Jimmy Garoppolo is apparently sticking with the story that the San Francisco 49ers continue to stick with…that he's not going anywhere. And according to Lynch, he's up for the challenge of competing against whichever highly-touted rookie quarterback comes to the Bay Area.
Per ESPN's Nick Wagoner, Lynch and Shanahan spoke to Garoppolo on Friday following the trade with Miami and Jimmy G says he "welcomes competition" at the quarterback position.
So now we just have to wait and see exactly who he'll be competing against when Niners camp begins…well, assuming he doesn't get traded before then. The 2021 NFL draft begins on April 29 so we won't have to wait too much longer.