NFL Draft: Ranking the New England Patriots' Best Options For the 15th Pick
After missing the playoffs last season for the first time since 2008, the New England Patriots find themselves in uncharted waters as a rebuilding franchise. Bill Belichick already filled some major holes by spending more than $300 million in free agency (an NFL record by the way), and now he enters one of the most crucial drafts in his 22-year career with the Pats.
So, what are the Patriots' best options with the No. 15 overall pick in this year's draft?
Trade up for Justin Fields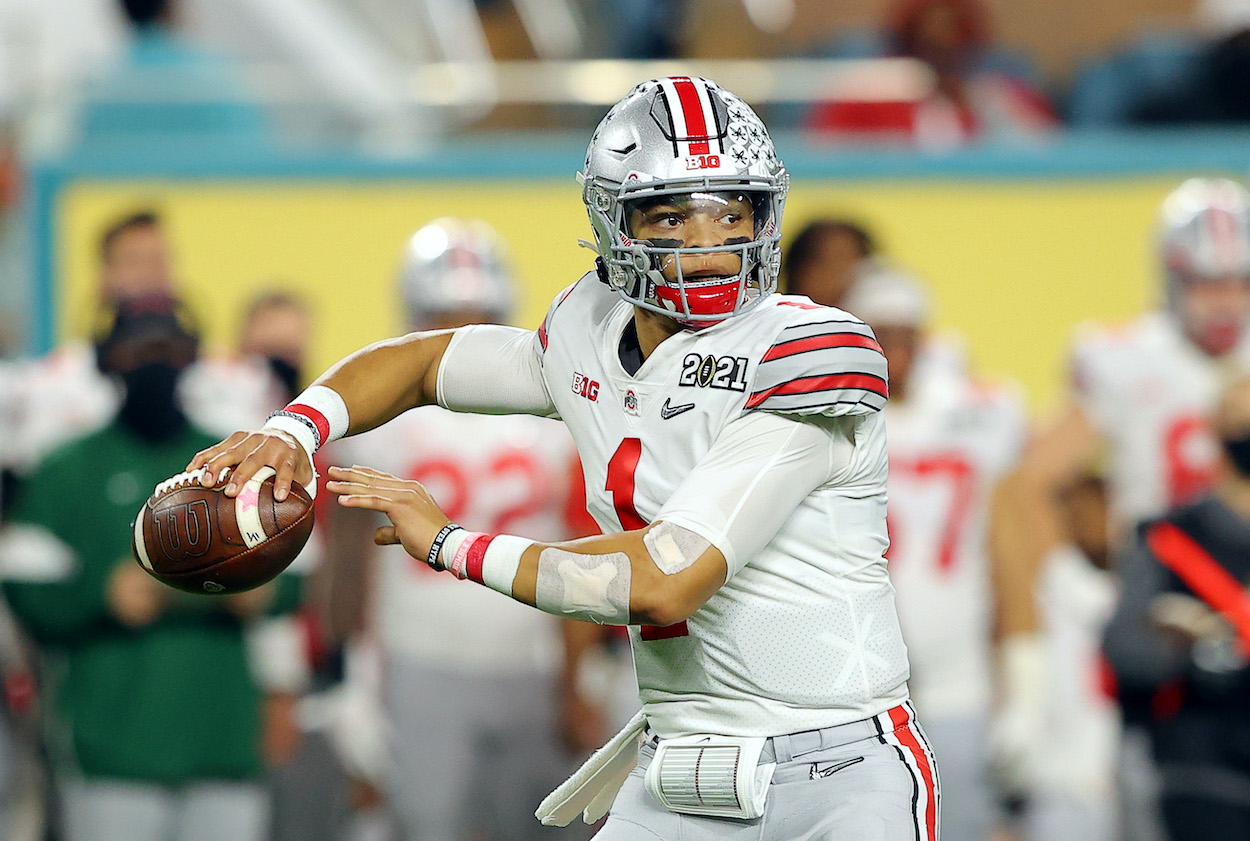 RELATED: The Miami Dolphins Just Dropped a Major Hint About Their NFL Draft Plans by Ending Another Failed Experiment
Let's face it. The Patriots need a quarterback.
Cam Newton is under contract for just one season, and he doesn't seem to have that many years left in him anyway. Jarrett Stidham is still with the team for two more years, but the Pats just don't see him as the solution under center moving forward.
That leaves New England with an obvious choice in the 2021 NFL draft: trade up and draft its next franchise quarterback.
The Patriots have reportedly expressed interest in moving up for Ohio State standout Justin Fields already, and that's exactly what they should try and do this Thursday night. Fields has the pedigree, the arm, and the athleticism to become a multi-year Pro Bowler in the NFL.
This move won't be cheap, though. New England might have to move up as far as No. 4 overall to ensure it lands Fields. But securing the future at QB for years to come? That's worth the investment. The Patriots also have 10 draft picks at their disposal this year to package together for an aggressive move.
Belichick never trades up in the first round of the draft, but he also never spent money in free agency prior to this offseason. Times are a changin' in New England.
Trade back and draft a wide receiver
RELATED: Has an NFL Team Ever Drafted a Long Snapper?
If trading up in the first round falls through for the Patriots and the top five quarterbacks are all off the board by pick No. 15, Belichick should seriously consider trading back to acquire more assets. New England could trade back with Washington, for example, and draft the best wide receiver available at pick No. 19 while also adding another late-round pick.
The top three receivers of Ja'Marr Chase, DeVonta Smith, and Jaylen Waddle will most likely be off the board by pick 15, and the second tier of pass-catchers isn't supposed to start until late in the first round.
Kadarius Toney out of Florida, Elijah Moore out of Ole Miss, Rashod Bateman out of Minnesota, and Rondale Moore out of Purdue are all viable options in the 20s with major upside.
The Patriots didn't have a single receiver reach 800 yards last season, making WR the second-biggest need behind quarterback in this year's draft. Snagging one while also adding another pick in the process? Now that's just a bonus.
Go after an impact cornerback
RELATED: Mel Kiper Jr. Firmly Believes the New York Jets Will Make a Franchise-Altering Mistake in the 2021 NFL Draft
The Patriots have a ton of uncertainty surrounding the cornerback position heading toward the future. Stephon Gilmore and J.C. Jackson make up one of the best CB duos in the league right now, but they could both be packing their bags by next offseason. Gilmore is in the last year of his five-year contract, and Jackson is set to become an unrestricted free agent if he can't reach a long-term deal with the team.
That leaves the Patriots in a position to plan for the worst-case scenario of losing both players in 2022. If Alabama's Patrick Surtain II or South Carolina's Jaycee Horn slip to pick No. 15, New England should pounce immediately. But if both top corners are off the board, the Pats could again think of trading back to grab Northwestern's Greg Newsome II or Florida State's Asante Samuel Jr. later in the first round.
Pats fans, what do you want Belichick to do in the first round this Thursday?