Tom Brady Once Yelled 'Obscenities' and Threw 'Footballs' at a Patriots Teammate — for Doing Their Job
Tom Brady won six Super Bowl titles with the Patriots. However, he was once furious with a teammate for doing their job. This is a look at the 2003 Patriots, and how Tom Brady got mad at a teammate before the Super Bowl. It also looks at how the two ultimately won two titles together.
After watching Tom Brady for two decades, we all know he hates losing more than anything, even if it's just on a single play. That hatred for losing has led to him having a ton of success with the New England Patriots and Tampa Bay Buccaneers, as Tom Brady is a seven-time Super Bowl champion, and has appeared in the big game three other times. However, his competitiveness once led to him becoming furious with a former Patriots teammate for simply doing their job. That former teammate was Rodney Harrison.
Tom Brady and the Patriots made it to the Super Bowl during the 2003 season
In Tom Brady's first season as the Patriots' starter in 2001, he helped lead New England to a win in the Super Bowl. They, however, missed the playoffs the next year in 2002 after going 9-7, but had a great bounce-back year in 2003.
During that 2003 season, New England went 14-2 behind an excellent defense, as the Patriots allowed a league-best 14.9 points per game that year. Brady and the offense, on the other hand, played well enough to win, as they scored 21.8 points per game. Brady also threw for 3,620 yards, 23 touchdowns, and 12 interceptions.
This all led to them having significant success in the playoffs. The Pats defeated the Tennessee Titans 17-14 in the divisional round before beating the Indianapolis Colts 24-14 in the AFC Championship Game to reach their second Super Bowl in three years.
However, before the Super Bowl, Tom Brady found himself pretty upset with a star Patriots teammate.
TB12 got mad at Rodney Harrison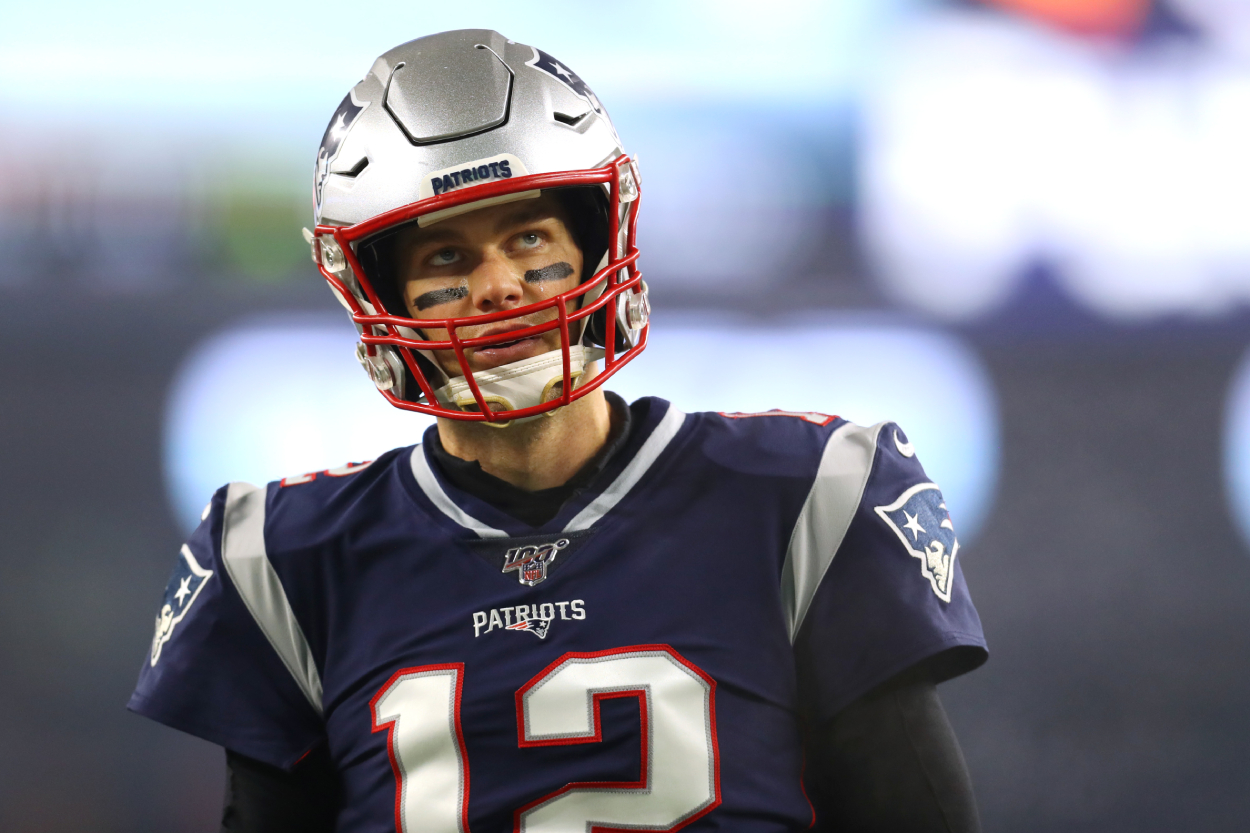 Former Patriots safety Rodney Harrison spoke to ESPN back in 2017 to discuss some of his favorite Tom Brady memories for Brady's 40th birthday. He ultimately shared a story about Brady's competitiveness, too.
It all started at a practice in Houston ahead of the 2003 season's Super Bowl.
"It was practice and it was a competitive one. The defense had its way with Tom that day — knocking down balls, forcing incomplete passes — and we were all pumped up," Harrison said, according to ESPN.
Brady probably wasn't too happy about not playing well that day. However, Harrison helped him reach his breaking point.
"I stepped in front and picked Tom off, running down the field, high-stepping, talking trash," he said. "When I come back, he started chasing me, throwing footballs at me, yelling obscenities at me. It was unbelievable."
Harrison continued: "Here we are at the Super Bowl, about to play the biggest game of our lives, and this dude is mad — and then wouldn't talk to me for a day and a half — because I picked him off."
Rodney Harrison played safety in his career. It was his job to pick quarterbacks off. It appears, though, that Brady just didn't want Harrison picking him off.
Everything still ultimately worked out in the end.
Tom Brady and Rodney Harrison won two Super Bowl titles together on the Patriots
Tom Brady and the Patriots ultimately went in and got the best of the Carolina Panthers in Super Bowl 38. Brady threw for 354 yards, three touchdowns, and one interception in the game, and New England won 32-29. Rodney Harrison also had nine total tackles and a sack.
Harrison then played on the Patriots through the 2008 season. So, he was a part of two other teams that went to the Super Bowl in New England and won one more title the next year during the 2004 season.
In 2004, Tom Brady and the Patriots went 14-2 for the second consecutive year, and while the defense dominated again, the offense was also excellent, as it averaged 27.3 points per game. They then played in their third Super Bowl in four years that season and won their second straight title by beating the Philadelphia Eagles, 24-21. TB12 had 236 yards and two TDs in that game, while Harrison had 12 total tackles, one sack, and two interceptions.
He might have ticked him off in practice, but Rodney Harrison still had a ton of success with Tom Brady during the time they played together on the New England Patriots. Winning cures all.
Stats courtesy of Pro Football Reference