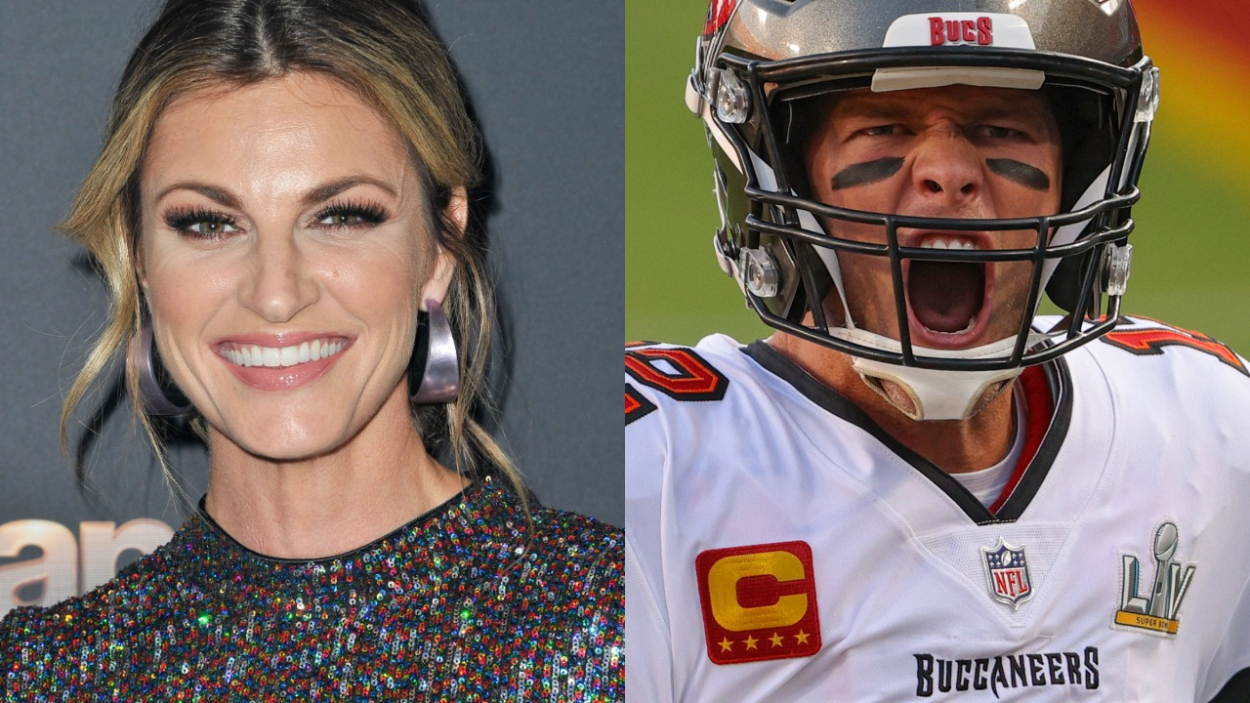 Erin Andrews Said Tom Brady Wants to 'Kick' Everyone's 'Ass' — Even Her Husband's
Tom Brady is an NFL GOAT but wants to win in more than just football. This is a look at how Erin Andrews recently said Brady is her Michael Jordan and how she gave an inside look at Brady's competitiveness. It also looks at how Brady's competitiveness has made him an NFL GOAT.
Tom Brady hasn't become an NFL legend off talent alone. He has also become a football GOAT thanks to his relentless competitiveness. In fact, NFL reporter and broadcaster Erin Andrews once revealed just how competitive Brady is as she said he wants to "kick" everyone's "ass" — even her husband's.
Erin Andrews said TB12 is her Michael Jordan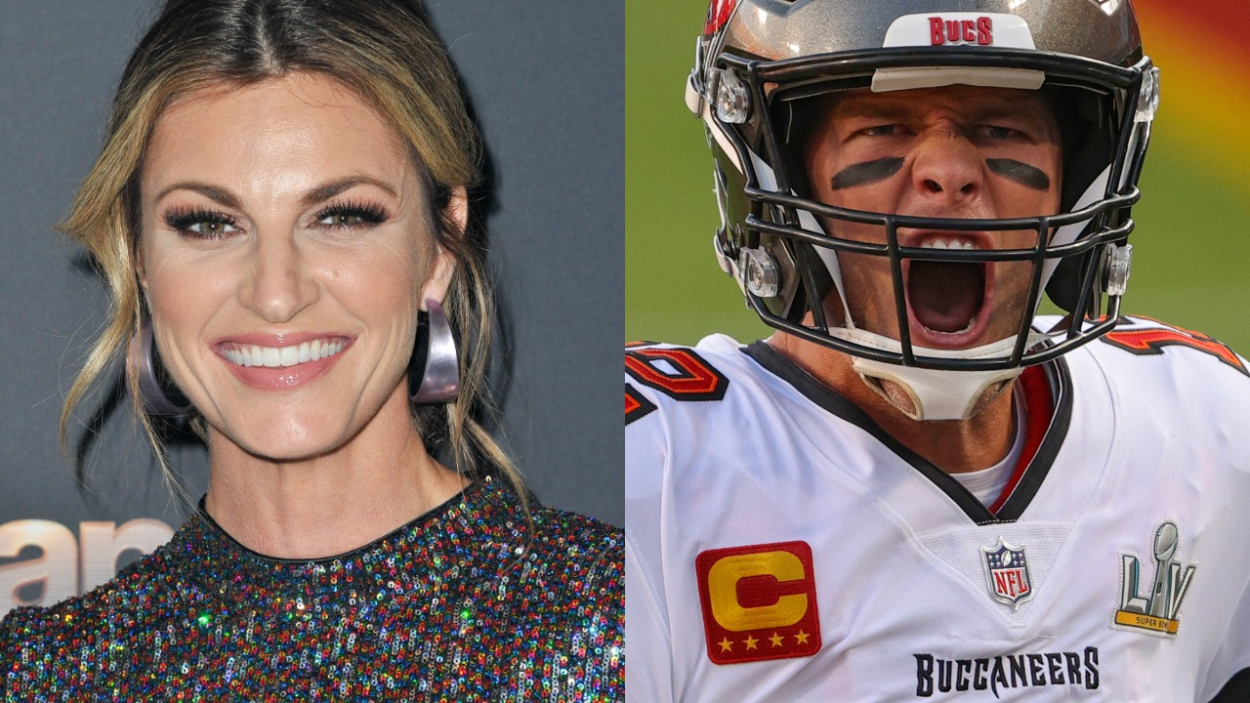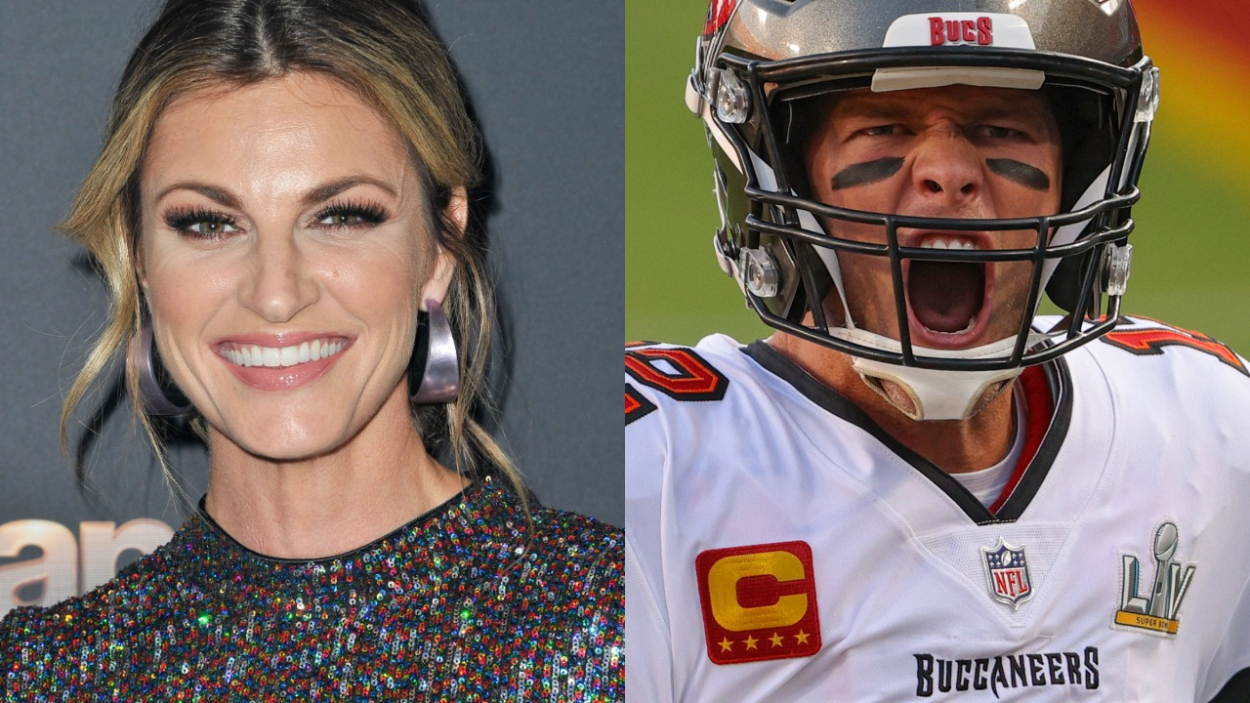 Erin Andrews has been one of the most popular and successful sports reporters and broadcasters for years. Her coverage of the NFL has been excellent, especially her coverage of Tom Brady. It has ultimately given her a ton of admiration for the QB, too.
"I admired Tom way before this year," Andrews said on an April 2021 episode of The Carlos Watson Show. "I wasn't fortunate enough to cover Michael [Jordan]; I wish I had. That was my dream world during NBA, that's when I fell in love with sports, but Tom right now is my Michael Jordan. He is my opportunity to be a part of this and cover it. He has been so wonderful to myself and my crew."
Comparing Tom Brady to Michael Jordan is certainly some high praise. However, the comparison is justified, especially when looking at championships. Jordan won six NBA titles in six trips to the NBA Finals. Brady, on the other hand, isn't undefeated in the Super Bowl but has won the title seven times in 10 appearances.
What is similar between Tom Brady and Michael Jordan, though, is that they are both relentless competitors. Andrews recently gave an inside look at just how competitive Brady really is.
Erin Andrews said Tom Brady wants to 'kick' everyone's 'ass' — even her husband's
While talking to Carlos Watson, Erin Andrews discussed just how competitive Tom Brady is — at everything.
"What separates him, first of all, he is competitive as hell," she said. "We've spent some time together in the summer out in Montana, and if it's a kickball tournament, if it's my husband golfing with him — he wants to kick your ass."
Andrews' comments prove there are no boundaries to Tom Brady's competitiveness. He even wants to beat her husband, former NHL player Jarrett Stoll, on the golf course.
She then continued to give an inside look at how Brady wants to win at everything he does.
"I had to pitch on his kickball team last summer, and I was sweating bullets," Andrews said. "He's just so intense. And then what I hear from Troy Aikman about Tom in terms of the quarterback world is he's just smart. He really is. And he's so disciplined in terms of what he eats, what he drinks."
Andrews also, of course, had to appreciate Brady's recent Super Bowl celebration.
"Proud of him for that avocado tequila. I was like, 'Yes, Tom, you're human," she added.
One thing made clear from Andrews' comments — and from Tom Brady's NFL success in general — is that he has a burning desire to win at all costs. And that has helped him become an NFL GOAT.
Tom Brady's competitiveness has made him an NFL GOAT
Countless stories about Tom Brady's competitiveness have come out over the years. His love for competing is a big reason he is still playing football despite turning 45 years old in August. It has also helped him become an NFL GOAT.
In addition to the Super Bowls, TB12 has put up some unreal stats. Tom Brady is a 15-time Pro Bowl selection and a three-time NFL MVP, and he is atop the NFL all-time leaderboards in multiple major categories. He has thrown for 84,520 yards, which is the most in league history. He is also first in NFL history with 624 touchdown passes.
Tom Brady is an NFL legend. Who knows where he would be, though, if — in the words of Erin Andrews — he wasn't "competitive as hell."
Stats courtesy of Pro Football Reference