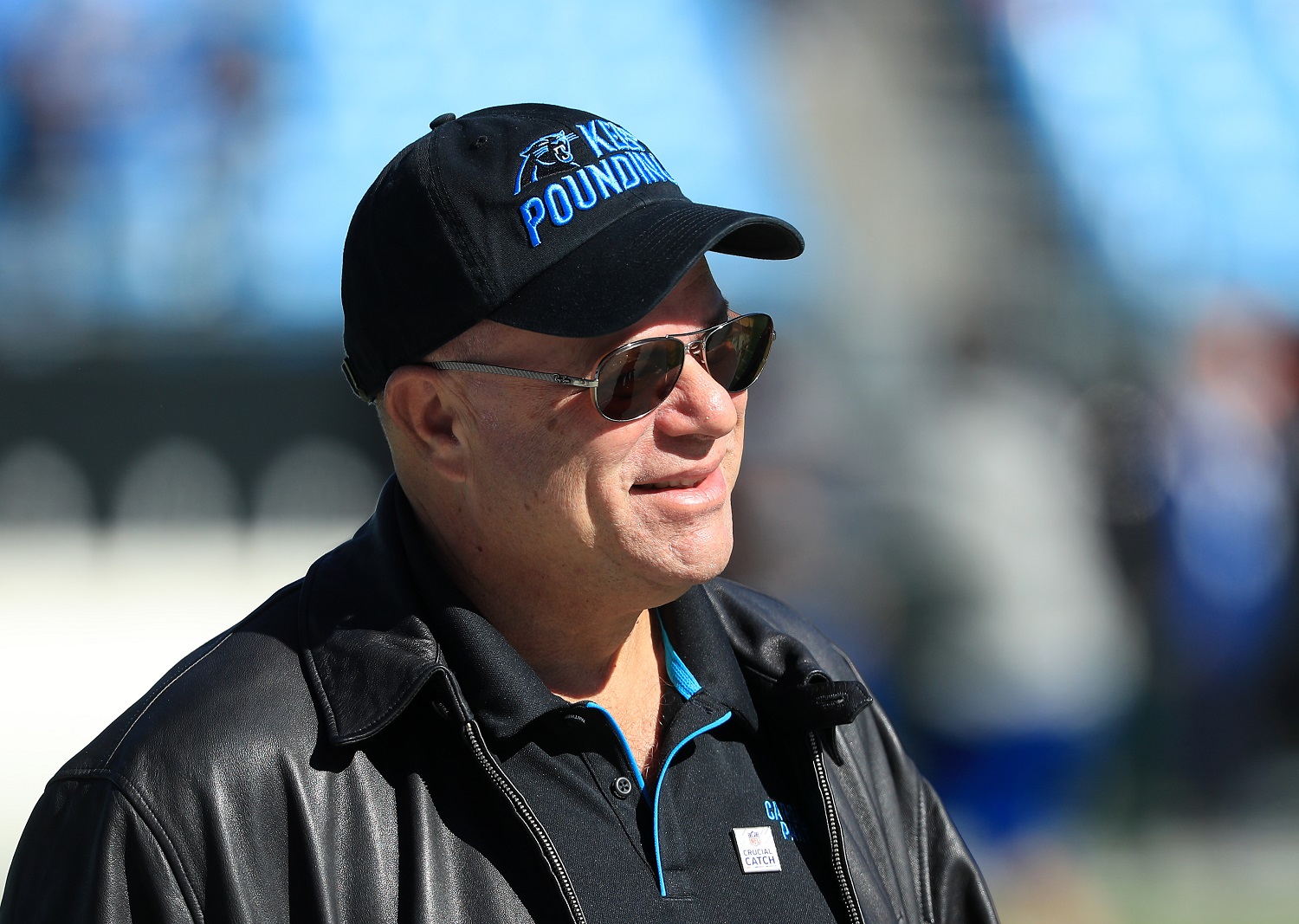 Angry Carolina Panthers Owner David Tepper Waited 18 Years for Sweet Revenge
Future Carolina Panthers owner David Tepper left Goldman Sachs out of frustration with his boss and scored his revenge 18 years later.
If revenge really is a dish served cold, then what Carolina Panthers owner David Tepper did to the former governor of New Jersey would make Alaska in February feel like Hawaii in July.
Repeatedly denied the lucrative promotion that he believed he had earned, Tepper started his own firm, rang up an enormous personal net worth, and then waited patiently to score payback. He didn't own an NFL team at the time, but Tepper certainly spiked the ball.
Carolina Panthers owner David Tepper is a hedge-fund legend
As the owner of a team, David Tepper is one of 32 equals in the NFL. As the brains behind Appaloosa Management, Tepper is just about peerless. Tepper launched Appaloosa in 1993 and grew it astronomically, largely by investing in distressed financial institutions after the 9/11 terrorist attacks and during the Great Recession when others thought the moves to be too risky or certain losers.
One of his most frequently cited trades involved gobbling chunks of Bank of America stock at under $4 a share in early 2009 and then watching their value increase five-fold within a year, making him the top-earning hedge fund manager of the year according to The New York Times.
As of this writing, David Tepper's net worth is $15.2 billion, according to Forbes.
Before his success, David Tepper's career hit a roadblock
Having earned a Master of Science in Industrial Administration from Carnegie Mellon University, future Carolina Panthers owner David Tepper took jobs in Ohio and Massachusetts before being brought aboard in 1985 at Goldman Sachs in New York as a credit analyst. It didn't take long for him to advance to a prominent role in evaluating and trading high-risk, high-yield bonds.
On Oct. 19, 1987, the financial world was  struck by a decline that came to be known as "Black Monday," with the Dow Jones Industrial Average declining by a stunning 22.6%. A number of banks and stock funds were all but wiped out, but Tepper made quick evaluations and assembled a portfolio of investments in institutions that he believed could weather the crisis. Tepper's savvy moves allowed the firm to profit handsomely.
Tepper assumed that his work would be rewarded by Goldman Sachs making him a partner, which would have meant a bump in pay and lucrative shares in the firm after its IPO, which came in 1999. Instead, he found his path blocked by Jon Corzine, the head of his division. Exasperated by repeated snubs, Tepper left Goldman Sachs at the end of 1992.
Corzine eventually left, too, but he went on the represent New Jersey in the U.S. Senate from 2001-06 and then serve as the state's governor from 2007-2010.
Early in his term in the Senate, Corzine went through a very public and acrimonious divorce. It set the stage for sweet revenge by a very angry former employee.
The angry Carolina Panthers owner gets his revenge
Jon Corzine's divorce cost the former Goldman Sachs nemesis of David Tepper hundreds of millions of dollars. He also grudgingly signed over ownership of the couple's 6,000-square-foot mansion on a sprawling Long Island parcel.
When the former Joanne Corzine decided to sell the house in 2010, Tepper couldn't resist the opportunity. He swooped in with a bid of $43.5 million, several times the actual value of the estate.
It only got better from there. Not only did Tepper buy the mansion, but he also tore it down. In its place, he built a palatial home nearly twice the size, erasing all traces of Jon Corzine's treasured home.
Like Sportscasting on Facebook. Follow us on Twitter @sportscasting19.