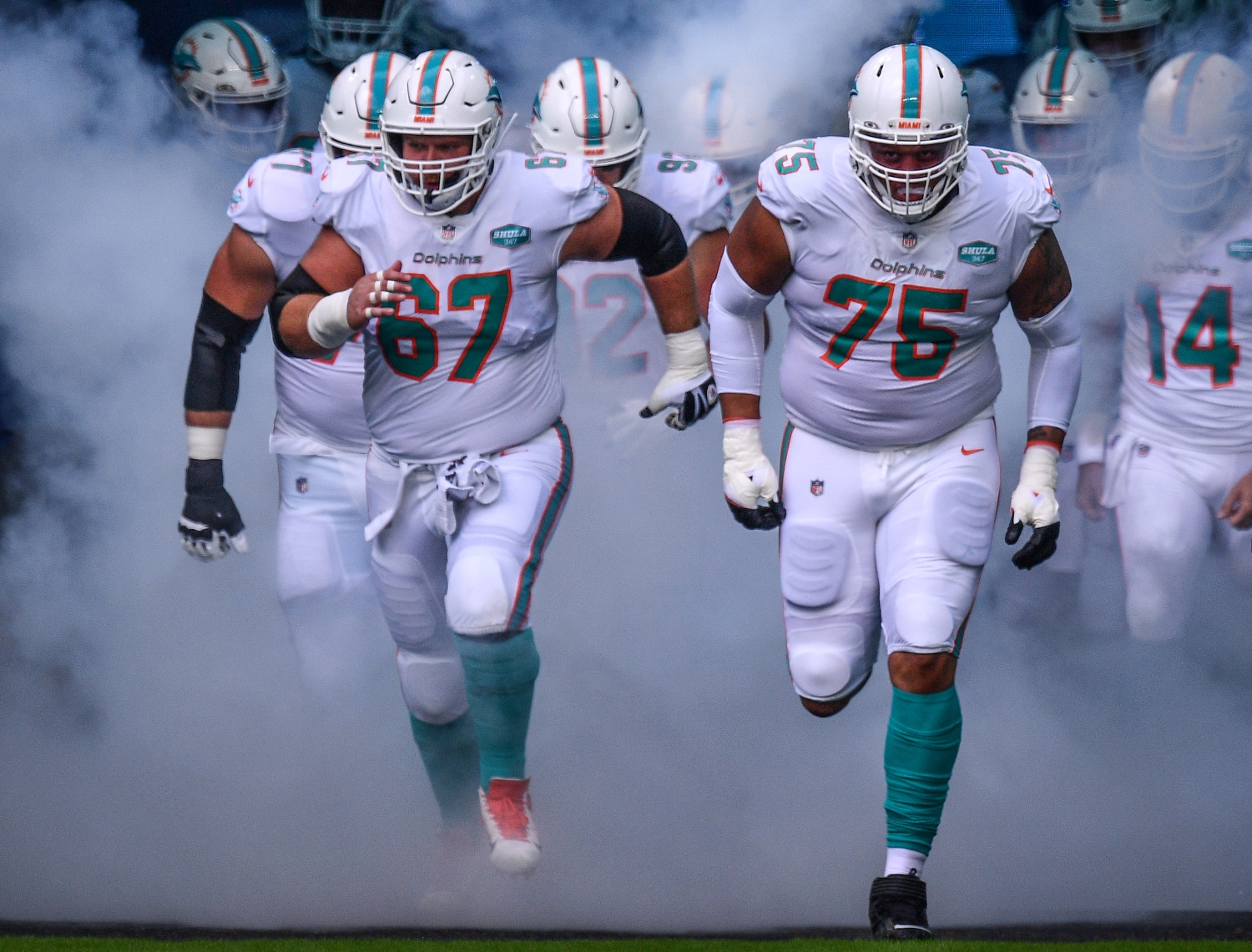 The Miami Dolphins Just Dropped a Major Hint About Their NFL Draft Plans by Ending Another Failed Experiment
The Dolphins are moving on from Ereck Flowers just days before the 2021 NFL draft. Does that make Miami a lock to take Penei Sewell?
The Miami Dolphins invested heavily in free agency a year ago. But after spending a significant amount of money on veteran players, general manager Chris Grier has already moved on from most of his big-ticket additions. And by ending another failed experiment just days before the 2021 NFL draft begins, the Dolphins dropped a major hint about which direction they will go with the sixth overall pick.
But will Miami be willing to pass over some other blue-chip prospects to upgrade Tua Tagovailoa's protection?
Miami has already moved on from several members of its 2020 free-agent class
The Dolphins didn't hesitate to dive into free agency last offseason. Miami went on a spending spree in an effort to upgrade a roster that went 5-11 in the first year of the Brian Flores era. Even though the team improved to 10-6, most of the players who arrived last spring will suit up for another franchise in 2021.
Kyle Van Noy signed a four-year, $51 million contract and got named a team captain. He recorded 69 tackles and six sacks in what amounted to his lone season with the Dolphins. The 30-year-old re-joined the New England Patriots after Miami cut him on March 10.
A week later, the Dolphins moved on from another member of their 2020 free-agent class. Shaq Lawson made $13.5 million last season and only totaled 32 tackles, four sacks, and 18 quarterback hits. Miami traded the former Buffalo Bills edge rusher to the Houston Texans just one year after signing him to a three-year, $30 million deal.
Ironically, the Dolphins just parted ways with another player who signed a $30 million contract last spring. And in doing so, they dropped a major hint about their plans for the 2021 NFL draft.
Dolphins drop a major hint about their NFL draft plans by ending another failed experiment
Last offseason, Miami surprisingly signed former New York Giants draft bust Ereck Flowers to a three-year, $30 million deal that included a $9 million signing bonus and nearly $20 million guaranteed. He started 14 games at guard, but according to Pro Football Focus, he surrendered five sacks on 857 snaps.
On Tuesday, the Dolphins found a taker for another failed experiment. ESPN first reported Miami has agreed to trade Flowers to the Washington Football Team in an exchange of late-round picks. Drew Rosenhaus told Adam Schefter his client restructured his contract so the Dolphins will pay him $6 million in a signing bonus and Washington will pay $3 million in base salary this season.
Adam Beasley of the Miami Herald later reported 2020 second-round pick Robert Hunt will move to right guard. And by trading Flowers just days before the 2021 NFL draft kicks off, that puts the Dolphins firmly in the mix for Penei Sewell, who "is a possibility" at pick No. 6, according to Beasley's source.
But does taking the consensus No. 1 offensive tackle make the most sense for Miami? Or would the Dolphins be better suited moving in a different direction?
Is passing over other blue-chip prospects for Penei Sewell the best way to help Tua Tagovailoa succeed?
Sewell certainly deserves to become a top-10 pick. The talented Oregon product possesses excellent athletic ability and true superstar upside. But that doesn't necessarily mean the Dolphins should zero in on taking him with the sixth overall pick.
After all, Miami just used a first-round selection on a left tackle last year when it drafted Austin Jackson out of USC. Although the offensive line still needs some help, can the Dolphins afford to pass over a premium receiver prospect they could pair with their young quarterback?
Assuming DeVonta Smith and Jaylen Waddle haven't been picked by the time they come on the clock, it will be fascinating to see if Flores and Grier can resist the temptation to take one of Alabama's star wideouts. Reuniting Tagovailoa with one of his former college teammates seems like a surefire path to success.
Then again, if the Dolphins can't give him time, it won't matter who lines up at receiver. So as much as fans may want to see another playmaker in Miami, don't be surprised if Sewell gets the nod.
All statistics courtesy of Pro Football Reference. All contract data courtesy of Spotrac.