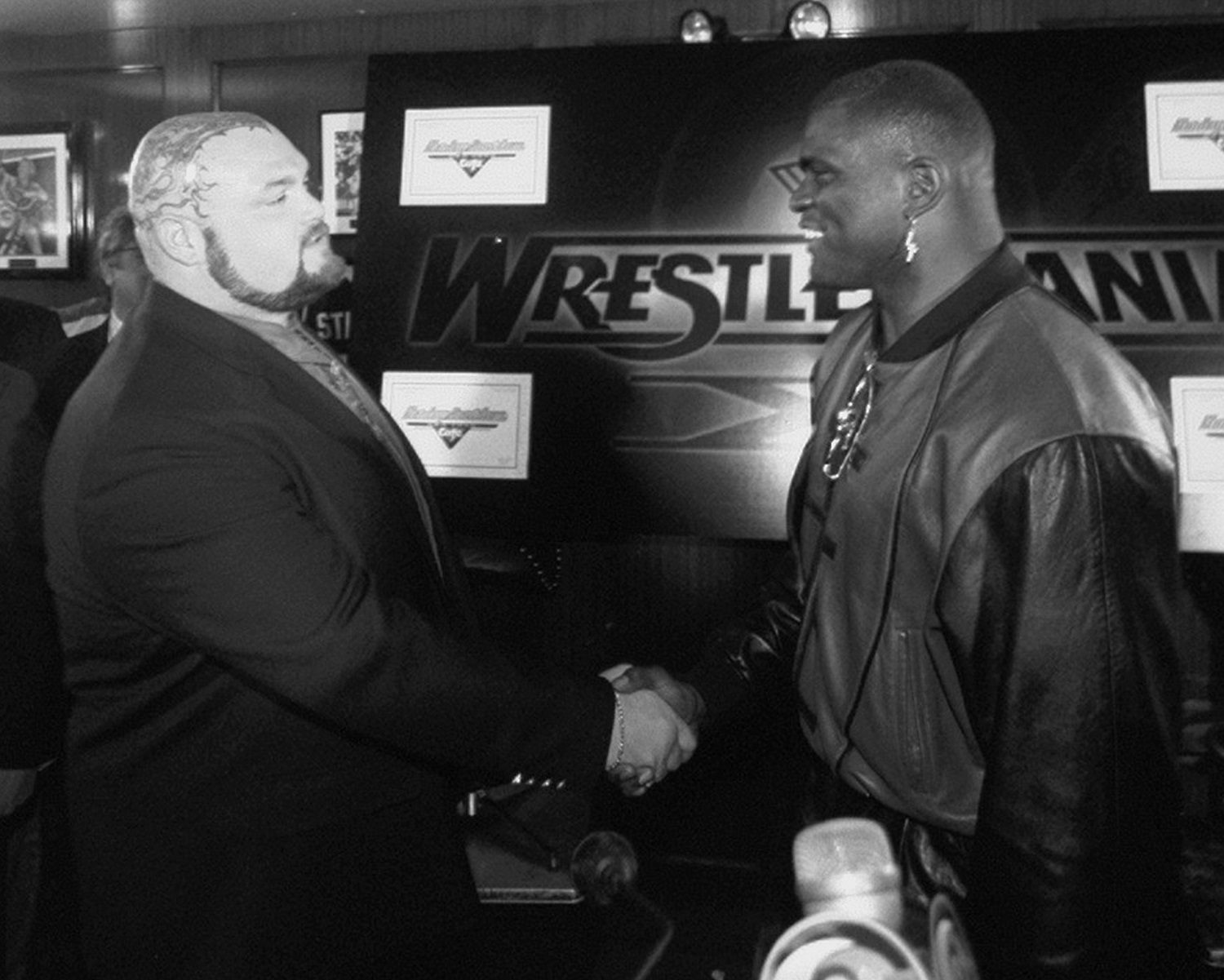 New York Giants Legend Lawrence Taylor's List of Career Accomplishments Includes Main-Eventing WWE WrestleMania
Lawrence Taylor was one of the best linebackers in NFL history with the New York Giants but also once was in the main event of WWE WrestleMania.
Lawrence Taylor has certainly had his share of problems away from the football field but there's certainly no denying that the New York Giants legend was one of the greatest linebackers in NFL history.
Also an All-American at the University of North Carolina, LT racked up a ton of accolades and accomplishments with the Giants over the years but also made headlines when his football career ended by becoming the first (and still only) athlete from the four major pro sports to participate in the main event of the biggest show on the WWE calendar, that, of course, being WrestleMania.
Lawrence Taylor was an All-American at the University of North Carolina
Born in Williamsburg, Virginia, in 1959, Lawrence Taylor wasn't heavily recruited as a defensive lineman coming out of Lafayette High School and chose to play his college football at the University of North Carolina. LT split time between defense and special teams as a freshman in 1977 and converted to linebacker before his junior year in 1979, which is when he truly started to become a menace.
He made 95 tackles for the Tar Heels during the '79 campaign, including five sacks, and also caused seven fumbles. As a senior in 1980, Taylor set a school record with 16 sacks, caused three fumbles, all of which he recovered himself, and was a unanimous All-American selection, also winning ACC Player of the Year. His No. 98 jersey was later retired.
LT won two Super Bowls with the New York Giants
Lawrence Taylor was taken with the second overall pick in the 1981 NFL draft by the New York Giants, with whom he spent his entire 13-year pro career. LT was named the Giants' right outside linebacker as a rookie and made an immediate impact on the franchise, not only winning Defensive Rookie of the Year but also Defensive Player of the Year, making him the first and still the only player to win both. He also earned the first of 10 consecutive Pro Bowl selections that season and was also named a First-Team All-Pro, a feat he'd accomplish seven more times in his career.
Taylor also won Defensive Player of the Year honors in 1982 and then again in 1986, a season in which he also became just the second defensive player in history to win NFL MVP. LT recorded 20.5 sacks that season, which is still tied for seventh on the all-time single-season sack list, and also helped the Giants win their first-ever Super Bowl.
Taylor continued his stellar play through the rest of the '80s and into the 1990 season, when he earned his final Pro Bowl selection and Second-Team All-Pro honors while again helping the Giants to a Super Bowl victory.
Lawrence Taylor retired following the 1993 season and ended his career with 132.5 sacks, not including the 9.5 he had as a rookie as sacks weren't an official stat until 1982 or the 8.5 he had in the postseason. Since retiring, he's been named to the NFL's 75th Anniversary Team, the 100th Anniversary Team, has had his No. 56 jersey retired by the Giants, and was inducted into the Pro Football Hall of Fame in 1999.
Lawrence Taylor was in the main event of WWE WrestleMania 11 against Bam Bam Bigelow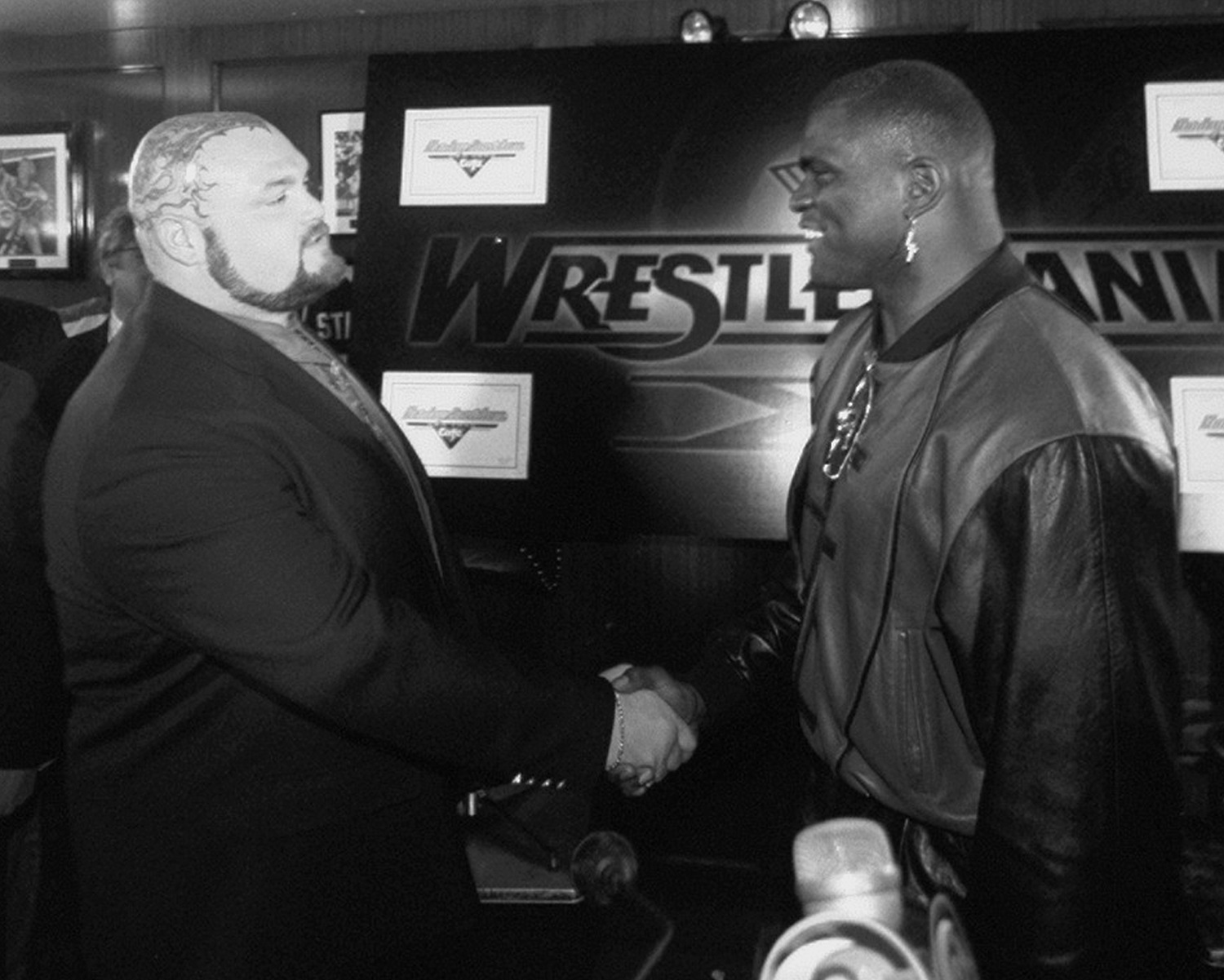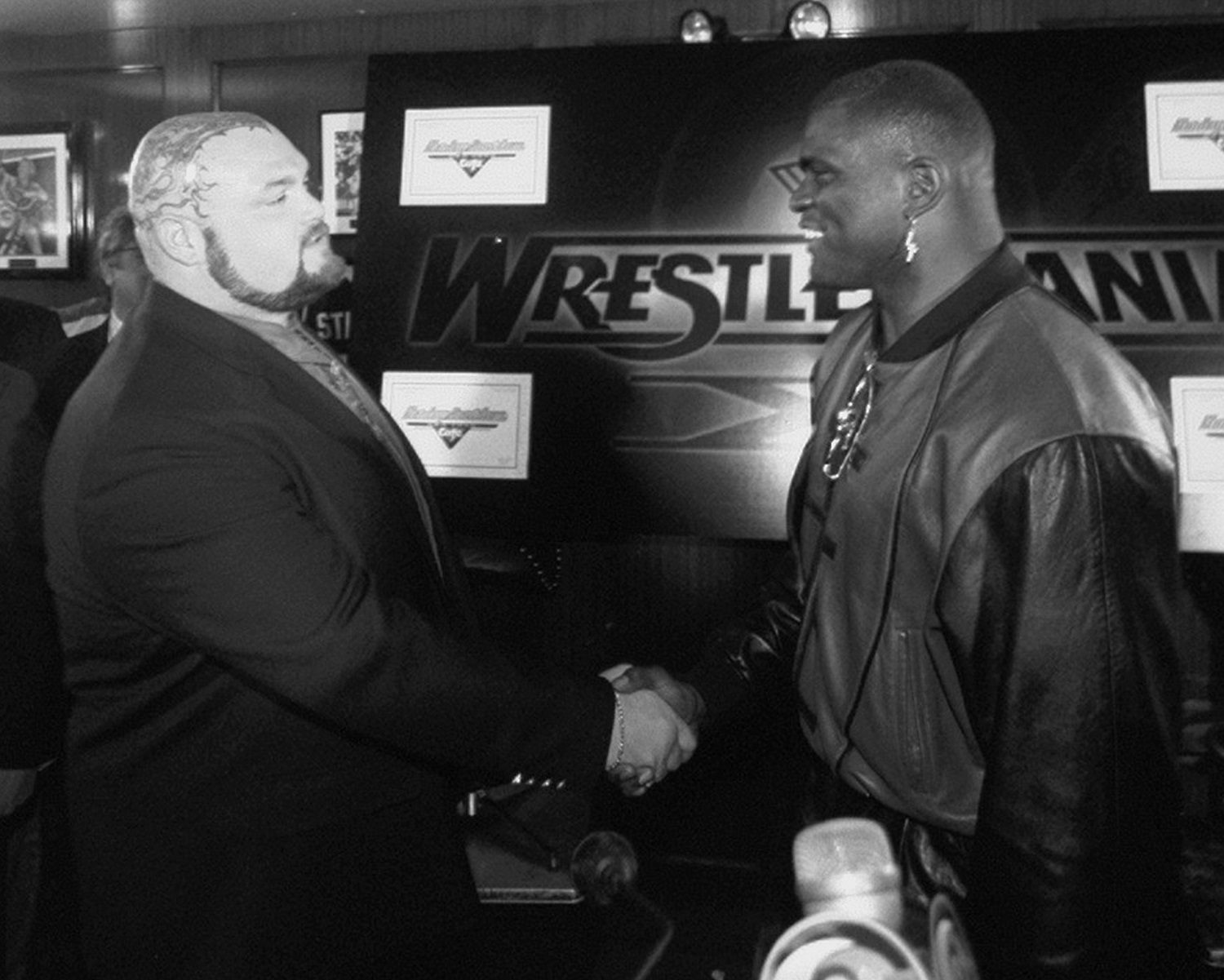 Another accomplishment Lawrence Taylor added to his resume in retirement came in 1995 when he participated in the main event of WWE WrestleMania 11 against veteran Bam Bam Bigelow.
At the time, WWE (still then called the WWF) was struggling a bit as Vince McMahon & Co. were in a bit of a transition phase. His big stars from the Golden Era had jumped ship to WCW and stars such as Shawn Michaels, Bret Hart, and The Undertaker were attempting to take WWE in a new direction. So McMahon decided to bring in Lawrence Taylor ahead of WrestleMania 11 in order to get a bit of mainstream attention.
Everything started at the 1995 Royal Rumble, when veteran Bam Bam Bigelow teamed with Tatanka to face Bob Holly and Sean Waltman, who was still using The 1-2-3 Kid moniker at that time, in a match for the vacant WWE tag titles. Waltman pinned Bigelow to get the win for his team, at which point the live crowd began mercilessly heckling Bigelow until he became so enraged that he shoved a man sitting at ringside. That man, of course, was none other than Lawrence Taylor.
The altercation led Bigelow to challenge LT to a match at WrestleMania, which Taylor initially refused but finally accepted. Now, in a normal year, this type of match would be somewhere in the middle of the card, similar to what we saw with Floyd Mayweather and The Big Show at WrestleMania 24. But Vince decided to make Lawrence Taylor vs. Bam Bam Bigelow the main event that night in Hartford, which still angers many pro wrestling fans to this day as it went on after the WWE Championship match between Shawn Michaels and Kevin Nash, who was still going by Diesel then, a match won by Nash.
Accompanied to the ring by a number of NFL stars, including Reggie White, Ken Norton Jr., and Steve McMichael, Lawrence Taylor actually performed better than anyone could have expected, although the match was certainly no five-star classic. It was a decent match, certainly not worthy of the main event of WrestleMania, but it was good enough for what it was and LT picked up the victory at the 11:42 mark following a flying forearm from the middle rope.
So with all the things that Lawrence Taylor accomplished in his career, he can also say that he was the only NFL star to ever main-event WrestleMania as well. And just so you don't have to go and look it up…no, Goldberg never main-evented on the grandest stage of them all.
Stats courtesy of Sports Reference